The healthcare industry is changing. The new Health and Social Care Bill is decentralising power, and construction firms are going to have to take the initiative if they want to win work. Emily Wright looks at the data compiled in Building's first Health White Paper
With the NHS in a state of flux, the construction industry could be forgiven for assuming that winning work in the healthcare sector has never been more difficult. In reality, the opportunities are there - it's just up to the industry to identify where they are and then go out and get them.

The NHS is the largest property holder in the UK public sector with an estate worth £40bn. This makes it one of the construction industry's biggest clients. But with savings of £21bn to be made by 2014, the organisation is undergoing the most dramatic overhaul in its 63-year history. The government's reforms, set out in the controversial Health and Social Care Bill, will see the management of the NHS, including the estate, decentralised as more power is handed to GPs and clinicians.
Construction companies wanting to win work in the healthcare sector are likely to find that newly formed Clinical Commissioning Groups (CCGs) made up of GPs, consultants and nurses, will be their future healthcare client contacts rather than Primary Care Trusts (PCTs), although no one is quite sure how or when this transition will happen. It's easy to see where confusion has arisen and the bill has been widely criticised for being unclear - it has undergone more than 100 amendments since its initial publication in January. But details on exactly when and how this will happen and how it will work have not been made available by the government. This is a key area of the reform and yet one that remains incredibly unclear. Information such as how construction firms can approach these new clients groups, where they will be based and how they will be structured is not clear and Building will be pushing for more information and clarity on this issue.
But the nature of future work in the healthcare sector is likely to change to reflect a more efficient, rationalised estate. A survey of 100 healthcare clients for Building's first Health White Paper shows that over 75% are reviewing their healthcare estate - proof that the work is out there.
The question for construction companies is where to find it and how to win it. Here, Building reveals selected findings from the White Paper to show the current state of play within the sector from both an industry and client perspective.
We asked clients: What are your plans for the future of your estate?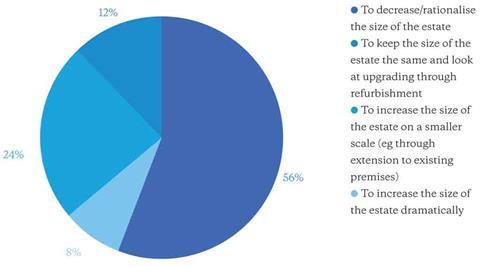 Where to find the work
The Health and Social Care Bill and the NHS reforms have caused widespread confusion. Some 84% of construction companies and healthcare clients surveyed said they felt the government's proposals on premises delivery had not been clear at all.
The biggest challenge facing construction companies wanting to win work in the healthcare sector is identifying where the work opportunities are, because they are changing.
Client responses in the White Paper indicate a move away from secondary healthcare developments such as large PFI hospitals, towards upgrading, refurbishing and extending the primary healthcare estate. Almost 30% said they would be investing most money into primary healthcare over the next 12 months compared with just 7% who will be focusing on secondary healthcare. And this trend looks set to continue over a longer three-year period as 32% said they would be investing mostly in primary healthcare over this duration compared with 5% who indicate secondary healthcare as their preferred area of investment.
The shift from secondary to primary care facilities can be explained in part by the government's strategy to save money by moving as many services as possible out of hospitals and into the community, and by the lack of funding for big capital projects. Sweating the NHS estates' existing assets and making them fit for purpose is a more cost-effective way to improve and upgrade premises than embarking on a big new build programme. Indeed, almost 60% of clients surveyed said that they are planning to rationalise their estates over the next 12 months to four years. Only 8% said they were looking to dramatically increase the size of their estate and 24% said they were looking to increase it only through extensions to existing premises.
An evolving estate requires evolving skills from those delivering it and client requirements from the supply chain are likely to shift. Architecture and design skills were rated as being the most important by clients, followed by specialist knowledge of medical and mental healthcare premises construction and sustainable building expertise. Just 23% indicated that skills in new build construction were the most important skill they required from the supply chain. Experience in fit-out and refurbishment was a key skill required by 70% of respondents.
The Health and Social Care Bill will result in a new client contact for the construction industry in the healthcare sector. Rather than PCTs, which will be phased out by 2014, newly formed Foundation Trusts and CCGs, made up of GPs with nurse and consultant representatives, are likely to be the new main clients. These groups are unlikely to have as much expertise in premises delivery as the PCTs before them and this will create an opportunity for consultancy work for the construction industry, as indicated by the fact that 50% of clients already hire consultants to advise on delivery - particularly procurement options - and 37% are considering doing so in the future.
We asked the supply chain: Would you consider approaching NHS trusts or strategic health authorities with design/and or construction plans/ideas rather than waiting for opportunities to tender for work?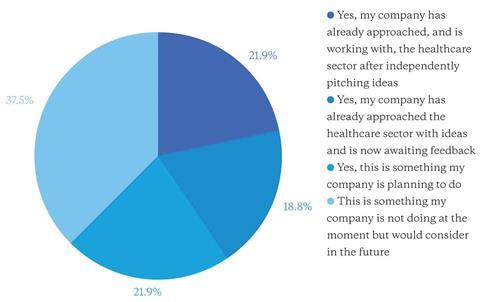 We asked clients: Please indicate the sorts of skills you are looking for from supply chains based on current and pipeline projects out of 5 with 1 being 'not key skills' and 5 being 'extremely key skills'

How to win it
The delay of the reforms has imposed an enforced hiatus on healthcare premises' design, construction and delivery to a degree. Trusts have been less proactive in tendering work because existing PCTs and Strategic Health Authorities (SHA) will be phased out by 2014 under the new NHS system.
But this doesn't mean the work itself has ground to a halt. Twenty three percent of the £40bn NHS estate has been classified as being unfit for purpose and although 3,000 GP surgeries have been modernised since 2001, one in seven remains below minimum standard, according to a report by market research firm AMA Research.
Former NHS chief executive Nigel Crisp, head of the organisation 2000-2006, said in an interview with Building last month that it is now up to the construction industry to be more proactive in approaching the healthcare sector. "Construction companies need to approach clients," he said. "They need to come up with their own ideas, new innovations to support the NHS through such a period of change. Why don't I see more healthcare architects and contractors being among the thought leaders in this sector?"
He added that the most popular designs with healthcare clients are likely to be those that help to cut costs by reducing staff numbers: "The construction industry can support the NHS by suggesting designs that require fewer staff. Can these designs shorten processes between outpatient wards, operating theatres, recovery units and wards to allow for the number of people required for each process to be cut?
"Architects, designers and contractors need to make the best, most efficient, use of the NHS' most costly ingredient: people."
And Building's White Paper survey reveals that the majority of the industry is already aware of the benefits of approaching clients with ideas. More than 20% of the firms surveyed said they had already made contact with the healthcare sector and had won work as a result. A further 20% said they had approached clients and were awaiting feedback, and 22% said this was something their company was planning to do.
To purchase your copy of the White Paper, CLICK HERE
This article was originally published under the headline 'This isn't going to hurt a bit'