Stations, schools, offices and even a council leisure centre battled it out for the top spot, but none could match Wilkinson Eyre and Bouygues UK's beautiful resting place for Henry VIII's most famous warship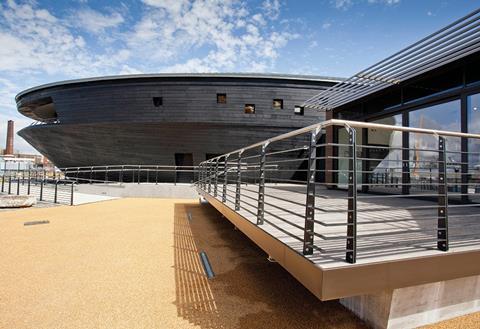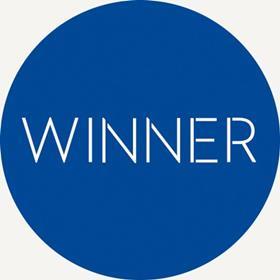 Mary Rose Museum - Bouygues UK
Judges said the team behind this project were faced with a very difficult task but responded with a highly technical and "beautiful" solution. The museum is an inspired combination of sci-fi technology and maritime conservation architecture. When Henry VIII's warship was raised from the Solent in 1982, she had been saturated by over 120 tonnes of seawater and the ship's fragile carcass required a drying process spanning decades. The design challenge was to construct the new museum around the tent used for this purpose, so as not to interrupt that drying process. The low-lying, black-stained bowl of the new museum is a perfect contemporary evocation of the ghostly hull buried deep within.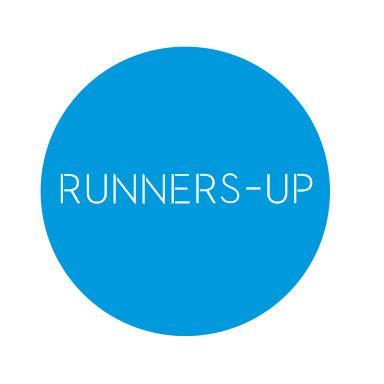 Blackfriars Station - Pascall + Watson, Jacobs and Network Rail
London has seen many mainline station redevelopments of late, but only one of them spans the Thames. This is the ambitious engineering concept at the heart of Network Rail's wholesale overhaul of one the capital's busiest stations. The project dramatically expands the station platforms and concourse across the river on a widened, strengthened and newly enclosed bridge. Its sawtooth roof is also fitted with 4,400 photovoltaic cells which generate 50% of the station's power and form the largest solar bridge in the world.
Centre of Refurbishment Excellence - Purcell
If ever there was a building that extolled the maxim "practice what you preach", it is this one. This stunning refurbishment of a derelict grade II-listed Victorian pottery barn in Stoke -on-Trent houses the national centre of excellence for green building retrofit. The construction process and design concept encapsulated the philosophy extolled by the Centre of Refurbishment Excellence, involving sensitive repair, pragmatic thermal upgrade and reuse of original materials where possible, all of which was delivered on a committed low-carbon basis. The result is a dramatically realised fusion of conservation and innovation.
The Library of Birmingham - Carillion
Europe's largest public library replaces architect John Madin's controversial 1970s concrete central library with a building that attempts to have a far more responsive relationship with its users and context. The most obvious example of this intent is the building's facade, a shimmering metal veil of interlocking circles devised to reflect Birmingham's history of jewellery craftsmanship. But it is the interior that is most memorable, conceived as a staggered, vertical journey that swirls around a plunging and eventually light-filled void, symbolising the aspirational pursuit of enlightenment.
Newlands School - Wright & Wright
The education sector may be undergoing something of a design lull at present, but projects such as Newlands School in south London are a welcome reminder that educational architecture can still be a rich source of design quality, even in times of fiscal prudence. Newlands is actually a residual Building Schools for the Future scheme, yet opts for a quiet, careful study in pragmatic functionality, interlocking massing and subtle contextualism. All of this was delivered after a hefty budget cut, further demonstrating the team's ability to design efficiently without forgoing quality.
The Place - Mace
The foundations of the 18-storey Place are severely limited by the web of London Underground tunnels that run underneath the site, meaning that much of the building is suspended over significant voids. Furthermore, as over 50% of the structure is cantilevered over public areas, the project had to incorporate the complete remodelling of London Bridge bus station at its base, and it straddles highly sensitive archaeological sites. The Place is much more than a mini-Shard - it is a commercial building of genuine engineering innovation and integrity in its own right.
Splashpoint Leisure Centre - Wilkinson Eyre
The council leisure centre may not be a building type usually associated with style, but that is what Splashpoint in Worthing, West Sussex, delivers. The building's form is expressed as a series of conjoined copper pavilions whose walls and roof ripple towards the sea like waves. With its swelling profile silhouetted against the English Channel and large planes of glazing revealing spectacular views, this powerful piece of architecture makes full use of its seafront setting.
Tate Britain - Lend Lease
Caruso St John's comprehensive overhaul has carved a subtle and thoughtful sequence of interior spaces for this venerable institution and delivered significant environmental upgrades to a number of galleries. The practice's work is crowned by an elegantly swirling helical staircase that pirouettes down to a previously inaccessible basement beneath the magnificently restored central rotunda. The staircase epitomises the scheme's nuanced balance between intervention and restoration.

This award was sponsored by Schuco