Two decades after Scotland and Wales voted to devolve some legislative powers from Westminster, the differences between regulations in the four nations of the UK have only grown. Ike Ijeh considers the consequences
Exactly 20 years ago last week, historic referendums were held in Scotland and Wales. The rest, as they say, is history: both votes were returned in favour of increased devolution, although in the case of Wales it was by a hair's breadth majority of just 0.6%. A year later, the Good Friday Agreement also created a devolved settlement for Northern Ireland as part of the peace process.
Two decades on, there are now devolved assemblies sitting in Cardiff, Edinburgh and Belfast and the constitutional makeup of the United Kingdom has undergone its biggest change in 300 years. While powers relating to matters such as immigration, defence, foreign policy – and, in the construction world, BIM implementation – remain with Westminster, a whole raft of legislative powers were passed to the devolved parliaments, and many of them related to construction and the built environment.
Although their capital funding budgets are still set by Westminster, all three devolved assemblies have powers over housing, education and healthcare, meaning they are free to pursue divergent policies to England when it comes to school, house and hospital building.
Scotland, which has always had its own legal system, also has its own set of building regulations, which means its building control system operates on an entirely different policy framework to the rest of the UK.
The huge variety in regulations between different parts of the country is laid bare in the example of carbon monoxide alarms. In Northern Ireland, the regulations dictate that the alarms must be fitted "where any combustion appliance is installed".
In Scotland, they need only be fitted where a "new or replacement fixed combustion appliance is installed". And in England and Wales, the requirement only extends to installation "where a new or replacement fixed solid fuel appliance" is fitted, meaning that non-solid fuel appliances, such as gas boilers, are exempt.
One of the more unlikely fallouts from the Brexit vote has been its exposure of the disjointed constitutional settlement the various 1998 devolution acts awarded to the four constituent parts of the UK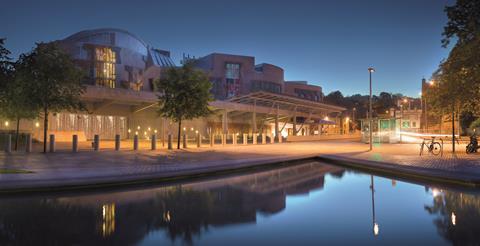 Impact
Twenty years on, we can assess how this devolution has worked in practice, and what results it has brought, and below we examine four key policy areas relevant to construction, where devolved parliaments have moved away from national policy. But as well as this anniversary, two recent events make such an investigation particularly topical.
The tragic fire at Grenfell Tower this summer has already been linked to potential failings in the building regulations system that approved its recent and now highly contentious refurbishment.
But it has also revealed the extent to which fire safety legislation across the UK varies, as it has been alleged that such a disaster could not have happened in Scotland due to recent changes made to their building regulations (see Building Regulations, p44).
And one of the more unlikely fallouts from the Brexit vote has been its exposure of the disjointed constitutional settlement the various 1998 devolution acts awarded to the four constituent parts of the UK. The Scottish government, for instance, enjoys significantly more powers than the Welsh assembly, and MPs from both countries can influence policy in England in a way that all Westminster MPs do not in devolved regions.
With EU withdrawal negotiations continuing, it is impossible to determine the extent to which the powers wrested back from Brussels – such as Construction Products Regulation, which forces harmonisation of construction products marketing across the EU – will be used to either harmonise or further fragment UK construction policy.
Although their capital funding budgets are still set by Westminster, all three devolved assemblies have powers over housing, education and healthcare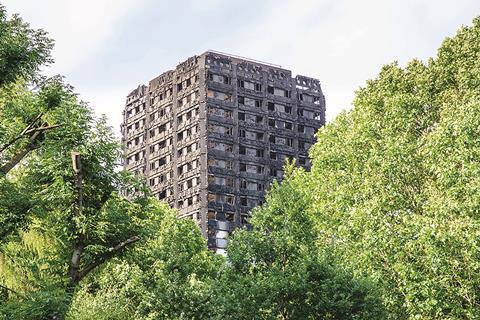 Building regulations
The tragic fire at Grenfell Tower starkly exhibits the differences between building regulations across the UK. A North Ayrshire fire in 1999 prompted the new Building (Scotland) Regulations of 2004 to state that cladding and insulation on high-rise domestic buildings (over 18m) should be made of non-combustible materials or the whole cladding system should be subject to a stringent fire test.
In England and Wales, the building regulations state that all insulation and cladding "filler materials" on high-rise buildings need only attain "limited combustibility".
But as the aluminium composite panels used for the refurbishment cladding of Grenfell Tower were not specifically classified as insulation, their polyethylene cores which appear to have so aided the spread of the fire but appear to have received the necessary building control approvals, an allowance that the Scottish regulations would have prohibited.
This divergence is one of several that exist between building regulations across the UK. For instance, SAP (standard assessment procedure) compliance is generally thought of as being harder to achieve in Scotland because, unlike England and Wales, the calculations are based on a notional dwelling already having renewable energy which increases the amount by which proposed emissions must be reduced.
Also, in England and Northern Ireland, all buildings taller than 30m and built since 2007 need to have sprinklers installed. In Scotland they must only be fitted to new residential buildings taller than 18m. Whereas, in Wales, by far the most stringent policy states that sprinklers must be fitted to all new and refurbished residential accommodation.
However for Joe Millson of Scotland and England-based architect and property specialist Millson Associates, it is not so much the detail of variations between UK building regulations that is the main issue but fundamental differences in approach.
"In Scotland the main difference is that building regulations are more onerous. Generally the Scottish Building Standards adopt a greater degree of care with regard to the design and specification of materials and construction, all of which helps to reduce health and safety risk.
"However, this is also where one of the biggest differences exists when it comes to development timescales. The problem being that Scottish local authorities are the gatekeepers of the entire process, from gaining building warrants to supplying the completion certificates. There is no competent person scheme, such as self-certifying installers, which has helped ease the workload in England and Wales. This means that local councils in Scotland have far greater pressure to work under which has led to severe delays in processing applications."
It's an assessment with which Bennetts Associates' Rab Bennett wholeheartedly agrees. "Scotland's building control system is far more difficult about demanding specifics. Unlike England there are no approved inspectors so you can rely on thorough and experienced local authority staff. But its biggest problem with the Scottish system is that it is chronically under-resourced. So while health and safety might be safeguarded, it lacks the competitiveness, flexibility and efficiency of the process down in England."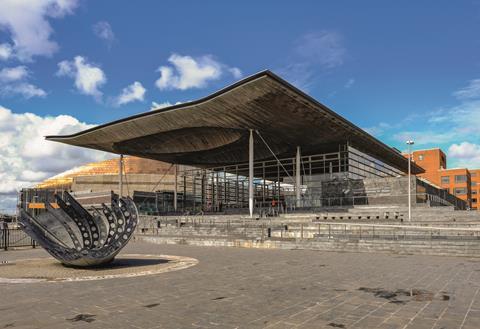 Architecture policy
The most notable difference between government involvement in architecture in England and Scotland is the fact that Scotland has a principal architect, and England does not. The post is occupied by Sandy Robinson, who leads the architecture branch within the Scottish government's architecture and place team, and has strategic responsibility for policy initiatives.
One of these initiatives highlights yet another difference between Scotland and England: Scotland has an architecture policy, England does not.
The Scottish government published the Creating Places document in 2013 and, while its implementation is not codified in legislative terms by an act of parliament, (i.e. it offers guidelines rather than laws), it is Scotland's de facto architecture policy. It has three core aims: to create better places, to deliver well designed public buildings and to remove barriers to development. These ambitions may not sound radically different to the broad intentions of Cabe, which sought to establish a UK-wide design approach. But Cabe no longer exists in its original public form and never had the consensual political clout Creating Places enjoys.
At least two landmark Scottish buildings can trace their existence back to the policy document: the Scottish Crime Campus in Glasgow by Ryder Architecture, and the redevelopment of the National Museum of Scotland in Edinburgh by Hoskins Architects. In the former instance, architect Gordon Murray points out that the building's design follows clear placemaking principles enshrined by the policy. And in the case of the museum, architect Gareth Hoskins credits his appointment to the policy's "innovative approach to commissioning".
According to Robinson, the policy is "not [there] to tell architects what or how to design, but, to maintain a framework that ensures that people and places are at the heart of architecture." However, a similar approach for the rest of the UK was conspicuously rejected in the landmark 2014 Farrell Review, when report author Sir Terry Farrell stated that "collaboration and coordination" were the keys to design success and that the government's role in architecture is to act as "an enabler and not an autocrat."
In terms of what difference the policy has actually made to architects on the ground, architect Gareth Hoskins credits his practice's appointment to the National Museum of Scotland redevelopment project to the policy's "innovative approach to commissioning".
But for Rab Bennetts, of Bennetts Associates, who have designed several projects in England and Scotland, "it's difficult to see exactly what difference the architecture policy has made, if any. Scotland still produces largely the same number of good and bad buildings as England does. And it still produces as it did before devolution."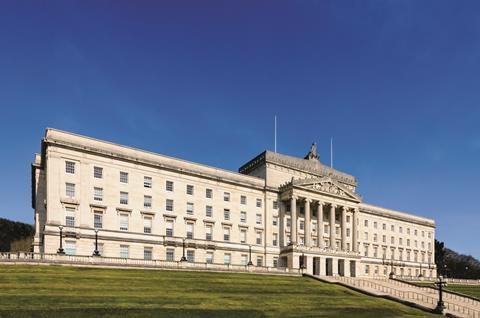 Green inducements
The Renewable Heat Incentive (RHI) scheme was introduced in 2008 by the Energy Act and applies UK-wide.
It works in a similar way to feed-in tariffs by encouraging businesses, and eventually households, to switch from using fossil fuels to renewable heating systems by offering subsidies for the greener system.
But when introduced in Northern Ireland in 2012, the region's department of Enterprise, Trade and Investment didn't set an upper limit for RHI payments whereas in England payments are capped to discourage excessive energy use. In NI, this grave error led to fuel being needlessly burned in order to earn money and a scheme that not only cost the taxpayer £90m more than promised, it also led to a rise in carbon emissions and a scandal under which the region's power-sharing executive collapsed.
The incident illustrates the degree to which devolved governments can influence and amend national sustainability legislation. As with much of UK environmental policy, the spirit of the RHI was implemented across the country but the detail of its implantation (i.e. the price at which the subsidy was set) was determined by devolved government.
Another example of this variation is legislation on climate change. The UK has set a target of reducing carbon emissions by 80% by 2050, a mandate that applies to England and Wales. Yet the devolved Scottish government is preparing a Climate Change Bill that will seek to reduce the figure by 90% over the same period.
While full details have not yet been finalised about how this reduction is going to be achieved, the bill is out for consultation. Some of the bill's measures include loans to incentivise low-carbon transport and making provisions for a net-zero greenhouse-gas emissions target to be set – all of which are statutory levers devolved government is free to operate.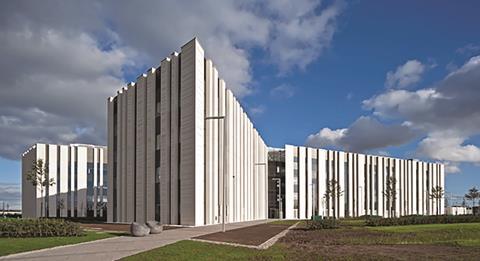 Funding
While powers over UK energy infrastructure and national transport policy are retained by Westminster, housebuilding, school building and some local transport provision are among the key policy areas fully devolved to UK regional parliaments. The funding regime that facilitates this transfer sees HM Treasury issuing capital block grants to the devolved assemblies by various means, such as the controversial Barnett Formula. The assemblies are then free to set the fiscal terms within which that money is spent in their relevant devolved departments, such as the Scottish education department's decision to abolish university tuition fees.
So the funding picture for public projects varies greatly across the UK. In England and Wales, the current public school programme is the Priority Schools Building Programme, where improvements to schools are centrally managed and procured by the executive Education and Skills Funding Agency. Whereas in Scotland, the school-building programme is funded by the Scottish Futures Trust, a public Scottish government agency also responsible for delivering public infrastructure investments like housebuilding, street-lighting and initiatives for redeveloping public land.
But despite these funding strategies, Bennetts Associates' Rab Bennett is not convinced devolution has made a huge difference to the funding environment the industry is facing. "There are always variations in funding and procurement rules at a local level anyway. Depending on the kind of project at hand, there could be as much of a difference between the frameworks in Liverpool and London as there is in London and Edinburgh.
"What tends to have a far bigger impact on the industry than devolution are the cultural and economic differences that exist across the UK. For instance Scotland's a lot smaller so it's much easier to get closer to ministers. And generally, Scotland has a more subdued economic climate, fees and competition tend to be much tougher than in England."