Quintain's 5,000-home build-to-rent development in Wembley seeks to create a sense of community living through wine tastings, tutored events and supper clubs – a place where residents can return from work to a concierge-serviced, hassle-free oasis. How does it score? Hamish Champ slept the night there to find out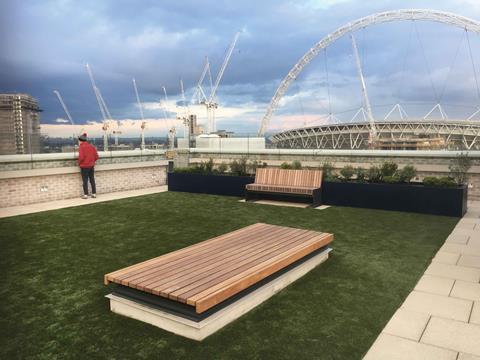 The sheer scale of the UK's largest build-to-rent scheme in Wembley, north-west London, is impressive enough. With construction around Wembley stadium starting in 2004, well over 7,000 homes will have been built by developer Quintain in several towers between then and 2026 as part of a substantial new 85-acre residential district in the capital.
But as I walked up Olympic Way with my colleague Will – en route to spend a night at the development – and saw its huge outline in the shadow of the national stadium, Quintain's ambitions became more apparent, as completed and still unfinished build-to-rent tower blocks jostle for space around the home of English football.
Quintain had originally planned to sell the flats it was building but switched to build-to-rent in 2015, and it is now aiming to attract affluent millennials and their older high-end peers to the development.
Consequently, as new towers sprout, the big sell is in full swing. Numerous posters and lamp post banners hoisted around the stadium ram home the message from Tipi, Quintain's letting operation responsible for finding people to move into some 5,000 homes, that living here can be seen as participating in a new way of renting; branded as a "rental rebellion" (see Joining the rent rebellion, below).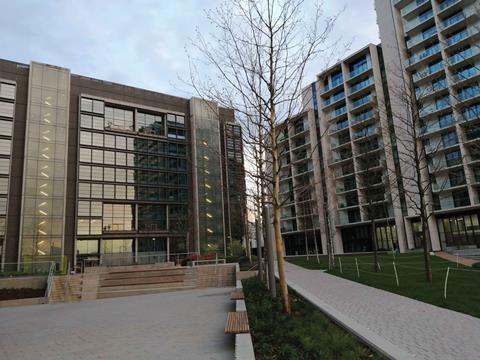 Key selling points of living in one 17-storey block called Landsby – Danish for "village" – include the chance to be part of a community and live a certain lifestyle. Customers – never mere "tenants" – are assured their safety is paramount, thanks to security patrols and robust entry systems to the residential buildings, while social activity is encouraged with supper clubs, wine tastings and so on. Life is hassle-free and seemingly nothing is too much trouble for the back-up team –so says Tipi's promotional material. Utility bills come included in the rent, there are no fees for prospective tenants and no deposit required. It can take as few as 10 days from initial enquiry to signing a lease and, once in, residents can avail themselves of a full concierge service, while communal areas can be hired for entertainment, dining get-togethers and other social events.
Living like this does come at a price, compared with an average monthly rent of £1,300 for a one-bed flat in the area. Unfurnished flats in the Lansdby block start at nearly £1,700 for a one-bedroom unit and go up to nearly £3,700 for a furnished, three-bedroom flat, with furniture supplied by John Lewis and technology add-ons courtesy of Samsung. Associating with such recognisable and high-end brands is another Tipi strategy, says marketing manager Dominic McVeigh.
"We've found people are prepared to pay more if you make things easier," he says.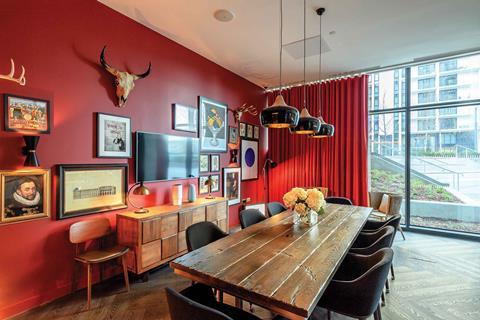 "If you take away the hassle, the fuss – and that's not simply about throwing things in to jack up the rent – they will be prepared to pay whatever they deem as value for that experience." Typical tenants are professional types aged from the mid-20s to the mid-40s. They'll usually stay for an average of 18 months, although lets can be arranged from three years down to three months – attracting corporate types who might otherwise stay short term in an upmarket hotel, or international students balking at traditional college accommodation. A third of the flats being built at the Wembley development are going to be "affordable". This is split between the homes for rent through a housing association, shared ownership, discount market sale and discount market rent (with some available at 65% of the market rent and others available at 80% of the market rent).
Being located a few minutes' walk from Wembley Park underground station is clearly a selling point for Landsby and the other schemes, but Wembley's overall image isn't great, criss-crossed by busy roads. McVeigh says the scheme is convenient for residents working in central London or the City (see overleaf), while they buy into what happens on the development's doorstep once they've returned home from a busy day at the office. "Across the way there's Boxpark, there's the stadium, the arena, the nearby designer outlet. Plus there's a new theatre, the Troubador, opening in June. We have wine tastings, tutored events from winners of Masterchef, supper clubs, and so on. You won't get that at other schemes."
A lack of things around reinforces the feeling of a campus removed from the real world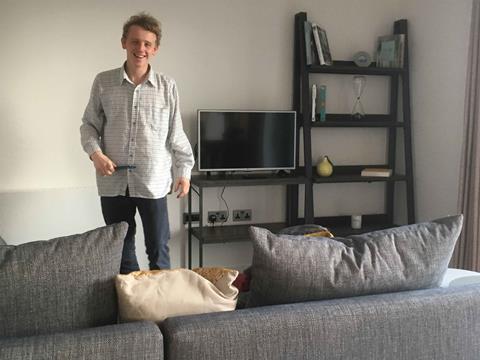 Joining the rent rebellion? I think not
Will Ing, reporter, Building
I like to think of myself as someone who cuts their own path in life. So when I read the e-brochure for "living with Tipi" a few things set alarm bells ringing. I was not convinced I want to live somewhere with a "special neighbourhood team [which] controls, patrols and cares for the place you call home". And I noted with interest that only "well-behaved pets" are welcome. I suspected only "well-behaved humans" were welcome too. Landsby didn't sound like a space that could ever comfortably be mine. My visit did not fundamentally alter this view, but I did learn a lot about the pros and cons of the build-to-rent model.
As a caveat I should say that an unfurnished one-bedroom apartment in Landsby costs more than two-and-a-half times what I pay for my houseshare – so living here would be unthinkable for me. But for the sake of this review, I have imagined it is not.
On the five-minute walk over from Wembley Park tube station I was amused to see large billboards inviting me to "join the rent rebellion". For most people my age – I'm 22 – especially in London, spending as much as half our wages on rent is a necessity, because not in our wildest dreams could we afford to own our own home – so it's not clear where the rebellion is or what people are being invited to rebel against. As a demographic we're probably more interested in rebelling against agency fees, the absence of rent caps, weak tenant rights and the monetisation of housing full stop. Arguably professionalising the rental market and offering longer tenancies in a move away from shoddy landlords must be a good thing.
My colleague Hamish and I picked up our keys – plastic counters with chips inside – from an on-site "hub", which like many of the properties is kitted out in John Lewis furniture and filled with books and art devoid of discernible taste. To me, having a hub onsite felt more like reliving my days in student halls than being pampered – but I'm sure plenty of residents are delighted to have a concierge service.
The flat itself was … nice. It was smaller than I had expected but with plenty of light and a decent main living area. It is a bit cramped for hosting large dinner parties, but I'd happily live in it. The balcony is a real plus and the feel of high-rise living quite exciting: I've lived on the fourth floor before, but it's cool to be 11 floors up, and the surrounding towers make it feel like there is plenty going on at that level.
If there is one undisputable positive to living in a build-to-rent development, it is bathroom cleanliness.
I have never seen one so shiny and hygienic as the one I encountered in Wembley. In the normal rental market, so far as my budget has ever stretched anyway, bathrooms are somewhere between disgusting and just-about-manageable. After a while a deep clean does not make a bathroom significantly better and it just needs to be renovated – but making houses more liveable cuts into landlords' yields.
Which brings me to another nice thing about build-to-rent: they will replace your lightbulbs and fix your broken fridge within hours, and for free. I can't vouch for the extent to which this is hassle-free at Tipi, but having a hub at which one can chase real humans surely must be a help.
Sometimes this relationship might go a bit far, though. It's sweet of them to provide you with free jam and prosecco when you move in, but I would worry I'm indirectly spending money on things I don't want. Every month they put all the tenants' names into a draw to win one of a load of gig tickets to see artists such as Ed Sheeran at Wembley. Residents also pay for a right to access Tipi's supper clubs and wine tastings. For those moving to London without friends this may appeal, but for those already with mates it all feels a bit weird.
Then there's the location. There are only two things at Wembley on the map: the stadium (fair enough) and the North Circular. The location has little to offer a twenty-something by way of interesting places to visit. There is the Boxpark – essentially a big shed with food stalls and a bar – that feels contrived. The lack of things around reinforces the feeling of living on a campus removed from the real world. It takes decades for an area to grow a soul, and the Quintain development won't even reach completion for another seven years. The sole entrance and exit of my would-be home is, basically, Wembley Park station.
That said, I have never been to a friend's house that was as clean and problem-free as these build-to-rent apartments. Plenty of people would love to live in a community, where security is looking out for them. And some people probably even think Boxpark is a "hip" place to hang out.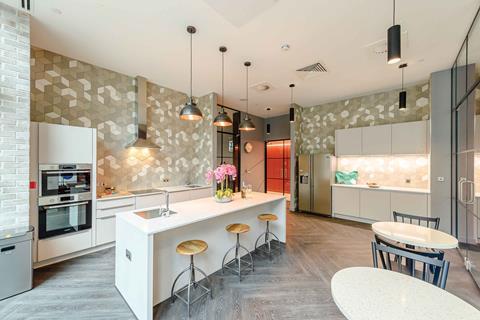 Living at Landsby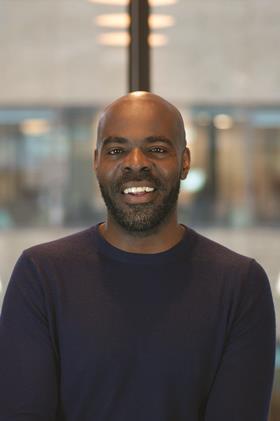 Building met Landsby resident Bunie Anyaegbunam (pictured), a director at an online employment agency for nursing staff based in the City, who has lived with his partner in a seventh-floor flat in Landsby for four months of a 12-month lease. Anyaegbunam pays £2,500 a month for a two-bedroomed furnished flat. We collared him as he exited the tower's lift and quizzed him about his experiences of living and renting in the block.
"I love it. I was particularly keen to be part of this burgeoning community of like-minded people in a great part of north-west London. The flat has great natural light, courtesy of the floor-to-ceiling windows and it's very tastefully decorated and furnished with great quality products from John Lewis, Samsung and Made.com – although Made.com's products are not advertised in Tipi's literature."
Anyaegbunam, 45, says the concierge service is "fantastic and friendly with a willingness to help" and expects that as more flats are let – Landsby is currently around 45% occupied – the social side of things will start to grow.
Does living in Landsby represent value for money? "Definitely," says Anyaegbunam. "I suspect an equivalent property in, say, Shoreditch [in east London and close to another Boxpark complex] would be close to double what I'm paying in Wembley."
So what's the best thing about where living here? "The feeling of being enclosed within a calm oasis," says Anyaegbunam. "All of the developments that surround here are within a virtual 'ring of steel' outside of which is Boxpark, the London Designer Outlet, SSE Arena and Wembley stadium. Within the development there is a calmness, a serenity that makes coming back from a long day at work in the City feel relaxing."
As for problems, Anyaegbunam says it's still a new building and there have been some growing pains. "Our door entry system was disabled for a couple of weeks while they were fixing a problem, but on balance I'm really enjoying the experience of living here."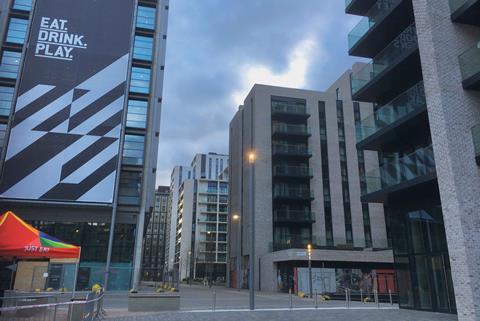 What do our guest editors think?
We asked a couple of our graduate panellists what they think about the build-to-rent model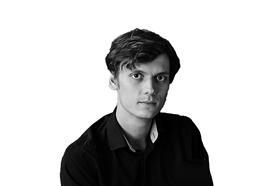 Lawrence Lob-Levyt
Build-to-rent (BTR) in my opinion is a great solution to young professionals who can afford the benefits but doesn't go to solving the problem that we have with the lack of truly affordable homes. I don't want to be overly negative – something that means more homes at lower rents can only be a good thing, but needs more government oversight so prices don't get out of control.
I believe the rent in a one-bedroom in Elephant & Castle for one of these schemes is around £1,800 a month. What happens to the local population where these high rents push up the surrounding living costs and people are forced to move? Although the build-to-rent schemes offer attractive solutions to a small percentage of people, these come at the expense of most of the population earning considerably less that would be required to qualify.
We are still demolishing social housing faster than we are replacing it with "affordable" units, and the build-to-rent schemes are not subject to the same affordable requirements as traditional residential builds. And if home ownership is seen as a big incentive to increase social mobility and financial security, then why are we increasing the size of the rental market?
With around 30% of homes in London being privately rented, this is seemingly targeted at young people looking to move into homes. With the promise of not being beholden to an individual landlord as these new builds are mostly operated by single, large companies which can be held to higher standards, this seems very attractive.
On the Tipi scheme, it seems the cheapest available is £1,750, with no deposits or fees provided you are earning a minimum amount – it looks like this is around £30,000. Although this is all very positive (hell, I qualify, and if I was living with my girlfriend this could be very attractive). But at the end of the day, my friend and I are renting rooms in our house for £500 a month in a four-bed house with a garden which is five minutes from a tube station. This is what I would consider affordable.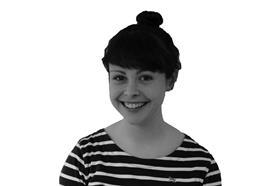 Sarah Beth Riley
Personally I wouldn't live in a BTR because they're a bit like glorified student housing. I want to be able to get a cat and paint my walls (though probably not dark purple) and build my own kitchen.
I also still hang onto the idea of home ownership because I see it as an investment for the future (rather than throwing money away on rent). But one idea I have is for an organisation to set up an investment fund for renters to pay into alongside their rent. It's not a fully worked up idea but if renters could also invest, I think this would be a win.
I do like the idea of BTR because it's in the management company's interest to provide community facilities to entice people to stay long (and therefore have less turnover of tenants or voids) – anything which is good for the community is good for me.
Speaking of communal facilities, when I lived in the Kungshamra estate in Stockholm there was a communal party room and a sauna attached to the laundrette so you could steam yourself while you steam your clothes. I think we should make one of these here.
The UK needs to start thinking of renting in a long-term way; the way we think about home ownership. It's partway there but it still needs some tweaking. I think profits from the BTR schemes should go back to the tenants somehow – stop making rich people richer and build communities instead.