The shortlisted entries for this year's Building Awards Project of the Year aspire to the very highest functionality and aesthetics. Ike Ijeh takes a tour of the 10 projects in contention. Part 2 of the shortlist will be published tomorrow.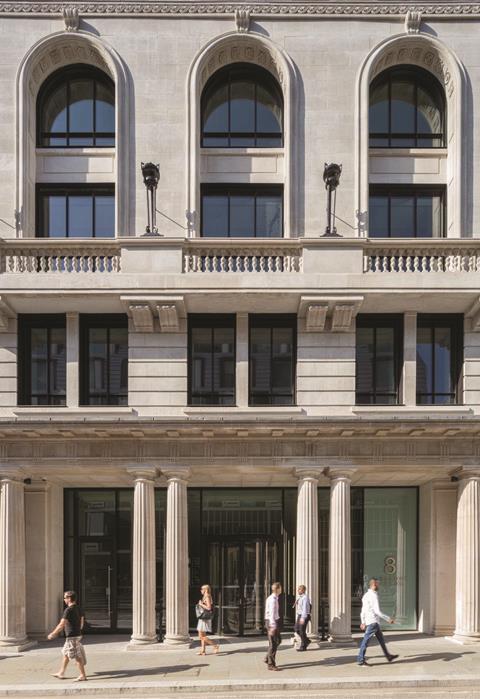 8 Finsbury Circus
London
Architect: Wilkinson Eyre
Client: Stanhope / Mitsubishi Estate
Contractor: Lendlease
Submitted by: Lendlease
With Edwin Lutyens' seminal Britannic House as a neighbour, and occupying a key position on the broad monumental sweep of Finsbury Circus, this new commercial block must conform to the context and streetscape of a high-profile historic location in the heart of the City of London. It achieves this by revealing a handsome Portland stone facade sympathetic to its classical neighbours but incorporating state-of-the-art office accommodation within. The project is further enlivened by the retention of a 1920s classical facade to the rear, which contains a new entrance onto adjacent South Place.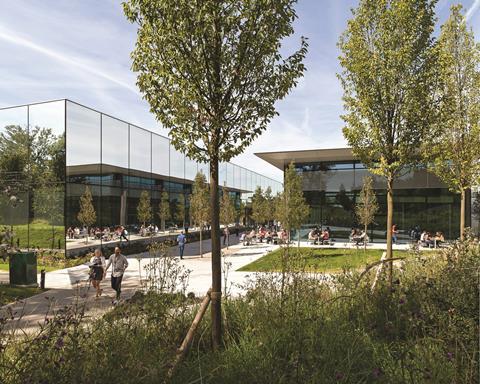 Dyson HQ Expansion
Malmesbury, Wiltshire
Architect: Wilkinson Eyre
Client: Dyson
Contractor: ISG
Submitted by: ISG
Sharing a reputation for combining innovative engineering with striking aesthetics, Wilkinson Eyre is perhaps a natural choice to design an extension to technology brand Dyson's headquarters. The brief called for a workplace that would inspire employees towards greater creativity and more innovative ways of working. The building responds by creating a series of lightweight, minimalist pavilions that sit serenely within their richly landscaped natural environment and actively promote wellbeing as well as commercial requirements. The campus also promotes environmental responsibility and incorporates a number of low-carbon features such as more than 10,000ft² of solar panels and Dyson-branded low-energy, long-life LED lighting.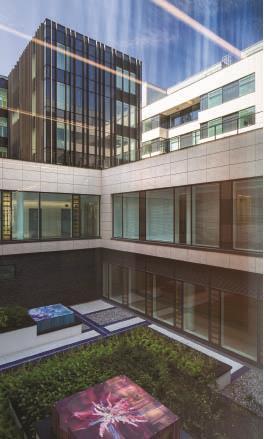 Inpatient Ward Block at the Ulster Hospital
Belfast, County Antrim
Architect: Avanti Architects / Kennedy Fitzgerald
Client: South Eastern Social Care and Health Trust
Contractor: Graham-Bam Healthcare Partnership
Submitted by: Graham Construction
The new inpatient accommodation at Ulster Hospital sets a benchmark in the advancement of British inpatient care. The six-storey block provides 30,000m² of modern healthcare services across 12 inpatient wards, which are located on upper floors in order to maximise natural daylight and views. The wards contain a total of 288 single en-suite rooms with integrated bed-head services and built-in storage and wardrobe facilities. Lower floors house a range of associated healthcare departments, such as a day surgery, operating theatres and a cafe. Achieving BREEAM Excellent, the new block seeks to create a landmark healthcare environment that is safe, accessible and therapeutic.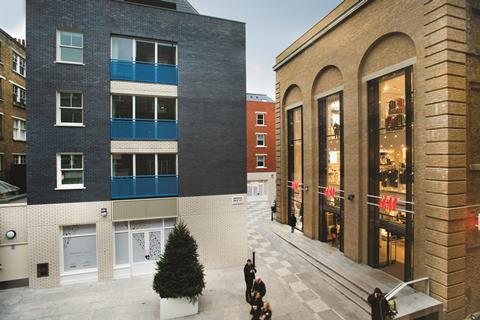 Mercers Walk
London
Architect: Ian Ritchie Architects
Client: The Mercers' Company
Contractor: Geoffrey Osborne
Submitted by: Geoffrey Osborne
The tight, densely packed and historic grain and fabric of London's Covent Garden rarely provides opportunities for new-build developments, but this one grasps its uncommon opportunity with flair and conviction. Complexities abounded from the start, as this intricate, mixed-use scheme is essentially five projects rolled into one, offering a dynamic mix of refurbished Victorian warehouse, three residential units and a single-storey retail unit – all stitched around a small, sheltered courtyard. By adopting a novel approach to restoration and ornamentation, the new scheme provides exemplary modern accommodation and further enhances the public realm of an already thriving district.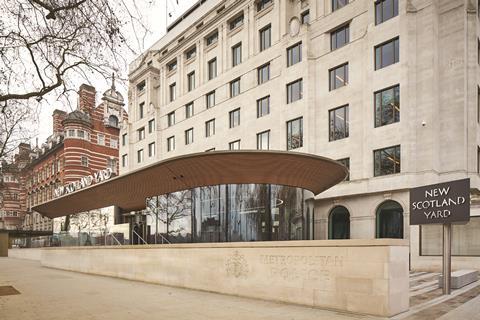 New Scotland Yard
London
Architect: Allford Hall Monaghan Morris
Client: Metropolitan Police Service, London Mayor's Office for Policing and Crime
Contractor: Bam
Submitted by: Allford Hall Monaghan Morris
Buildings rarely come more iconic than New Scotland Yard. But despite its notorious name, the classical 1930s block in which it now sits and the nostalgic overtones of its revolving sign, the world's most famous police station occupies a new home that is at the very forefront of cutting-edge technology and design. The move from nearby 1960s offices to a refurbished building that sits beside the Yard's original home has occasioned a project celebrating history and pride but in a robust contemporary manner that prioritises the onerous media and conference demands of a modern police force. This approach is chiefly evident in the striking new glass entrance pavilion erected at the entrance to the building, but is also channelled through the generous daylighting and streamlined modern spaces that mark the refurbished interiors.
Part two of the shortlist will be online tomorrow.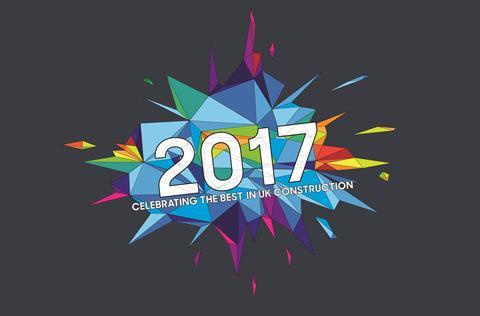 To find out which project wins Project of the Year, book a table to attend: www.building-awards.com/book


Building's architectural correspondent

Follow Ike on Twitter @ikeijeh