The shortlisted entries for this year's Building Awards Project of the Year aspire to the very highest functionality and aesthetics. Ike Ijeh takes a tour of the 10 projects in contention.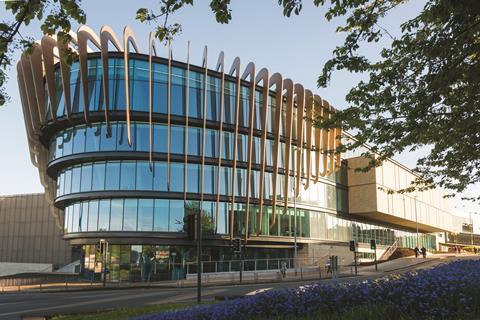 Oastler Building, University of Huddersfield
Huddersfield, West Yorkshire
Architect: AHR
Client: University of Huddersfield
Contractor: Morgan Sindall
Submitted by: Morgan Sindall
This landmark building provides an exceptional new combined teaching space for the business, music and humanities schools of the University of Huddersfield. The broad and complex brief was to provide a wide range of facilities including classrooms, offices, language labs, four 300-seat lecture theatres and a law court – all accommodated within a large single building of almost 8,000m². The architectural response sees a distinctive, prow-like building featuring curved fins and an elliptical profile that cascades outwards over a dramatic, 7m slope across the site. The end result is exemplary teaching space contained within a new landmark for the university and Huddersfield itself.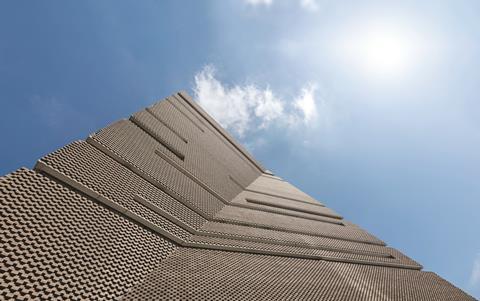 Tate Modern Blavatnik Building
London
Architect: Herzog & de Meuron
Client: Trustees of the Tate
Contractor: Mace Group
Submitted by: Ramboll (structural engineer)
Along with fellow nominee the Design Museum project, the long-awaited extension to Tate Modern was one of the two most eagerly anticipated London cultural projects of 2016. Providing much-needed additional exhibition space to the world's most-visited modern art gallery, the building's distinctive spiral form is already a familiar local landmark and was designed as an abstracted response to the orthogonal geometry of the original block. This unique structure is dressed in an extraordinary brickwork skin, perforated to reference yet reinterpret the main gallery. Its textured, pixellated facade also conceals a series of dramatic circulation and exhibition spaces, including the subterranean oil tanks powerfully reconfigured with a structural ingenuity and industrial prowess that mark the entire project.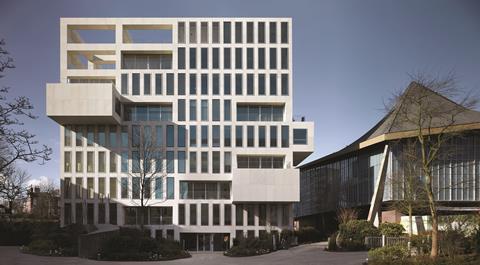 The Design Museum & Hollandgreen
London
Architect: OMA / Allies and Morrison / John Pawson
Client: Chelsfield Developments / Ilchester Estates
Contractor: Mace
Submitted by: OMA / Allies and Morrison / John Pawson
This landmark twin project is marked by a number of innovative collaborations. It features three celebrated architects, includes new-build and refurbishment elements, provides a rare combination of residential and cultural uses and developed an innovative funding vehicle whereby the public amenity of a museum was financed by the private development of luxury housing. The refurbishment in question is of the former Commonwealth Institute, now ambitiously revamped as the new Design Museum, its stunning parabolic roof retained to enclose newly inserted exhibition spaces. And next door stands the cluster of new-build flats that financed the overhaul, a trio of rational blocks cleverly designed to both contrast and harmonise with the context.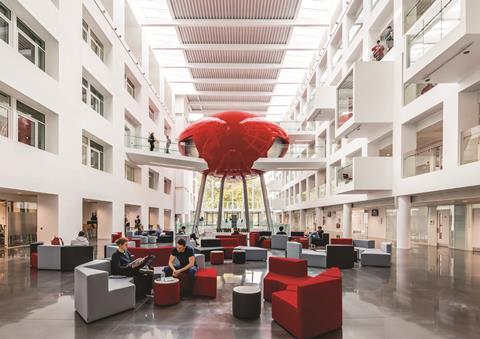 The Spark Building, Southampton Solent University
Southampton, Hampshire
Architect: Scott Brownrigg
Client: Southampton Solent University
Contractor: Interserve
Submitted by: Scott Brownrigg
This striking building acts as a showcase academic hub for teaching, research, innovation and student achievement. The building announces its purpose through dramatic architectural aesthetics with a large, red-gloss elliptical pod, theatrically encrusted, in the centre of a full-height, fully glazed atrium. Conceived on a civic scale, the six-storey atrium also features a three-storey digital video wall to its rear and seeks to internalise public space by being physically and visually integrated with adjacent Southampton Central Park. With dozens of classrooms and an advanced sustainability agenda that optimises building orientation for thermal benefit, the structure provides a compelling example of how civic and academic agendas can be seamlessly combined.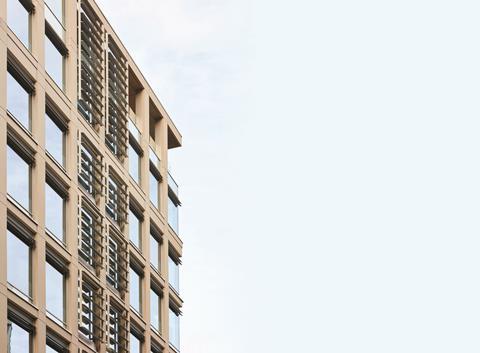 XYZ
Manchester, Greater Manchester
Architect: Cartwright Pickard
Client: Allied London
Contractor: McLaren Constructio
Submitted by: Cartwright Pickard
XYZ is one of a new generation of pioneering commercial projects that each seek to articulate what their vision of the "office of the future" might be. Part of Allied London's massive Spinningfields redevelopment in Manchester, this take on the future work place had three key objectives: to create a flexible and adaptable scheme, to provide affordable units for smaller local businesses, and to design an overtly contemporary building. The result is a nine-storey, 140,000ft² precast concrete block offering a robust and industrial feel, with 4m slab-to-soffit heights, an exposed concrete structure throughout and multiple air-conditioning systems to maximise tenant choice.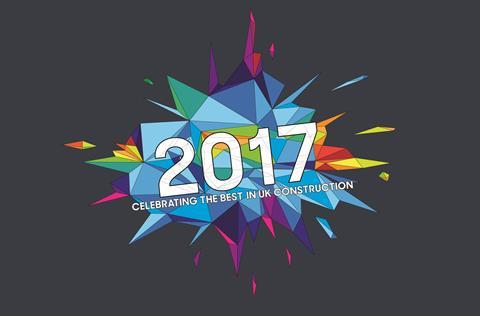 To find out which project wins Project of the Year, book a table to attend: www.building-awards.com/book