Canary Wharf, the original post-industrial regeneration project, is growing up: Wood Wharf, the latest development on the estate, seeks to move away from the original scheme's anodyne corporate banking aesthetic and invite spontaneity and street life through residential buildings, leisure facilities and start-up workspace.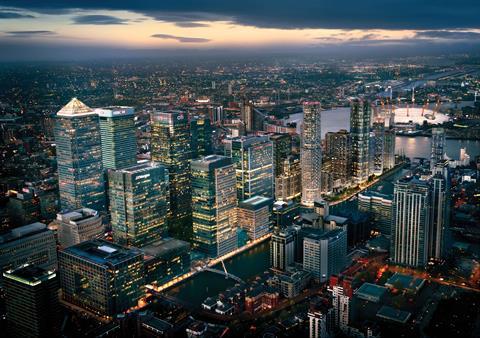 Canary Wharf celebrates its 30th anniversary this year but, for many people, the east London financial district still represents a puzzling host of contradictions. Many see it as an exclusive office district, but it is in fact now home to hundreds of shops and restaurants, including the biggest and best-performing Waitrose store in the UK. Like the City of London, Canary Wharf is not commonly thought of as a residential area, but construction is under way on a 60-storey residential tower that will become the second-tallest building on the island after One Canada Square.
For Londoners in particular, a perception persists that Canary Wharf is somehow separate from the rest of the city – an inaccessible corporate conclave. Yet Canary Wharf benefits from a host of public transport connections, including inner London's only airport and, from December, the biggest Crossrail station outside the city centre. In fact, the district is about the same distance from the City of London as Buckingham Palace, but nobody would ever suggest the latter isn't at the heart of London.
The continuing chasm between the perception and reality of Canary Wharf is a result of what the district has and hasn't managed to achieve during its 30-year lifespan. Its successes are indisputable. From a derelict, post-industrial wasteland in the early 1980s, the district has transformed into a cluster of soaring skyscrapers that houses the UK's second financial hub and has galvanised London's position as the world's leading financial centre.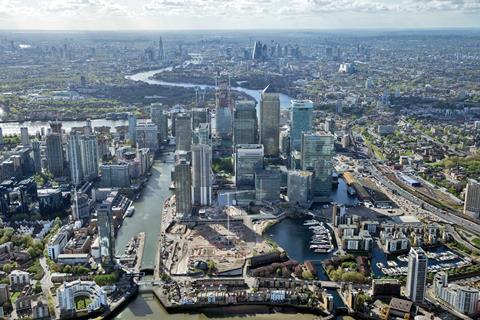 Canary Wharf was once the biggest urban regeneration project in Europe, and today it is by far the single largest employment centre in the UK, providing jobs for one-and-a-half times the number of people working at the UK's next biggest single-site employer, Heathrow airport. Its workforce is also 50% larger than the entire financial sector of London's closest European financial rival, Frankfurt.
With its 16 million ft² of office and retail space, the district has a daytime working population of 120,000, making its underground station the busiest single-line tube station in London. Such has been Canary Wharf's success that it has shifted London's centre of gravity eastwards over the past 20 years, laying the foundations for other post-industrial regeneration projects at Greenwich Peninsula, the Royal Docks and the Olympic park in Stratford.
Yet, inevitably, mistakes were made. The reason that Canary Wharf is widely perceived as a non-residential area is simply because it is one: 60-storey under-construction Newfoundland Quay is the only residential development within the original estate.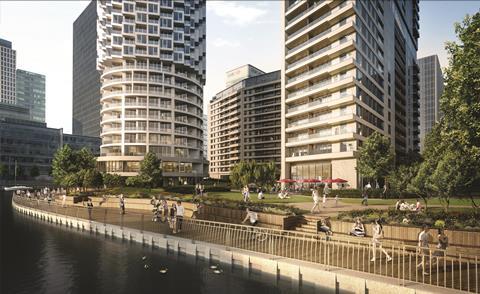 The result is a monocultural and too often anodyne street-level environment dominated by offices and unrelieved by the housing, theatres, cinemas, shops, markets, leisure centres, libraries and schools that are such essential ingredients of vibrant city life. Canary Wharf's abundance of retail space might have helped in this regard. But, in the North American tradition of the hermetically sealed shopping mall, its shops are buried underground. While this provides obvious management and security benefits, and protects shoppers from the elements, it also strips the district's streets of the activity and animation pedestrians might otherwise have enjoyed.
The estate's public arts and entertainment programme is a commendable attempt to paper over these civic cracks, but without the people and character of a more mixed accommodation strategy, Canary Wharf often feels like a sterile outpost of the less salutary physical aspects of the US downtown experience, rather than an active component of London's rich tapestry of neighbourhoods.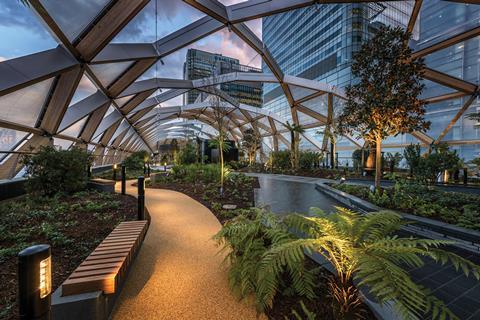 Next generation
Estate owner the Canary Wharf Group thinks it has an answer to these problems: Wood Wharf. This is the £2bn next stage of development for the Canary Wharf estate – an eastward expansion that marks the biggest addition to the original masterplan since it was drawn up by SOM in 1985. Not only does Wood Wharf aim to radically change the character and usage of at least the newest part of the island, it also seeks to ensure that the next generation of Canary Wharf development builds on the successes of the past but avoids its mistakes.
Wood Wharf lies directly to the east of the original Canary Wharf estate on a 23-acre stretch of waterside peninsula that has been partially formed by land reclaimed from the adjacent South Dock basin. The development has been divided into five phases, with work on the first phase already well under way. The finished scheme will aim to add more than 5 million ft² of new mixed-use development to the original estate by the middle of the next decade. This will include 2 million ft² of office space, 380,000ft² of retail, bar and restaurant space and 3.6 hectares of interconnected public spaces.
But most crucially – and for the first time in Canary Wharf's history – the new scheme will also provide a significant tranche of residential accommodation. More than 3,300 homes are planned, with 25% of them allocated to affordable housing. In another significant related move, around two-thirds of phase one's total 825 units will be PRS (private rental sector) housing, with Canary Wharf creating its own dedicated long-term leasing platform, Vertus Residential, to manage its PRS properties. This marks a significant investment in a sector that has been much lauded in recent years, but is only just taking off in the UK. Canary Wharf's confidence in the sector is demonstrated by Newfoundland Quay being built entirely for the PRS market.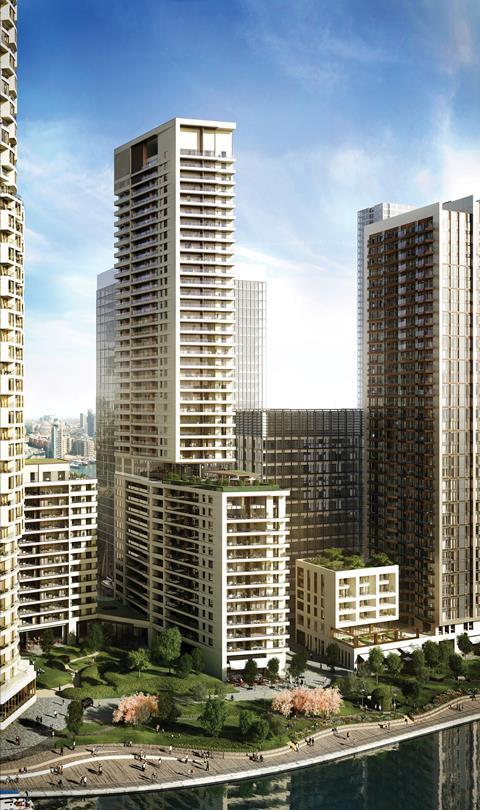 The Wood Wharf masterplan has undergone several changes since it was first proposed in 2003, with both Terry Farrell and Richard Rogers having prepared previous masterplans. The current masterplan has been devised by Allies and Morrison, and the practice has also designed buildings on the site along with Darling Associates, Kohn Pederson Fox, Grid Architects, Stanton Williams and Patel Taylor.
Its landmark residential scheme is Herzog & de Meuron's One Park Tower, a 58-storey cylindrical, fluted terracotta tower with a tessellated facade of embedded balconies and terraces. The intention is for Wood Wharf to also include a health facility, a community sports hall and a 420-pupil two-form-entry primary school, facilities that have no counterparts on the original estate.
Timeline
14th century: A marshy peninsula near the Thames Estuary is nicknamed the Isle of Dogs after being home to Edward III's hunting dogs
1614: The East India Company starts anchoring vessels at the Isle of Dogs
1700: The first London dock opens at Howland Reach
1802: West India Dock opens as the nucleus of the world's largest and busiest docks complex
1936: Canary Wharf warehouse is built beside West India Dock to store fruit from the Canary Islands
1940-44: The docks suffer extensive damage throughout the Second World War
1967-70: Containerisation of the global shipping industry leads to closure of smaller docks, prompting unemployment and decline
1980: The area's final operational docks close (below)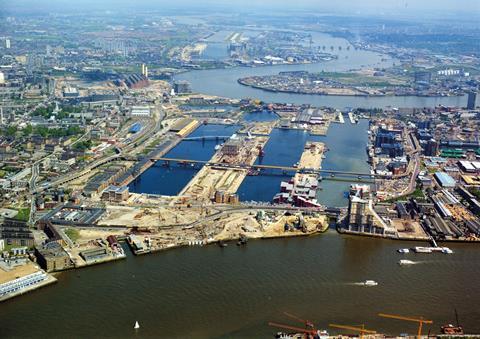 An evolution
For Canary Wharf group company secretary John Garwood, Wood Wharf reflects the changing demographics of the area. "Canary Wharf has to expand. Our population is set to almost double to 200,000 within the next decade, and Crossrail – which will add another 50% to London's public transport capacity overnight – will deliver even better connections to the area. Wood Wharf is a natural response to these changes," he says.
The development clearly represents a different approach from the one that has characterised the estate over the past 30 years. The most obvious difference of course is the commitment to residential development, a strategy that has a direct impact on both the masterplan and the architecture. On Wood Wharf, it tends to be the residential buildings that are high-rise, while the commercial blocks are mid-rise – a clear reversal of the estate's commercial priorities that would have been unthinkable when it was first built in the 1980s and 1990s.
For Garwood, the reason is obvious. "The market's changed; it's simply now more profitable and economical to develop residential. When plans for Wood Wharf were first developed, we estimated that we'd provide one-third residential and two-thirds commercial. This ratio has now swapped. Plus, of course, there's a huge housing shortage in London – the city needs to be building well over 50,000 homes a year, yet we're barely meeting 30,000. The demand is huge and it's simply not being met."
Garwood also describes Wood Wharf's PRS venture as closer to the "American condominium model", but maintains that Canary Wharf is uniquely placed to manage and optimise the PRS model, as it's in the rare position of being builder and landlord for the estate, as well as the owner of all its freeholds and half its buildings.
Timeline (continued)
1981: The London Docklands Development Corporation is created to oversee docks regeneration, and the area is designated an enterprise zone
1984: US developer G Ware Travelstead proposes transforming Canary Wharf into a 10 million ft² financial services district
1985: SOM designs the masterplan for Canary Wharf
1987: Canadian developer Olympia & York takes over the project; the Docklands Light Railway and City airport open
1988: Construction of the new Canary Wharf begins
1990: Cesar Pelli's One Canada Square completes (below)
1992: The recession forces Olympia & York to file for bankruptcy, halting construction
1995: Construction resumes under a new consortium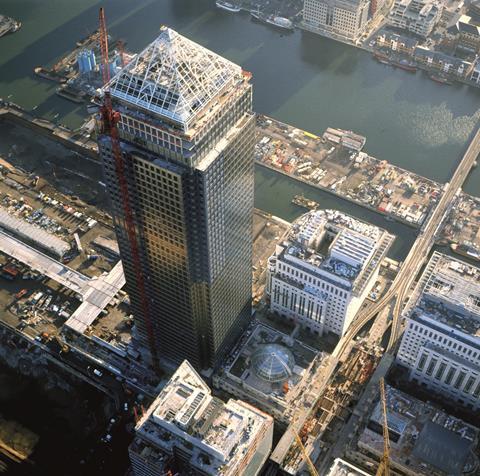 Work-life balance
While the introduction of residential is the main difference between Wood Wharf and the original Canary Wharf development, Garwood also reveals that the nature of its commercial development has also changed. "The original estate was about big floorplates, big pre-lets and large institutions. But demand for this kind of accommodation has diminished, so again Wood Wharf is a response to this."
The response is smaller commercial units in lower-rise buildings for what Garwood describes as "leaner, more nimble companies". In another major change, Wood Wharf is also deliberately wooing IT and tech start-ups, as opposed to the traditional established banking tenants targeted for the original estate.
"Because of the amount of offices we host, Canary Wharf has one of the highest concentrations of IT staff in Europe," says Garwood. "TMT [technology, media and communications] has now outstripped financial businesses. We used to have a 70:30 split between the two in favour of the financial market but now it's more 55:45 in favour of TMT. That's a huge change, but we hope to manage it by attracting the start-ups to Wood Wharf and hoping that when they grow up, as it were, they graduate to being tenants on the original estate."
As part of this strategy, Canary Wharf has allocated the entire 39th floor of its One Canada Square headquarters to a tech start-up hub that it has branded Level 39. With the sleek corporate fixtures that adorn the rest of the building stripped away to be replaced with a more raw, industrial aesthetic, Garwood describes this as a "created community of tech companies" that aims to attract workers in the IT and tech market. It aims to convince them that Canary Wharf, and more specifically Wood Wharf, is a natural environment for their sector.
Timeline (continued)
1999: Foster + Partners' Canary Wharf tube station opens
2003: The first Wood Wharf masterplan is prepared by British Waterways
2007: The Wood Wharf masterplan is revised by Rogers Stirk Harbour + Partners
2013: A new masterplan is prepared by Allies and Morrison
2014: Completion of KPF's 25 Churchill Place marks completion of the original SOM masterplan
2015: Foster + Partners' Crossrail Place opens
2016: Construction begins on Herzog & de Meuron's One Park Drive
2023-25: Estimated date for the completion of Wood Wharf
Future
Garwood summarises Wood Wharf in a single word: "diversification". And clearly, with dedication to multiple uses evident in the masterplan, it will undoubtedly make for a richer social and civic mix than the one that exists on the original estate. Unlike most of its commercial rivals, Canary Wharf Group is the developer, contractor, owner, freeholder and landlord of much of its portfolio, a coveted position only otherwise enjoyed by the likes of Grosvenor and the Crown Estate. This gives the group exclusive powers to shape the commercial, economic, urban and management conditions across the estate – a privilege it appears to be wielding with a more holistic outlook than before.
With its cluster of towers, Wood Wharf differs little from Canary Wharf in cityscape terms. But the introduction of ground-level retail, the insertion of "high streets" into the urban grid and the provision of school and community facilities should hopefully lead to the creation of the kind of liveable London neighbourhood that the original estate lacks.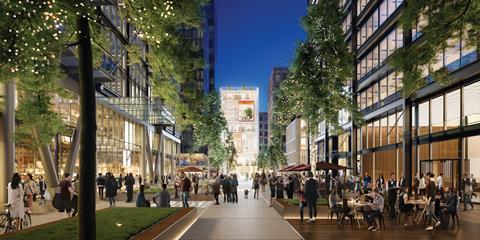 Clearly Wood Wharf is targeted at wealthy investors, and the plush marketing suite replicas of One Park Drive apartments built in One Canada Square leave onlookers in no doubt that these will be luxury apartments most likely destined to be inhabited by those earning lucrative salaries next door in Canary Wharf. The development has already been alluded to as a cross between "Marylebone [residential] and Shoreditch [commercial]".
But the commitment to 25% affordable housing – however broadly the term is defined – on a private project of this scale is significant and should hopefully lead to a more mixed community than many of the similar residential developments now appearing on the Isle of Dogs, some of which stand accused of simply offering poorly designed luxury high-rise ghettos.
Of course, it is now impossible to assess Canary Wharf's legacy without reference to the other competing regeneration masterplans that have sprung up across London and elsewhere over the past 30 years. Canary Wharf may have been the first totemic urban regeneration project of the post-1979 free-market era and it may well have spawned the likes of Birmingham's Brindleyplace and the later phases of Broadgate. But the monocultural model it presented has evolved since then into the more mixed-use solutions evident in later developments at King's Cross, the Olympic Park and most recently, British Land's plans for nearby Canada Water.
In their reliance on infrastructure, waterside activity, a unified management strategy, interlinked public spaces and a cohesive commercial architectural language, all these schemes owe something to Canary Wharf.
But Wood Wharf's adherence to residential accommodation, community facilities, mixed uses and the emerging tech economy proves that the first urban regeneration scheme of them all is now learning from its successors.