In the second of our two-part summer series, Ike Ijeh discusses some more of the best UK roof gardens and public spaces to make you think twice about that beach holiday.

Bradford City Park, Bradford
Gillespies, 2012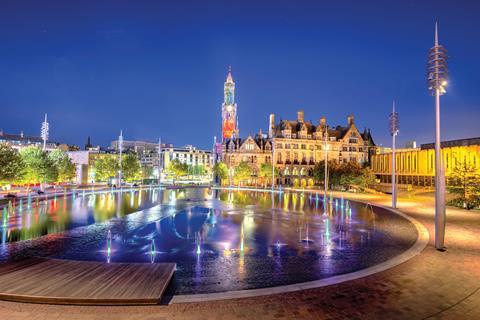 While the world focused its attention on the 2012 Olympic Games in London, Bradford was quietly putting the finishing touches to the tallest fountains and largest urban water feature in the UK. Bradford City Park is by far the largest public space in the city and is centred on the Victorian grade I-listed Bradford City Hall.
The square is divided into three main areas but its undoubted centrepiece is the dramatic Mirror Pool. The shallow, 3,600m2 water feature contains 100 ground-level fountains capable of shooting slender plumes of water up to 30m in the air. Ever since Dixon Jones Architects' inspired reworking of London's Somerset House saw 55 water jets embedded into the cobbles of its central courtyard in 2004, subgrade fountains where water jets are discreetly sunk into the ground have become increasingly popular in British public spaces. In London alone, Granary Square in King's Cross, Peninsula Square in Greenwich, and the Queen Elizabeth Olympic Park all have their own examples. But the biggest of all is Bradford City Park, where the £25m feature comes with lasers and loudspeakers to offer one of the most theatrically choreographed public space experiences in the UK.
It has impressive environmental credentials too; rainwater is captured and either treated and recirculated through the fountains or diverted away from the city's capacity sewer system to a new culverted water course on the perimeter of the square.
Crossrail Place Gardens, London
Foster + Partners, 2015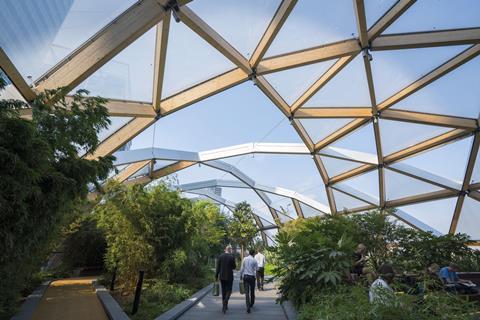 Before 2015 nobody thought of gardens when they thought of Canary Wharf – much less roof gardens. Since its conception in the 1980s, London's second financial centre has staked its architectural reputation on skyscrapers and underground shopping but seemingly paid little attention to natural landscapes – although Jubilee Gardens, ALD's superb Anglo-Japanese garden that acts as a green lid for Canary Wharf tube station, stands out as a notable exception. This all changed in glorious fashion in 2015 when Foster + Partners' Crossrail Place opened.
The basement of Crossrail Place, dramatically realised by digging a gigantic trench alongside West India Quay, will eventually form Canary Wharf Crossrail station when the network finally opens at the end of this year. But in order to gain early commercial utilisation of the massive steel and concrete tube structure built over the platforms, retail was installed at ground level and a spectacular, partially sheltered garden was created under its roof. The roof itself is formed by a ground-breaking elliptical funnel structure comprising ETFE cushions set within a diagrid of curving glulam beams.
A series of curving paths meander below, set within a rich foliage of trees and planting, and offering stunning panoramic views over the adjacent quay and the spires, towers and rooftops of east London beyond.
Roof Gardens, 10 Fenchurch avenue, London
Eric Parry Architects, 2018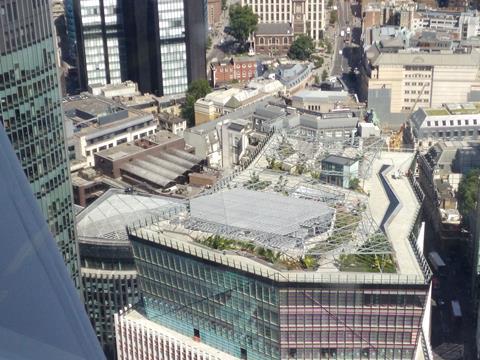 It comes as a pleasant surprise that the City's newest roof garden – unlike many others – neither crowns a tall building nor comes in the midst of planning or heritage controversy: 10 Fenchurch Avenue is a new, 15-storey office block in the shadow of totemic 20 Fenchurch Street, home to arguably London's most controversial sky gardens.
The newer building strikes an altogether more civic and conciliatory tone, dramatically placing five storeys of asymmetrically faceted glazed attic atop a rectilinear 10-storey masonry base. At the very top lies an extraordinary public roof garden designed by German landscape architect Latz + Partner. Its most striking aspect is a water channel cut into the ground, formed by interconnecting precast concrete units, its zig-zagging path following the warped geometry of the faceted attic below. Beside it, a galvanised steel pergola structure destined to be entwined with wisteria spans a series of planting beds.
Both garden and offices, which were engineered by Arup, will open to the public next month.