Continuing our Halloween tribute to the most gruesome building designs around the globe, here's the third of our three part mini-series
To mark Halloween two years ago Building compiled a list of horrific architecture from around the world. Alas, since then, architects far and wide have spent the last two years creating new entries for our roll call of terror so, reluctantly, we have been forced to produce a sequel. You can read our first installment here and second installment here, but for the third of our three part mini-series read below (if you dare):
Phoenix Island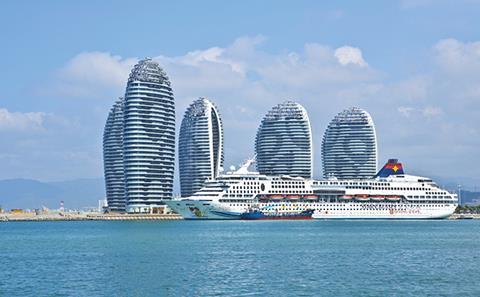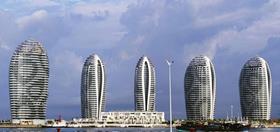 Location: Sanya city, China
Architects: MAD
Function: Mixed use
Completion: 2013
For centuries, phallic or allegedly phallic architecture has been a staple of human civilisation. In the 20th century, this lascivious artistic creed found a natural outlet in the skyscraper, and buildings like Jean Nouvel's Torre Agbar in Barcelona and Cesar Pelli's Two International Finance Centre in Hong Kong have winked and nudged their way into the seedy annals of architectural eroticism. But, with its overtures of male domination incompatible with our age of equality, phallic architecture is out and the female form is finally taking anatomical revenge on the built environment. Much of Zaha Hadid's back catalogue reveals her sterling attempts to level the playing field and her proposed Tokyo 2020 Olympic Stadium in particular leaves about as much to the imagination as a Carry On film. But even Hadid would have balked at the sheer gynaecological audacity of Phoenix Island. Five voluptuous tower blocks swerve skywards from a redeveloped quayside, so far so good. But a slight shift in orientation reveals a flabbergasting feminine profile that would make Lars von Trier blush. There's nothing wrong with buildings trying to be sexy. But naturist architecture? Be very afraid.
Where Are They Now?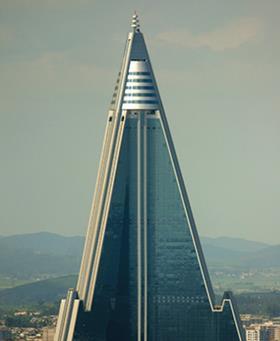 A round-up of the horrors that made our shortlist two years ago
Ryugyong Hotel
Pyongyang, North Korea
Baikdoosan Architects & Engineers
The recent brief disappearance of diminutive dictator Kim Jong-un unleashed a flurry of speculation in his native North Korea and beyond. His return, complete with Dr Blofeld limp and nonsensical official explanation, ("scientific field guidance excursions") merely added to the rumour mill. The mill needn't have turned: Jong-un was obviously battling a demented Jack Nicholson in an attempt to escape North Korea's hulking homage to Kubrick classic The Shining. Twenty-seven years after construction began and two years after the exterior was completed, this terrifying 105-storey hotel, which apparently and eerily lacks a fifth floor, remains unopened.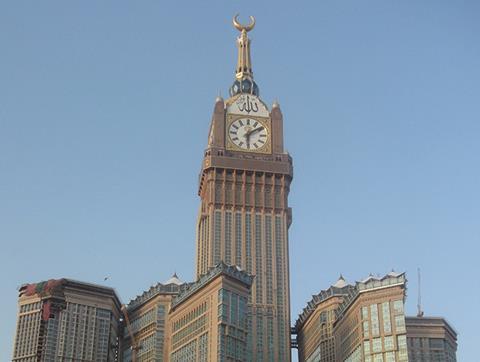 Makkah Clock Royal Tower / Abraj Al Bait
Mecca, Saudi Arabia
Dar Al-Handasah Architects
It's ironic that in the two years since the completion of Saudi Arabia's anabolic answer to Big Ben, Mecca, the holiest city in Islam, has witnessed an explosion of Western capitalism. Abraj Al Bait is now surrounded by a swarm of luxury hotels and towers as Mecca comprehensively obliterates its spiritual and historic significance in a shameless attempt to profit from the millions who make the annual hajj pilgrimage, much to the chagrin of aghast locals who have dubbed their mutating metropolis "Mecca-hatten".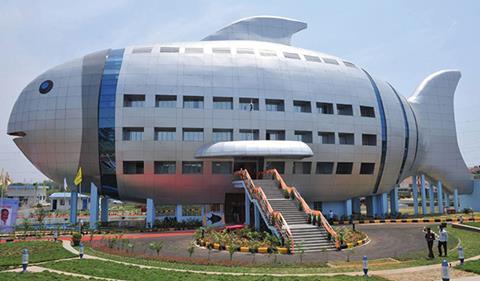 National Fisheries Development Board
Hyderabad, India
GA Architects
Quite how the construction of a government building shaped like a fish did not prompt a flurry of ministerial resignations is a mystery. Only in India perhaps could such architectural wrongdoing go unpunished - previous national aberrations have included a planetarium shaped like the solar system and a cultural centre shaped like a guitar.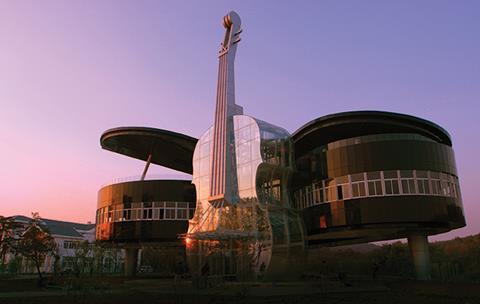 Piano House
Huainan, China
Hefei University of Technology Architecture students
How do you extend a building shaped like a violin nestling against a grand piano? The obvious answer is to construct a new wing shaped like a violinist but, alas, in the seven years since this kitsch masterpiece was built, the idea hasn't caught on. Humanoid accretion or not, Piano House, which acts as an improbable urban planning showroom, has still proved to be a hugely popular tourist attraction.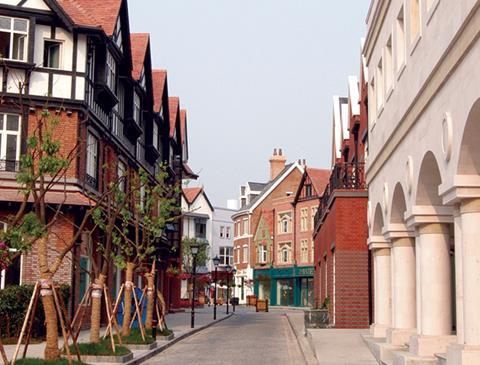 Thames Town
Songjiang, China
Atkins
Despite costing an estimated £500m and coming complete with mock Tudor streetscapes and London terraces, China's meticulously synthetic replica of an English town remains largely abandoned. This, however, hasn't dulled China's rapacious appetite for architectural mimicry; vast replicas of Wall Street, Hogwarts and the Titanic are under construction as we speak.