Dim the lights and get ready to hide behind the sofa. It's the return of Building's Halloween tribute to the most gruesome building designs around the globe
To mark Halloween two years ago Building compiled a list of horrific architecture from around the world. The hope was that this exercise would engender a collective catharsis from which we could all emerge from a dark and menacing architectural past and gravitate towards a bright new future. Alas, since then, architects far and wide have spent the last two years creating new entries for our roll call of terror so, reluctantly, we have been forced to produce a sequel.
With few exceptions, cinematic sequels never tend to be as good as the originals. However, thanks to the diligent efforts on display below, we would humbly suggest to have bucked the trend. So if, instead of broomsticks, ghosts and pumpkins, it's the prospect of flaky concepts and ghoulish detailing that sends a chill down your spine, then abandon hope and read on with the first of our three part mini-series:
White Sails Hospital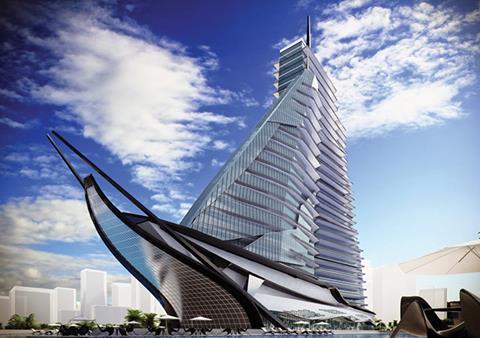 Location: Tunisia Economic City, Tunisia
Designers: Vasily Klyukin / Thornton Tomasetti
Function: Hospital
Completion: 2016
Russian oligarchs have long harboured a fastidious predilection for yachts. Chelsea FC owner Roman Abramovich may have recently lost the title of owner of the world's largest yacht to the Emirati royal family, but he might be soothed by the fact that one of his ilk is soon to lay claim to an even more audacious accolade. Banking billionaire Vasily Klyukin has designed the world's first hospital shaped like a ship. And not just any ship, but a £30bn, 30-storey maritime mutation that must be one of the few ships in the world that would appear more authentic were it actually in a bottle. Its home, Tunisia Economic City, aims to be North Africa's answer to Dubai, and with egregious excess like this it is going the right way about it. Four glass skyscrapers are crammed like sails onto a hull-like podium to create a gaudy Gulliverian fantasia that is more oversized Swarovski bauble than local healthcare provider. Klyukin's motivations are equally surreal; he is about to fly into space and his multiple preparatory medical examinations have left him yearning for a more "pleasant hospital experience with no room for fear", unless of course you already happen to suffer from seasickness or claustrophobia. Come back Royal London, all is forgiven.