It's good to be reminded of the high quality that characterises much of the new work being produced in housing. This year's entries show schemes in private residential, custom build and housing for older people all setting a benchmark for others to follow. By Ike Ijeh
The terrible events at Grenfell Tower have once again focused attention, in the most tragic way imaginable, on the UK's housing stock. Grenfell Tower was built in another era, but its recent refurbishment is nonetheless indicative of the national challenge we face to improve existing housing and provide acceptable social and affordable homes.
Which are of course two issues that are central to the Housing Design Awards. The annual awards are organised by housing lobbyist Design for Homes and in the current febrile political climate the UK's housing finds itself in, they provide a timely reminder of the quality that characterises much of the new work being produced.
Design for Homes chief executive David Birkbeck describes the sector, in design terms at least, as "healthy". He also identifies a number of interesting current trends. "In many ways the public sector is taking the lead. Councils are getting very clever. George Osborne's relaxation of Treasury rules about three or four years ago about how councils can use and spend their assets is really beginning to make an impact on the housing market. Local councils are now either going into partnership with commercial developers to provide social housing directly or acting as developers themselves – this hasn't happened for decades."
Birkbeck also identifies the private residential sector as becoming more and more economically attractive but suggests that the jury might still be out on what standards of overall design quality the sector will eventually attain.
But one area where a key difference can already be felt is custom-build. This has languished on the periphery of the housing market for decades with virtually every year bringing predictions that the sector will finally experience the boom that it enjoys in countries like Canada and Germany and has been long promised here. This year's winners demonstrate that it is finally making inroads into the UK market.
One demographic development that is already having a dramatic impact on the residential sector is housing for older people. "The industry is slowly cottoning on to the fact that these are often the people with readily available equity," explains Birkbeck, "and they're using that power to challenge cultural perceptions about what housing for older people should be."
There are two areas where Birkbeck still sees opportunities for improvement: suburbia and tall buildings. "A lot of suburban housing is still pretty humdrum outside London; most of the new housing activity is still concentrated towards the inner city. Cambridge is probably one of the few exceptions, it's one of the few places outside London where building on the periphery of the city can be justified in terms of economic return."
And on tall buildings in London, Birkbeck sounds a sober and dismissive note in stark contrast to the pervading planning and economic momentum that is pushing through hundreds of residential towers across the capital. "We don't have one single winner that was a high-rise residential block. The quality of what we saw wasn't very impressive at all. As a sector, there was virtually nothing good about it."
COMPLETED WINNERS
OVERALL WINNER / CUSTOM-BUILD AWARD
New Ground Cohousing, London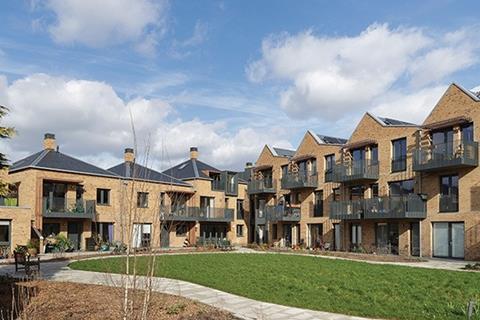 ARCHITECT: Pollard Thomas Edwards
DEVELOPER: Hanover
CONTRACTOR: Quinn London
LOCAL AUTHORITY: London Borough of Barnet
UNITS: 25
Custom-build and co-housing are two specialist sectors that have been struggling to gain a foothold in the UK for a very long time. And this ambitious scheme could mark the moment when the tide finally turns in their favour. Moreover, there is a human story at the heart of this scheme as it marks the triumphant culmination of a heroic 20-year personal struggle for a group of older women to create an independent housing development that conformed to their own personal needs and lifestyles rather than that of a volume housebuilder. Hanover was convinced to help develop the venture and the result is an exemplar commune of spacious dual-aspect flats arranged around a sizable garden built within a conservation area and serving a galvanised and empowered community.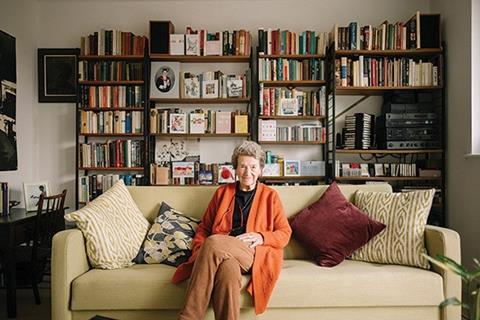 SPECIAL OFFSITE MENTION AWARD
Garden Halls, London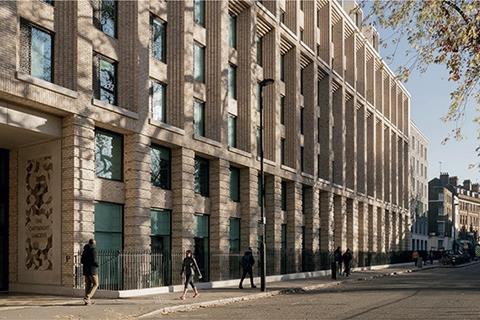 ARCHITECT: Maccreanor Lavington / tp bennett
DEVELOPER: UPP Projects
CONTRACTOR: Brookfield Multiplex
LOCAL AUTHORITY: London Borough of Camden
UNITS: 1,200 student rooms
Since the introduction of student fees, money has poured into UK higher education. But with a few exceptions of the Oxbridge mould, that influx hasn't necessarily been translated into a boost in the design quality of the sector's buildings. Until now. Garden Halls is a huge new student housing block in London's Bloomsbury and it incorporates arguably the best mid-rise street facade built in central London for years. With its majestic sweep of deep recessed bays framed by grooved panels of buff brickwork, this facade combines the classical monumentality pertinent to its Bloomsbury context with a crisp contemporary simplicity evidenced by its pioneering modular construction and the precast concrete panels onto which its brickwork is mounted. This is as much a triumph for streetscape design as it is for housing.
LSDC/GLA AWARD
Holy Trinity Primary School, London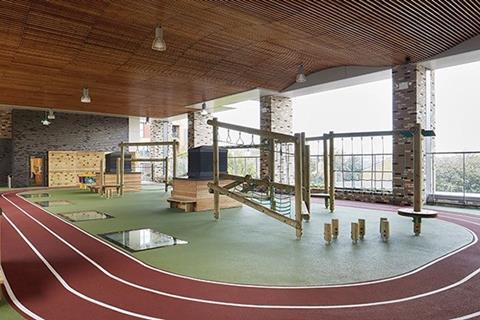 ARCHITECT: Rock Townsend / Stockwool
DEVELOPER: Telford Homes
CONTRACTOR: Telford Homes
LOCAL AUTHORITY: London Borough of Hackney
UNITS: 101
It wasn't often that a good project was called "genius" by former mayor of London Boris Johnson but this was one of those occasions. Such praise was also a fair description of a truly innovative project that was forced to steer a tempestuous course through planning, after initially being refused permission partially at the behest of the local design review panel. Ironically, the source of the panel's ire is actually the masterstroke of the project and the source of Johnson's adulation. The project consists of 14 storeys of flats hoisted above a new primary school. The void between school and housing is treated as an open playground deck for pupils, a feature that planners wrongly predicted would be dark and overlooked but in reality has turned out to be an ingenious and exhilarating architectural response to the perennial design challenge of fitting schools and housing onto restricted urban sites.
DEFRA RURAL HOUSING AWARD
Carrowbreck Meadow Hellesdon, Norfolk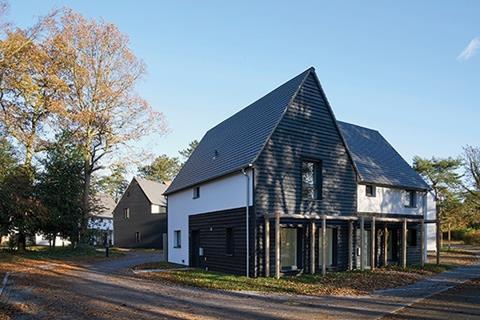 ARCHITECT: Hamson Barron Smith
DEVELOPER: Broadland Growth
CONTRACTOR: R G Carters
LOCAL AUTHORITY: Broadland District council
UNITS: 14
Sheltering in a landscaped clearing in the middle of Norfolk woodland lies the largest Passivhaus scheme in Greater Norwich and one of the biggest in eastern England. It is unique for a number of reasons. First, it proves that Passivhaus can be achieved in a style of architecture whose form, character and materials still conform to a rural vernacular. Secondly, in its enthusiastic adoption of training techniques for both contractor and apprentices, it proves how the sustainability mandate is best achieved through a wholesale cultural shift in work ethic and practices. And finally, in its post-occupancy monitoring and its role as a pilot for much bigger local regeneration projects, it could provide research data for Passivhaus adoption elsewhere.
RICHARD FEILDEN AWARD
Meadow View Specialist Dementia Residential Care Centre, Darley Dale, Derbyshire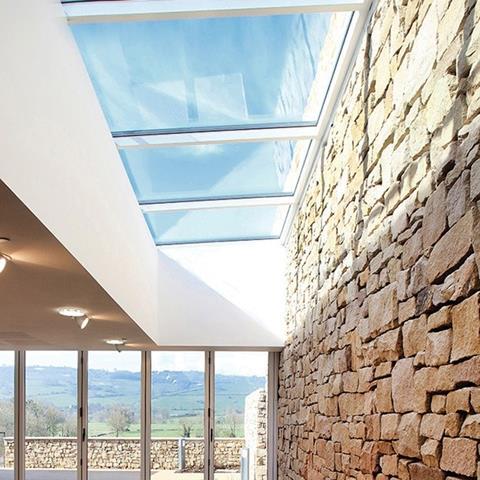 ARCHITECT: Glancy Nicholls Architects
DEVELOPER: Derbyshire council
CONTRACTOR: Balfour Beatty
LOCAL AUTHORITY: Derbyshire council
UNITS: 32
Dementia care has long been a healthcare challenge but the government's U-turn over its proposals for adult social care – dubbed the "dementia tax" – proves it is a political challenge too. But if homes for those suffering with dementia are going to play an ever-increasing role in residential development, then this stellar scheme sets a benchmark they would do well to follow. This project capitalises on its spectacular hillside setting, offering a series of generous tiered terraces with stunning views over the surrounding Derbyshire Dales. Incorporating the latest research into dementia care from specialists at Stirling University, the scheme features innovative measures like luminous signs, a domesticated rather than institutionalised character and glass-fronted kitchen cabinets so residents have a visual reminder to eat.
PRS AWARD
Paradise Gardens, London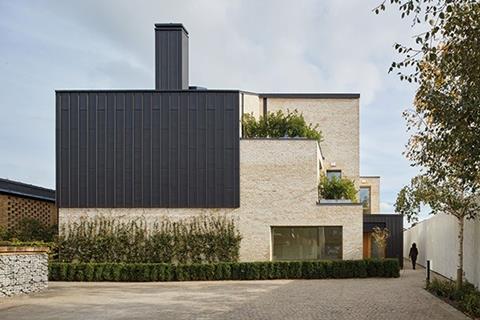 ARCHITECT: Lifschutz Davidson Sandilands
DEVELOPER: Ravenscourt Studios
CONTRACTOR: Rooff
LOCAL AUTHORITY: London Borough of Hammersmith and Fulham
UNITS: 6
This unique development of six luxury houses represents a novel rearrangement of traditional housebuilding convention. First, for various fiscal reasons and despite the lucrative London market and the site's desirable location, the developer opted for the private rental sector rather than for sale. But even more interesting, the development springs from a challenge issued by a property agent that non-traditional houses would not work in the UK rental market. Some £2,500-a-week rent later and now fully let with long leases, this scheme would beg to differ. With the three-storey townhouses offering double-height spaces, contemporary versions of medieval music galleries and up to 338m² of space, this is clearly a bespoke response to the high-end market. But in the houses' innovative tenure and sensitive integration into their historic surroundings, they offer universal principles relevant across the housing sector.
HAPPI COMPLETED AWARD
Willow Barns, Stoke-on-Trent, Staffordshire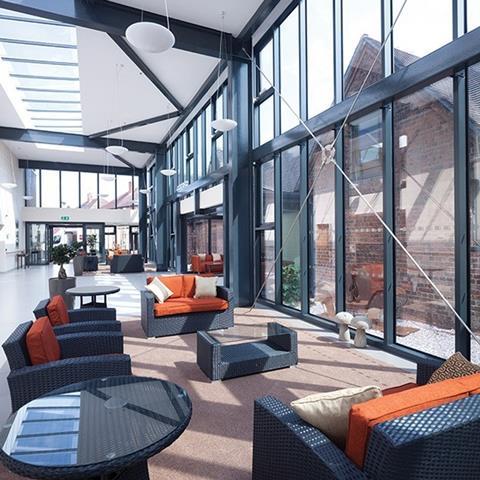 ARCHITECT: PRP
DEVELOPER: Sapphire Living
CONTRACTOR: Eric Wright Construction
LOCAL AUTHORITY: Stoke-on-Trent council
UNITS: 75
This is yet another scheme that reflects the increased purchasing power of the older generation and the uplift in architectural quality this demands. This development for over 55s is based on a village concept and incorporates a series of barn-like wings linked by glass bridges. It also restores a historic barn retained on the site which forms the precedent for an architecture inspired by a rural vernacular of pitched roofs, cobbled courtyards and timber cladding. Despite this traditional concept, the scheme incorporates a number of environmental features such as a CHP unit in a former stable building. With generous outdoor spaces and an internal "village street", the scheme also encourages residents to take ownership of their community and participate in outdoor activities.
GRAHAM PYE AWARD
Cane Hill Phase 1, London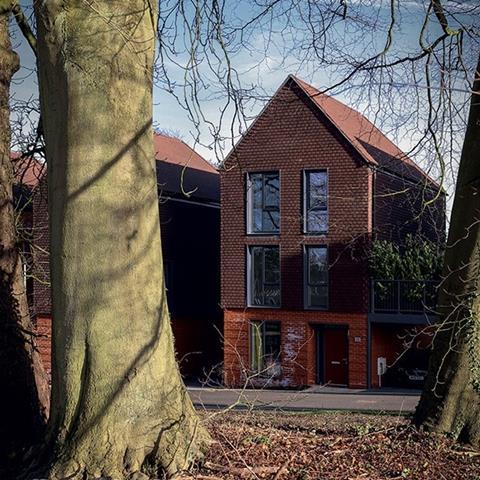 ARCHITECT: HTA
DEVELOPER: Barratt Homes
LOCAL AUTHORITY: London Borough of Croydon
UNITS: 650
This vast suburban development forms an innovative test-bed for how development on green-belt land can be innovative and sustainable. The scheme is built on the site of Cane Hill mental asylum of 1882, the remaining wings of which burnt down in 2010. With Victorian medical practices recommending asylums be built on the top of hills to expose their patients to the healing qualities of fresh air, this collection of two to five-bedroom homes is able to take advantage of spectacular views over the Surrey North Downs. However, this proved to be both a bonus and a challenge, the latter generating innovative design responses. Onerous planning restrictions on green-belt land states that any new development must not obstruct views through the site so the masterplan responds by assembling an extremely porous layout of detached houses. Planning law also instructs that the ground footprint of any new development cannot be any bigger than what it replaces. Hence the large number of narrow three-storey townhouses designed to maximise accommodation while minimising ground-floor footprint.
UNCOMPLETED WINNERS
BEST NEW NEIGHBOURHOOD AWARD
Mountfield Park Canterbury, Kent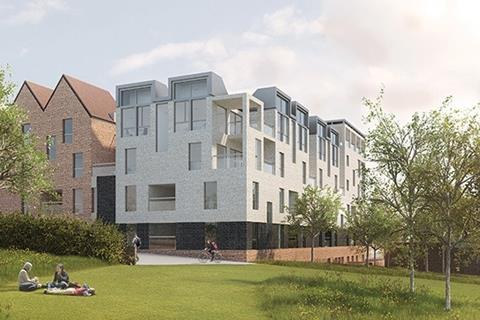 ARCHITECT: Proctor and Matthews
DEVELOPER: Corinthian Land
LOCAL AUTHORITY: Canterbury council
UNITS: 140
Once again Proctor and Matthews brings its distinctive brand of contemporary architecture based on a nuanced reinterpretation of rural vernacular to another housing scheme. Here we see the same rich mix of colours, textures and materials that is this practice's trademark arrayed across an extensive collection of house types notable for their extruded articulation of traditional motifs such as gables, chimneys and even rainwater pipes. With a masterplan layout allowing a magnificent vista towards Canterbury cathedral, this project looks set to offer visual as well as architectural integration with its surroundings.
PROJECT AWARD
Tower Court, London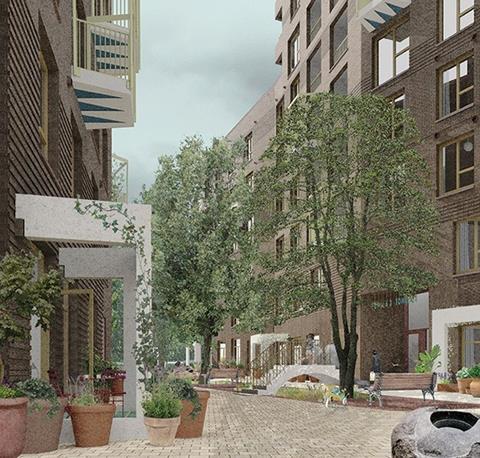 ARCHITECT: Adam Khan Architects
DEVELOPER: London Borough of Hackney
LOCAL AUTHORITY: London Borough of Hackney
UNITS: 132
This development is part of a growing trend of local authorities directly developing new council housing as in days of yore. A series of rationally articulated brick facades overlook a large pond and are arranged around rectilinear blocks engraved with a series of textured horizontal bands. The buildings will replace a 1950s housing estate demolished five years ago. With Levitt Bernstein's Buccleuch House next door, Clapton Common is fast becoming an exciting enclave for high quality and high density contemporary urban design.
REGENERATION AWARD
Laindon Town Centre, Laindon, Essex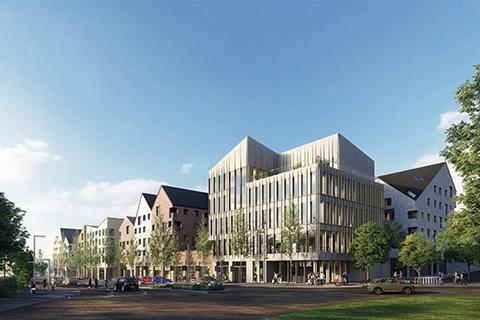 ARCHITECT: Pollard Thomas Edwards / C.F. Møller
DEVELOPER: Swan
LOCAL AUTHORITY: Basildon council
UNITS: 224
This is a heroic project to completely redevelop the high street and town centre of this Essex village and forge a completely new urban character in the process. Moreover, it promises a design quality and ambition normally seen in areas that command higher property values and is driven by a developer not normally associated with projects of this kind. The scheme will treat the town centre to a vibrant and highly varied new townscape of folded pitched and mono-pitch roofs and brick, timber and metal cladding. New housing will be placed above retail and surrounded by a rejuvenated public realm.
SPECIAL LANDSCAPE MENTION AWARD
Climate Innovation District Phase 2, Leeds, West Yorkshire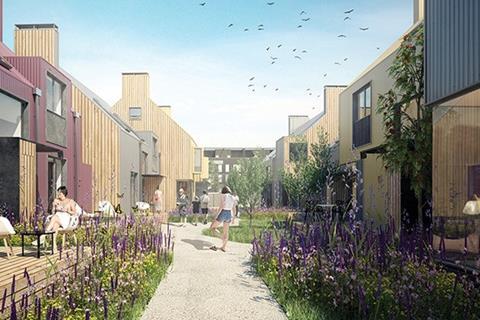 ARCHITECT: Ollier Smurthwaite Architects
DEVELOPER: Citu Group
LOCAL AUTHORITY: Leeds council
UNITS: 204
The judges deemed this arguably the most fascinating entry in this year's awards. It proposes transforming a derelict industrial site into an entirely public and car-free landscape that strongly incentivises cycling. Additionally, the family housing units provided will have a strong emphasis on communal living with shared landscaped areas replacing private gardens. With an assuredly contemporary architectural language of sawtooth roof timber blocks and zinc gables as well as a new riverside park and public garden, this looks set to create one of the most dynamic and exciting urban residential quarters anywhere in the country.
HAPPI PROJECT AWARD
The Vincent, Bristol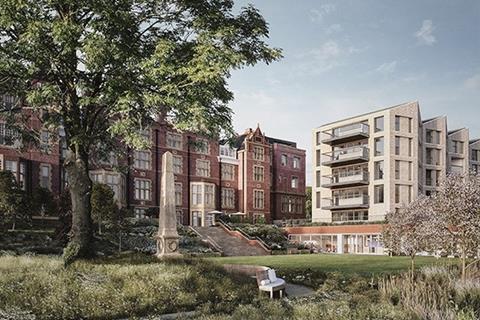 ARCHITECT: AHMM
DEVELOPER: PegasusLife
LOCAL AUTHORITY: Bristol City Council
UNITS: 66
This scheme has a refurbished Victorian former private boys school and convalescence home as its centrepiece. The four-storey red-brick mock-Elizabethan wing will be thoroughly refurbished and will be joined by two new-build terraces clad in a paler beige brickwork and fronted by large balconies. All will provide assisted living accommodation for older people. The buildings will have an enviable parkland and conservation area setting and will be set among tendered lawns and rich landscaping. On-site wellbeing facilities will include a sauna, steam room and yoga studio.
REGENERATION AWARD
Southmere Bexley, London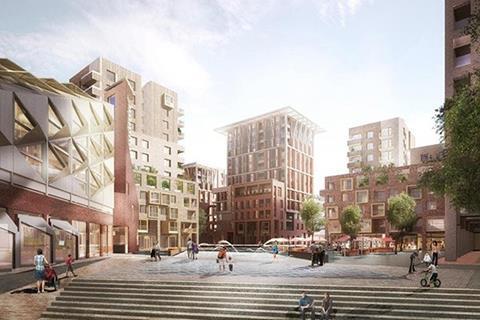 ARCHITECT: Procter and Matthews / Mecanoo Architecten
DEVELOPER: Peabody
LOCAL AUTHORITY: London Borough of Bexley
UNITS: 525
This project perhaps represents belated developer recognition of the huge regeneration potential that the south-east London Thames corridor is offered by the new Abbey Wood Crossrail station which opens next year. But it is not just Crossrail that provides a landmark point of reference, the scheme is also part of the mammoth 20-year programme of rolling regeneration of the sprawling 1960s Thamesmead housing estate. Both contexts make this a resolutely urban project, something clearly evident in the high density and impressive scale achieved by the various residential blocks and intermediate urban spaces of which it is comprised. The distinctive architecture is a combination of the layered brickwork envelopes that Procter and Matthews are known for and the dynamic façade treatments that are Mecanoo's signature.
SPECIAL SCHOOL MENTION AWARD
St. Paul's Way Trust School Expansion & Burdett Estate Regeneration, London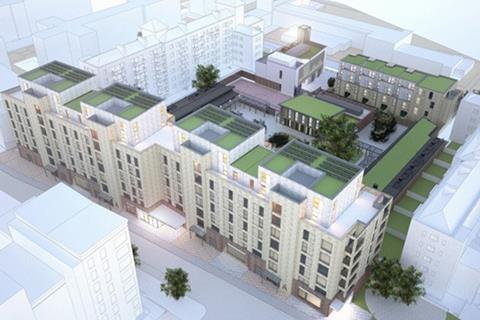 ARCHITECT: Pollard Thomas Edwards
DEVELOPER: Poplar Harca / Telford Homes
LOCAL AUTHORITY: London Borough of Tower Hamlets
UNITS: 109
As with Holy Trinity School in neighbouring borough Hackney, this is another example of the increasing trend of schools using housing to generate income and deliver local urban regeneration. At Holy Trinity the housing is placed above the school, here the housing is primarily placed around the school. The school is arranged around cloistered quadrangle enclosed by perimeter classrooms and overlooked by a series of new and refurbished residential blocks. A newbuild residential block incorporates one of the perimeter classroom wings at its base. It is not just schools utilising residential development in this way, again in Hackney developer Telford Homes has provided new housing as part of the redevelopment of Frampton Park Baptist Church.
SPECIAL MIXED-USE MENTION AWARD
Stone Studios, London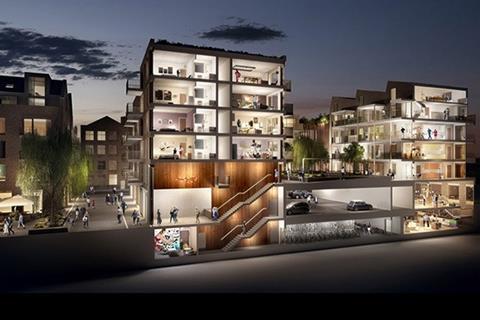 ARCHITECT: Pollard Thomas Edwards
DEVELOPER: Groveworld / PTE Property
LOCAL AUTHORITY: London Borough of Hackney
UNITS: 120
While the housing crisis is inevitably associated with rising house prices and limited supply, one consequence that is rarely considered is its impact on the commercial sector. In London in particular, the pressure to build new homes often displaces employment floorspace which invariably pushes up commercial rents. Stone Studios attempts to address this problem by integrating 120 loft apartments with subsidised studios. The imaginative scheme takes its architectural and cultural cue from its local neighbourhood. Hackney Wick in east London allegedly offers the highest concentration of artists in Europe and the studios provided will specifically target creative industries. And the warehouse aesthetic applied to the new architecture is in keeping with the post-industrial character of the local area.