Residential towers and a Sainsbury's superstore form part of Thames scheme praised by Cabe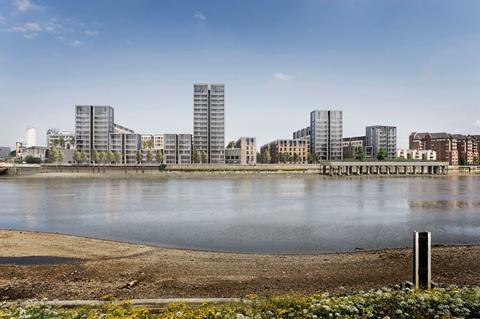 Lifschutz Davidson Sandilands design for a residential and retail development on the River Thames has been approved by Hammersmith & Fulham Council.
The scheme for clients Sainsbury's and property developer Helical Bar, will replace an existing Sainsbury's and derelict warehouses at Sands End Riverfront in west London and create a new 78,000ft² superstore and 463 homes, as well as new restaurants and cafes in a square overlooking the Thames.
The Sainsbury's store is set back from the riverfront on Townmead Road, screened by residential townhouses, which follow the 'sawtooth' form of a retained historic warehouse façade.
The scheme will also include four apartment towers along the riverfront.
The design has been praised by CABE.
Paul Sandilands, director at Lifschutz Davidson Sandilands said: "The regeneration at Fulham Wharf is a fantastic opportunity to transform a neglected Thames-side area into a vibrant centre of local life.