Los Angeles is undergoing its biggest construction boom since the 1980s, but regeneration plans are having to battle against suburban spread, economic and racial segregation and a reluctance among locals to leave their cars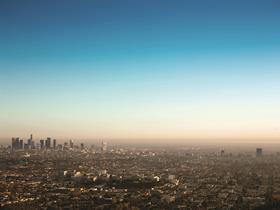 Any city whose metro stations have signs that read: "This station uses security cameras … and you look great!" is likely to be one which harbours an unnaturally high regard for outward appearances, even if this is camouflaged behind a burlesque sense of humour. For hundreds of millions around the world, Los Angeles is synonymous with Hollywood and is therefore famous as the spiritual home of the small and silver screens, media in which artifice and humour happen to go a long way.
But for a city so obsessed with the principle of presentation, LA's architecture tends to be a low-key affair. The second of America's three biggest cities, LA architecture has a conspicuously low profile when compared with that of New York or Chicago. Think of New York and the Empire State Building inevitably still springs to mind. In Chicago it's the Willis/Sears tower or its forests of skyscrapers. But in LA the pre-eminent built environment icon is arguably the Hollywood sign or, if you like your thinking a little more lateral, that other enduring American symbol, the freeway.
And in many ways, it is in fact the freeway that is responsible for LA's lack of architectural coherence. Virtually no other Western city exemplifies the term "urban sprawl" as powerfully as LA. If you bemoan the flaccid spread of suburbia that encircles cities in the UK, in LA it is the city that forms the backdrop to the suburbs rather than the other way round.
At 3.8 million, LA's population is less than half of London's. But covering an area of 503 square miles it is four-fifths of London's size. The result is not one LA but several, a teeming ultra low-density sprawl of loosely defined cities and neighbourhoods linked by little other than freeways and vast shopping malls.
Thus, with a few notable exceptions, such as parts of downtown or the pedestrian-friendly beach resorts of Venice and Santa Monica, urban character in LA is often reduced to an amorphous identikit blur defined by the fleeting view through a car window rather than an immersive, experiential relationship with streetscape and public realm. This is the backdrop against which LA architecture must struggle; it is hard for individual buildings to make an impact when their very urban contexts are so difficult to define.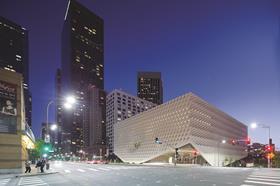 Boom
But architecture in LA is turning a corner and much of this renaissance is centred on the construction boom exploding downtown. In my first visit 16 years ago to the city, downtown LA immediately appeared an intimidating and forbidding place. Teeming with office workers, it was overwhelmingly monocultural during the day but at night, when the workers had all left, it seemed a sinister and abandoned place with a lingering sense of urban menace.
In fairness, much the same could be said for a number of other American downtown districts but it is an image LA is valiantly striding to break - and with great success. The city is undergoing its biggest construction boom since the 1980s, with commercial construction spending expected to hit a massive $7bn (£4.5bn) this year. While investment in commercial construction doubled to $4bn (£2.6bn) in 2013-14, as in London it is housing that is leading the charge.
House prices have surged by 27% since the southern Californian residential market began to emerge from recession in 2012. The reason for the rise is similar to London's, a massive influx of foreign and institutional investment. The evidence of this is visible in the comprehensive urban regeneration of downtown. In one district, South Park, 20 medium and high-rise residential towers up to 45 storeys high are being built which are expected to provide 3,000 rental units by the time they are complete in 2017. Statistics like these are repeated at sites across the city.
The growth in property prices and redevelopment has led to a massive surge in downtown's residential population, up almost 40% since 2000 to an all-time high of almost 100,000 today. This has generated a huge increase in demand for other non-office amenities in the heart of the city.
More conventionally, developments like the Bloc (see page 40), where former commercial space has been imaginatively revitalised to provide a host of new retail, leisure and public realm, are indicative of how downtown is reinventing itself from an anodyne office hub into a vibrant, mixed-use, 24-hour community. Crime rates have plummeted in consequence.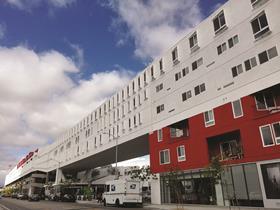 In the same spirit, the much anticipated opening of the Broad Museum last month has further enhanced the city's cultural and architectural status and strengthened its hand in its perennial rivalry with its urbane northern Californian adversary, San Francisco.
Also, the Wilshire Grand Tower, a 73-storey, 335m skyscraper under construction beside the Bloc which will become the west coast's tallest building when complete in 2017, is another symbol of downtown's resurgence. As well as offices, it will provide shops and a luxury hotel.
The tower's inclined roof also represents something of a regulatory evolution for the city. An unusual aspect of LA's skyline and one not replicated in other US cities is the flat roofs of its skyscrapers, enforced by the city's fire department to enable helicopters to land in emergencies. Fire prevention and safety technologies in the Wilshire are allegedly so advanced that the enforcement was waived.
Such is the pace of downtown's resurgence that Bunker Hill, the district on the north-western rim of downtown that was once the traditional hub for LA's commercial office space and financial institutions, is now being challenged by other parts of the city that can offer more attractive amenities. Some of these amenities are more unexpected than others; in its surge to culturally reinvent itself, downtown LA now boasts two craft breweries with a further five in development. At the start of 2013 there were none.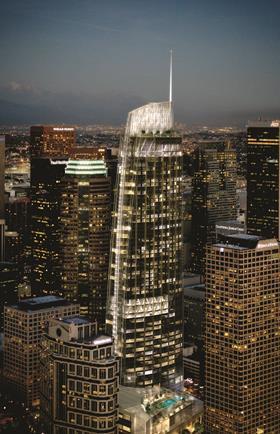 Challenges
But there is still much to do before this pattern of regeneration and redevelopment truly transforms all the city's ills. LA remains one of the most economically, socially and racially segregated cities in the US and it is disheartening to note that even regeneration discriminates along these lines.
The housing and development boom appears to have been focused on areas that already meet a particular social demographic, and suburbs such as Watts and Compton still display staggering levels of poverty and deprivation that should be incompatible with the world's biggest economy.
As in London, LA's housing boom has also led to chronic levels of unaffordability. The US CityLab Index recently identified LA as the most expensive city in the country in which to purchase a home. Moreover, even with the current raft of regeneration projects, decades of ultra-low density development, uncoordinated city-wide planning and restrictive zoning rules means that the city still needs to build an additional estimated 100,000 units of housing per year by 2021 just to meet current demand.
Apart from housing, LA has another problem that is an enormous threat to future prospects: the abysmal state of its public transport infrastructure. For a city of its size, LA's public transport is woeful. Incredibly, its metro is only 25 years old and both it and the bus service offer limited connections and commonly require minimum wait times of around 15 and 30 minutes respectively - these times can double during the evenings.
The inevitable result is that most Angelenos head for their cars, an obsessive preoccupation that has had catastrophic urban and cultural consequences. LA exists in a daily state of virtual gridlock against which London's traffic conditions appear almost free-flowing by comparison. The city has the worst congestion levels in America with 39% of all traffic flow deemed as congestion against a national average of 30%. It's also getting worse; in 2013 the figure was 36%.
Yet the irony is that the entire city is still deeply psychologically attached to the car, and car use continues to form the conceptual cornerstone on which the city's built environment is planned. Hence the aforementioned profusion of freeways and the corrosive impact this has on urban character. It is a sad fact that in many parts of the city walking is almost considered a novelty pursuit.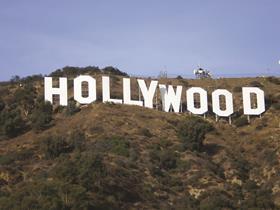 Of course the simple answer to all this is to improve public transport. But while a number of metro extensions are planned, it will take years before they come to fruition. Moreover, LA's public transport problem is not just one of capacity but culture too. When the system opened in 1990 metro authorities assumed that commercial enterprises adjoining stations such as shops and hotels would want their own dedicated access, as is the case on London's tube. So in anticipation they incorporated connecting "knock-out" panels into station designs. But fearing an invasion of the lower social classes that public transport users in LA are covertly stigmatised as belonging to, horrified businesses and institutions shunned the metro and astonishingly, not one of the knock-out panels was ever removed. In a hugely symbolic move, the Bloc development will be the first to use the panels for a direct connection to the metro. But in a measure of how ingrained LA's social prejudices remain, the Wilshire Grand Tower development next door refused.
These contrasting attitudes powerfully illustrate the crossroads LA finds itself at today. Development in parts of the city may well be booming. But it is only good design, improved public transport and social desegregation that will ensure that the boom benefits all.