From swimming pool to school, court to chapel, the architectural gems up for this year's Building Awards Small Project of the Year prove that size isn't everything
Bishop Edward King Chapel, Cuddesdon, Oxfordshire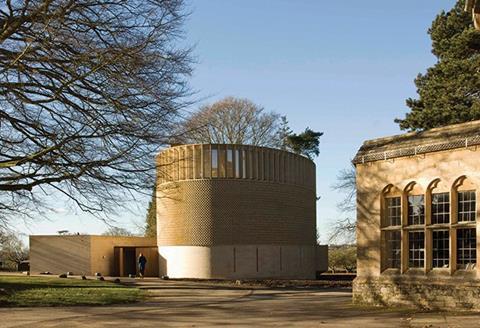 Architect: Niall McLaughlin
Client: The Clewer Trust
Contractor: E W Beard
Submitted by: Ridge & Partners
Religious architecture is one of the few construction sectors still overwhelmingly associated with historic buildings but if there is any single project that can help change such perceptions it is this one. This extraordinary chapel harnesses many of the core principles of historic church design - decoration, light, entrance, height - but imaginatively transfigures them into a contemporary form. Its envelope is formed from an elliptical drum, smooth at its base before its skin erupts into a pimpled crust of dogtooth, Clipsham stone bond surmounted by thin clerestory windows, an incredible work of craftsmanship and neat ornamentation. Internally thin glulam piers gather around a rounded nave before arching heavenwards to form an interlacing, light-filled latticework vault that is both sculpted and celestial. This unique building powerfully reinterprets a familiar historic typology for our modern age.
Merchant Square Footbridge, London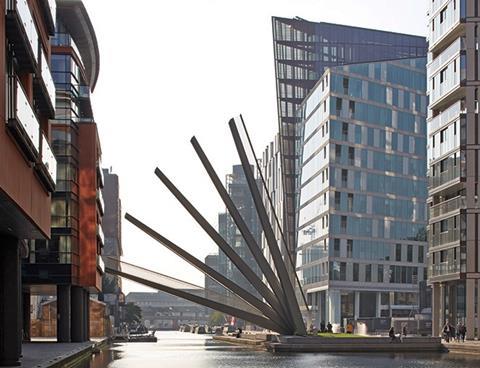 Architect: Knight Architects
Client: European Land & Property
Contractor: Mace
Submitted by: Knight Architects
Paddington Basin, the regenerated commercial district to the north-west of central London, has been progressively establishing itself as something of a commune for visionary, inspirational footbridges. Buro Happold's Helix Bridge and Thomas Heatherwick's Rolling Bridge both use engineering ingenuity to transform the rather prosaic process of a bridge retracting into a piece of kinetic urban theatre, and Merchant Square's new bridge is no different. What initially appears to be a conventional flat footbridge elegantly serrates into a series of "finger" beams that fan upwards in a scissor-like motion. Moreover, this is not merely spectacle for its own sake; the drama is grounded in practical constraints. An exceptional standard of prefabrication and tolerance had to be achieved in order to create a seamless walking surface in the "closed" position and local ownership hierarchy dictated that the bridge be primarily supported from only one end. The Merchant Square footbridge makes a stunning contribution to the long-enshrined tradition of bridges that combine both engineering and entertainment. »
Maggie's Oxford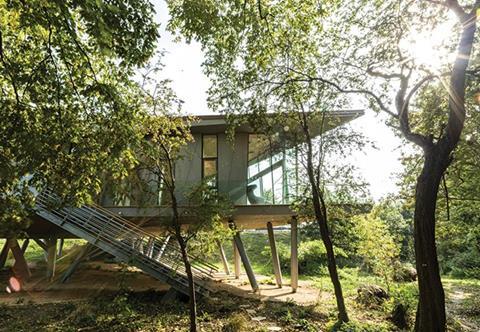 Architect: Wilkinson Eyre
Client: Maggie's
Contractor: Jacksons Building Contractors
Submitted by: Wilkinson Eyre
Maggie's Centres have now firmly established themselves as providers of architectural spectacle as well as emotional respite - and Wilkinson Eyre's Oxford offering is no different. This example optimises its woodland setting to assume the form of a ground-mounted tree-house, delicately perched on splaying steel columns and clad almost entirely in wood. The building envelope harks back to a kind of organic deconstructionism, with its spruce cladding, timber trellises and copper roof all geometrically contorted into a series of folding, wrapping planes that weave between surrounding trees. Three linked internal wings allow Maggie's to pursue its tripartite care philosophy of support, information and relaxation and a central space sets a welcoming and distinctly domesticated tone. Further environmental innovation comes in the form of the centre's prefabricated, cross-ply laminated CNC-cut timber panels, the prolific use of sustainable materials and exploiting its elevated profile to achieve high insulation on all external surfaces.
Alfriston Swimming Pool, Beaconsfield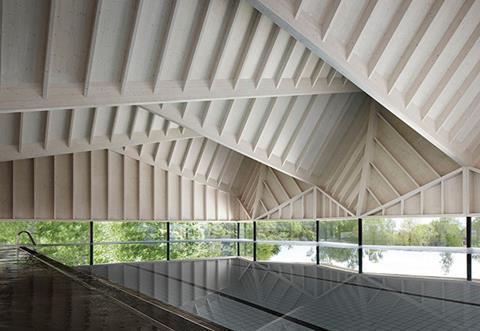 Architect: Duggan Morris
Client: Alfriston School
Contractor: Feltham Construction
Submitted by: Duggan Morris
In most swimming pools it is the water that commands most attention, but in this instance there is stern competition from an extraordinary roof. A raised timber structure comprising three ribbed, folding roof pitch segments "floats" over a narrow encircling glass screen set directly against the edge of a pool. The roof is designed to be a contemporary expression of the pitched roof vernacular found within local architecture. But it helps create a stunning, almost ethereal internal landscape charged with spatial drama created by the simple juxtaposition of water, wood and glass. The building's sustainability agenda is also woven into the design. The narrow glass screen, only 1m high, not only secures privacy by ensuring that lush external views are restricted to swimmers' eye level but helps reduce heat loss and condensation. The timber roof is also formed from prefabricated and sustainably sourced timber panels, which incorporate high insulation inside and rainscreen cladding outside. Alfriston Swimming Pool proves that even the most simple and modest buildings can offer environmental intelligence and visual delight.
Vaudeville Court, London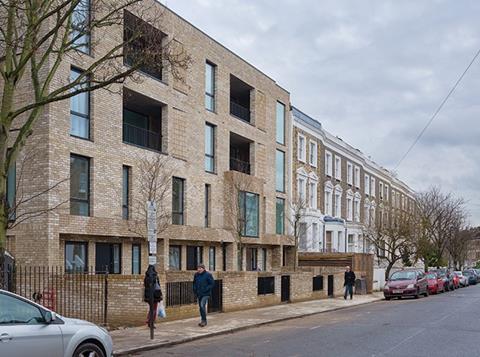 Architect: Levitt Bernstein
Client: London Borough of Islington
Contractor: Rooff
Submitted by: Levitt Bernstein
Much has been said recently of a possible resurgence of UK council house building and if this is the case, then one hopes this new generation of state social housing will aspire towards the quality and vision of Vaudeville Court. This pioneering housing project is part of a renewed drive by local authorities in London and elsewhere to ease housing shortages and redress the design mistakes of the past by directly building their own affordable housing. Vaudeville Court takes this challenge head on by being located in one of the bleak, corrosive infill spaces endemic to council estates of the sixties and seventies, a garage court. But there the similarities stop. The scheme resolutely replaces anonymity and severance with intimacy and connectivity. There are clearly defined entrances, a legible relationship with context, private gardens, dual-aspect units, generous space standards, high-quality materials in the form of textured brickwork and even a committed biodiversity strategy. Vaudeville Court may only provide 13 dwellings but it could well wield national influence.
Stoke Newington Sixth Form Centre, London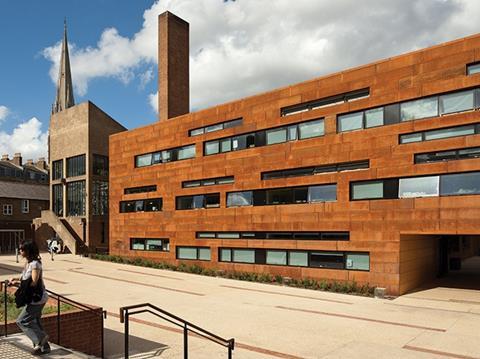 Architect: Jestico + Whiles
Client: Stoke Newington School and Sixth Form
Contractor: Balfour Beatty
Submitted by: Jestico + Whiles
This project leads on from the success of Jestico + Whiles' previous award-winning 2010 redevelopment of this now high-performing north-east London secondary school. This new extension block marks the latest remodelling of the school campus. Throughout the overhaul, each element of the school has retained its distinctive character. The fine brutalist boiler house of the original 1968 block still towers over the site, and the 2010 extension holds its own by being industrially clad in Corten. The Corten rainscreen panels of the new block, complete with sliced window openings and intermittent flashes of bright yellow enable it to both immerse and express itself among its bold surrounding forms. The building employs a variety of energy saving measures to achieve impressive U-values and air-tightness and was also able to deliver a post-tender saving of around 7% on its competitive budget.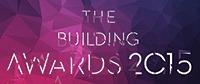 To see the full shortlists for the awards, and for information on booking your ticket, go to www.building-awards.com