Mace to oversee £120m development to the east of London's Camden Lock market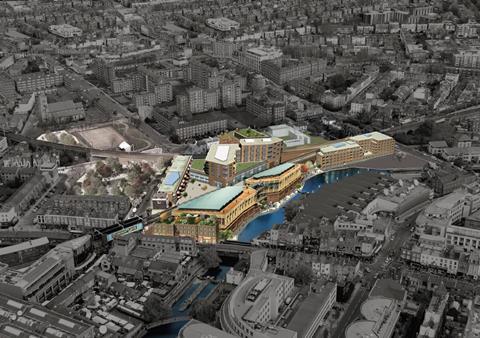 Mace has been appointed to oversee the development of a £120m scheme to the east of London's famous Camden Market.
The scheme, which will be known as Hawley Wharf, is being developed by real estate group Market Tech, and will deliver 170 private and affordable homes and retail and market spaces in eight new buildings that will vary between three and nine storeys in height.
Gareth Lewis, Mace chief operating officer, said: "This is a fantastic win for Mace to rejuvenate one of London's favourite visitor destinations and deliver an iconic project for the capital. We have a strong track record for the delivery of cultural projects in London including the British Museum's World Conservation and Exhibition Centre, the Tate Modern and the London Eye.
"We're therefore delighted to have this opportunity to bring our residential expertise and focus on innovation and high-class delivery to the benefit of the local communities."
Contractor McLaughlin & Harvey has been appointed to build the infant and junior primary school and nursery as part of the development, which is expected to open in 2016.
Mark Alper, UK group property director for Market Tech said: "We are delighted to have appointed two very experienced, high quality contractors to deliver Camden Lock Village. It is an exciting time for us to start seeing the delivery of our vision - a new school for the community, much needed homes, new shops and of course some market space, alongside significant improvements to the canalside.
"Both Mace and McLaughlin & Harvey recognise the importance of this project to us, to the local communities and to Camden. We will all seek to deliver this project to a high standard."