Growing security concerns in recent years have driven the US to adopt an intimidating look for its embassies. Now, architect Kieran Timberlake has risen above this in its new US Embassy, set to become the centrepiece of Battersea's Nine Elms regeneration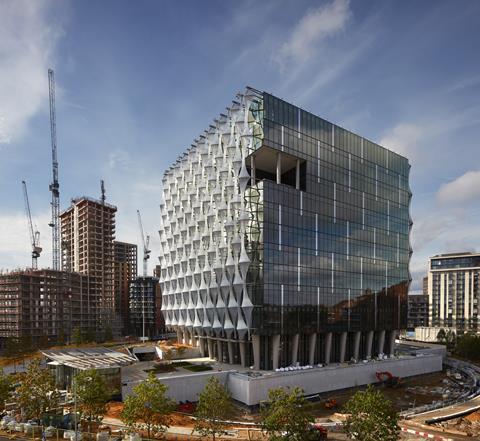 It is telling that arguably the most famous embassy name in the world isn't an embassy at all. Scotland Yard derives its name from the narrow Westminster back alley in which London's police headquarters were first established in 1829. This street itself was allegedly named after the ancient form of Scottish diplomatic consulate it once housed, back in the pre-Act of Union days when England and Scotland were separate countries.
But this convoluted etymology is indicative of the veil of secrecy and intrigue that embassies still hold in popular cultural consciousness to this day, an impression probably boosted by their prominent role in the adrenalised espionage and counter-terrorism plotlines of spy novels and television dramas such as Homeland and 24.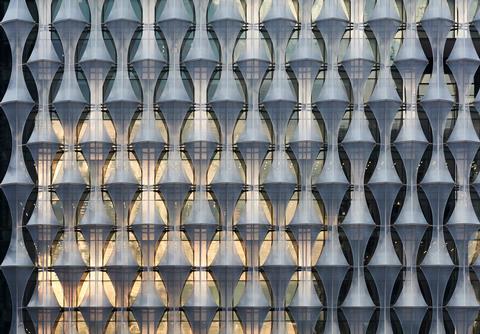 Their mystique is also enhanced by their curious diplomatic status. Famously, embassies are legal refuges of their home not their host country. Therefore, in a progressively globalised, digitalised and security-obsessed post-September 11th world, they celebrate walls, boundaries and separation and stand as enduring physical expressions of the increasingly contentious concept of nationhood.
On one level this might be viewed as something of an anachronism, a feudalistic hangover from when England owned Calais or the Bishop of Winchester owned Southwark. But as anybody who has lost their passport or applied for a work pemit knows, embassies also provide an essential public service that helps grease the wheels of connectivity, communication and diplomacy around which our globalised world turns.
The challenges of embassy building
So architecturally their challenges are manifest. Secure yet transparent, national yet local, foreign yet familiar, office block yet public building – embassies are bubbling cauldrons of contradictions. And out of this cauldron is about to leap one of the biggest and most expensive embassies the world has ever seen.
The new $1bn US Embassy in London is set to formally open in London's Battersea later this month. While there has been much media consternation over whether an American state visit is likely to take place this year, it has gone virtually unnoticed that the current controversial incumbent of the Oval Office is more than likely to attend the publicised opening of his biggest diplomatic mission in western Europe.
But should Mr Trump cut the proverbial red ribbon, this should not overshadow a landmark historic event, the first relocation of the US Embassy site in London for more than 150 years. Designed by Philadelphia-based practice Kieran Timberlake – co-founded by Stephen Kieran and James Timberlake – the project has already had to contend with its own share of controversy after finishing a year late and with spiralling costs lambasted by the US House Oversight committee.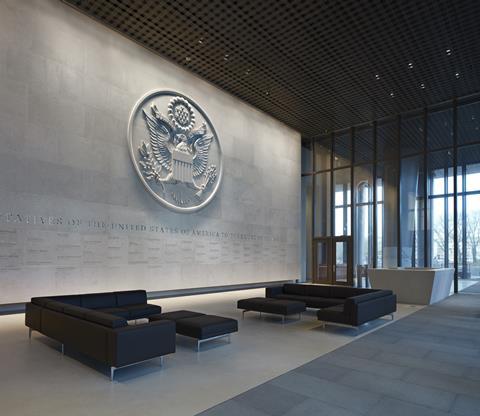 But the building also boasts an impressive array of sustainability credentials and is on course for BREEAM "outstanding" and LEED Platinum ratings. This has been delivered through a novel set of environmental energy saving measures, which include the active harnessing of renewable energy sources by photovoltaic cells and ground source heat pumps – as well as, most notoriously, a defensive ornamental pond that doubles as a natural irrigator of surrounding landscape.
Regenerating Battersea
The new embassy is situated in Battersea, south-west London, amid the massive Nine Elms regeneration site and just yards from the River Thames. It occupies a 12-storey glass cube of which three sides are faced with a distinctive ETFE solar veil while the fourth, most northerly side facing the Thames, is left with the glass exposed. At its base, the embassy is surrounded by landscaped gardens that act as a buffer between the building and an adjacent main road.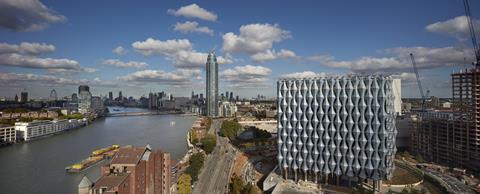 The new address is significant. The current US Embassy is located in Grosvenor Square in Mayfair on a site that has been continuously occupied by the US government since the American Civil War. Incredibly, it was the sale of this site for its imminent conversion into a luxury hotel that financed the entire budget for the new building.
So the decision in 2008 that the embassy would move from the prestige of London's traditional diplomatic hub to a regeneration area with no diplomatic heritage was a bold one. It appears to have paid off: there are rumours of the Dutch and Chinese embassies seeking new premises in the same neighbourhood. As improbable as it may have sounded just a few years ago, Battersea could well be set to become London's new 21st-century diplomatic hub.
When the project was designed, Battersea was a forlorn post-industrial site with few architectural precedents for the new building to read from. But while context may have been indeterminate, there were certainly constraints: one of the biggest was security. Prior to the new building, American embassies around the globe essentially conformed to a series of identikit design principles that were heavily informed by the need to make them safe and secure.
These were as relevant to Battersea as they are to any other US consular mission, and they imposed a number of onerous security-focused constraints on the design. For instance, by US law all embassies must be set back at least 30m from a road, have anti-vehicle ram barriers and be constructed from blast-resistant materials.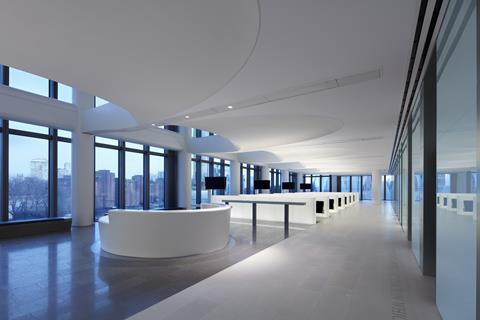 Representing American values
The new US Embassy in Baghdad, essentially a fortified militarised base set behind acres of barbed wire, had come to typify this trend at its most extreme. But it was an evolution that troubled practice co-founder Timberlake, who worried that "the architecture of diplomacy and the statement of American values that embassies are supposed to project had solely become a series of questions about security". At Battersea the design has found a new answer: landscape.
The gardens at the embassy's base feature carefully manicured landscaping with verges, paths, trees and planting indigenous to both Britain and the US. Cleverly, the gardens link into a linear park planned as part of the wider Nine Elms redevelopment of Battersea, an important component of how the design envisages the building being embedded into local context.
But the gardens' most novel aspect is their deployment as a natural, landscaped security barrier around the embassy.
The foremost element of this strategy is what some have nicknamed "the moat" but which the architect is keen to point out is a pond. This moon-shaped stretch of water, complete with waterfall fountain, adds buoyancy to the gardens but also acts a security buffer that unobtrusively separates the embassy from the public.
The manipulation of landscaping to provide security as well as amenity is inspired. More traditional measures are still in place: bollards to prevent vehicle ramming are discreetly concealed behind hedges. But the garden buffer ensures that not a single fence is in sight along the embassy's entrance elevation – a remarkable achievement that sends as powerful a message of democratic openness and transparency as any diplomatic initiative either the embassy or the US government might devise.
More contentious is the building itself. Timberlake speaks of the idea of a cube as "a simple, timeless and iconic shape that fits into the extraordinary pantheon of London architecture and adds a sense of serenity, dignity and gravitas to the consular mission".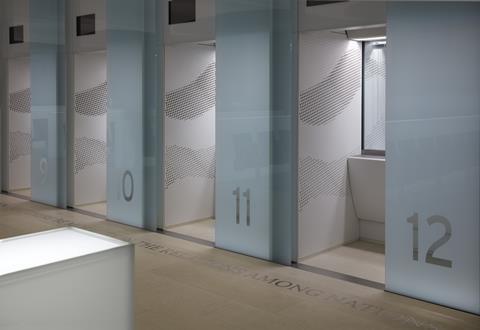 Up close there is some evidence to support these claims. The ETFE solar veils are revealed as dynamic sculptures in their own right, furtively twisting and weaving their way down the facades like unfurling tassels and adding a welcome degree of muscularity, dynamism and depth to what could otherwise be a bland, plate glass office block.
But viewed from further away – and particularly from the critical Thames elevation – the invigorating impact of the veil recedes and it is that sense of an anodyne glass office block that is ascendant. The removal of the veil from the north-facing, Thames-side facade makes sense from an environmental point of view but is surely a mistake in townscape terms, as it exposes the building at its most aesthetically monotonous at its most important aspect.
Equally, from the Thames it also becomes more apparent that this indeed was a building designed in isolation, as the oversized bulk of the cube almost seems mistakenly superimposed on the more modest riverside townscape. Admittedly, once Battersea is overrun with its planned steroidal scrum of towers this will invariably dampen the embassy's current stark impact. But at present at least, and away from the consolidating gel of its landscape, the building appears like an applied object that could quite literally have landed anywhere.
Internal complexity
Internally the embassy is revealed as an extraordinary complex of spaces and functions that must handle three streams of incoming traffic: consular, public and dignitaries. The double-height entrance lobby is a chaste majestic vault revelling in the tradition of stripped grandeur that pervades all major American public buildings. It leads to a similarly appointed consular lobby and hall where visitors can enquire about visas, permits and the like.
But this public-facing side of the embassy is merely one tiny aspect of it. It is what the public won't see that is most interesting. The entrenched historic links between Britain and America mean that the US Embassy operates as a miniaturised outpost of the US government, with virtually every department found in Washington, from education to agriculture, also represented here. These various departments occupy 48,000m² of office space, all of which enjoy almost 4m-high floor-to-ceiling heights as well as full-height glazing offering impressive views over the Thames. The ETFE veil, due to its translucence, offers no legible barrier to either daylight or views.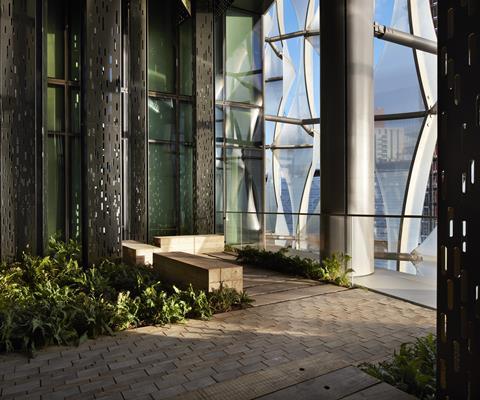 The various office areas are broken up by an extraordinary sequence of double-height internal gardens arranged across the floorplate, continuing the landscape theme established outside the building. Each garden is themed on a different topographical condition found in the US, from the Florida Keys to the Midwest Plains. These gestures could have been hollow renditions of Las Vegas theme park mimicry. But as delivered they are reassuringly convincing, and as well as providing a break from the potential monotony of office spaces, they provide a cultural grounding that personalises the architecture and connects it to the homeland it represents.
The building even includes residential accommodation. While the ambassador himself maintains his traditional home in Regent's Park, the US marines who protect every US embassy in the world have their own living quarters within the building complete with dedicated kitchens, a gym and even a basketball court.
Timberlake describes his embassy as "a complex workplace that conveys a sense of American values of openness and transparency". It certainly represents a masterful handling of onerous constraints, whatever misgivings may be present about the contrived superimposition of its dominant cube-like form.
Additionally, if we do consider embassies to be a projection of the values of the nation they represent, then certainly in its ingenious use of landscape, this building is a game changer that could have a profound impact on how we handle issues of security within our public realm generally and well beyond Battersea. When Eero Saarinen designed the current US Embassy in 1960, it made history by being Britain's first purpose-built embassy. If its replacement leads to a re-evaluation of how we access and protect our public buildings, then it too could continue this very American 20th-century tradition of innovation.
Project Team
Architect: KieranTimberlake
Client: US Department of State (Bureau of Overseas Building Operations)
Main contractor (US): BL Harbert International
Main contractor (UK): Sir Robert McAlpine
Structural engineer: Thornton Tomasetti
MEP engineer: Arup
QS: Aecom
Landscape architect: Olin