Sir Terry Farrell's Regent's Place is the fruition of a vision that should kick-start the regeneration of one of London's more grisly thoroughfares. Ike Ijeh reports
Even by the glacial pace that defines large-scale public realm improvements in London, the redevelopment of Euston Road has been slow. With its monumental railway terminuses and impressive scale, Euston Road was conceived as a grand, orbital gateway to central London, whether travellers arrive by foot, railway or vehicle. However, over the years this symbolic resonance has been entirely submerged under a maelstrom of traffic, insensitive commercial architecture and a hopeless pedestrian realm.
Architect Sir Terry Farrell has been a long-term advocate for the road's improvement and has devoted much of his career to devising a vision for its renewal and transformation into a "grand boulevard". It is Farrell's misfortune that few cities are as effective at quashing grand visions as London, as, for example, Sir Christopher Wren discovered when promoting his plans for post-fire reconstruction. It is doubly unfortunate that many of London's preferred tools for urban obfuscation - traffic, multiple local authorities, complex land ownership hierarchies and the prioritisation of commercial interests - are all at play in this instance.
However, a Farrell scheme has overridden these challenges to become one of the first pieces of the complex urban jigsaw puzzle that aims to repair this justly maligned part of central London. Regent's Place is a unique development for several reasons. Completed earlier this year, it was one of the few large, high-profile commercial developments that escaped cancellation or indefinite postponement, unlike several of its contemporaries including Land Securities' Park House, 20 Fenchurch Street, Leadenhall Tower and Middlesex Hospital. The development also contains a spirited approach to art and the public realm, a theatre and shops and restaurants.
The involvement of any of these aspects is not, in itself, remarkable and would now be commonplace within any significant commercial development across London. Moreover, the more cynical modern developers have long been canny enough to exploit public spaces and alleged cultural enlightenment as tactical camouflage for poor and insensitive design. What enables Regent's Place to demand special attention is the strategic role it plays in the realisation of a wider vision to redevelop Euston Road and the surrounding area. It also shows how an architect's long-term theoretical investigation into urban renewal can be transformed into a practical exercise in commercial development.
Regent's Place is owned by British Land, a developer with significant holdings and experience in the London commercial property market. It occupies a 13-acre site on the northern side of Euston Road that was formerly the site of a kiln and light industrial buildings owned by the Crown Estate; its most prominent landmark is the 36-storey Euston Tower on its south-eastern corner.
However, since completion of the tower in 1970, the site has been developed in an ad hoc fashion with commercial buildings constructed by different architects. The site came under single ownership when British Land bought it in the eighties and, in the words of James Danby, director of London leasing, it has since sought to "rationalise development by maximising the opportunities that unified long-term stakeholder stewardship endows".
The latest examples of this strategy are the three buildings by Farrell's practice that form the newest quarter of Regent's Place. They lie on its western boundary and are known as 10 and 20 Triton Street and One Osnaburgh Street - or blocks A, B and C, respectively. Blocks A and B are 10-storey commercial offices providing a total of 51,553m2 of space.
Block C to the north of the site is a 20-storey residential tower that contains 154 flats, 50% of which are affordable. Interspersed between these buildings are public spaces that help embed Regent's Place into the surrounding street layout.
The elevations of blocks A and B form subtle variations on the same architectural concept. The facades are divided into double floor height bays with glazed infills set back from slender masonry horizontal and vertical channels. On 10 Triton Street the channels are clad in reconstituted Portland limestone and on 20 Triton Street the cladding material shifts to textured red sandstone.
Chris Wade, Farrells' project director, explains that these materials were specifically selected to be sensitive to the adjacent conservation area, which includes John Soane's elegant Holy Trinity Church Marylebone (1828) and John Nash's spectacular early 19th-century Regent's Park terraces. Wade says that "by using these materials [we] were able sensitively to repair and respect the local urban grain".
This contextual strategy is also evident in the articulation of the elevations which, as Wade reveals, "employs a double-floor height frame so that the building almost appears to have half the storeys it actually does". Further evidence of this sensitive approach is to be found in the residential tower. Despite its 20 storeys and its intrusion onto views from Regent's Park, this is clad in a green glazed terracotta to evoke the more utilitarian, light industrial heritage of Longford Street which forms the site's northern boundary and on whose corner block C lies.
Although such heightened contextual awareness is to be commended, the buildings are hardly spectacular pieces of architecture. Context here seems to be constraining design rather than liberating it. Although one can sympathise with the restrictions that working in sensitive conservation areas invariably imposes, much of Farrell's previous work shows the practice is adept at responding to context with excitement and creativity. One wishes Farrell's usual self-assurance was more in evidence here.
That said, in their textured surfaces and measured scale, the new buildings are an improvement on much of the post-war commercial architecture along Euston Road, most of which exhibits a formulaic, numbingly insipid business park anonymity that is more suited to the M4 than one of central London's primary urban thoroughfares. Furthermore, the interiors are also finished to a high standard with broad, column-free office spaces; travertine and onyx finishes are lavishly employed in the spacious lobby areas, particularly at 20 Triton Street's soaring, full-height atrium.
However, it is not the architecture of Regent's Place that is its most striking feature, but its committed approach to public realm and context. Farrell has a long-term involvement with the Regent's Place estate and has produced a masterplan that anticipates five new buildings in phased stages of development. Blocks A, B and C, as well as the new and enhanced public spaces around them, form phases 1 and 2.
Triton Street is a new tree-lined pedestrian avenue that runs across the centre of the site. Its western end separates blocks A and B and forms an entrance to the development; its eastern end opens into the existing Triton Square. This eventually merges with the Euston Tower plaza, thus enabling the formation of an east-west route across the site for the first time.
A combination of hard and soft landscaping defines the route, and its high-quality materials, which include polished granite and stainless steel, contribute to an impressive set of street furniture. At present, the predominance of commercial accommodation does impose a corporate, monocultural feel to the area. However, it is hoped that once the offices are joined by restaurants and shops, the spaces will become more animated and vibrant.
Yet the core of Farrell's approach, and the key to its success, lies not in interventions within the site, but in its aspirations for what lies around it. According to Wade, the masterplan is not "just about the Regent's Place site; it's about enhancing the local environment around it by improving local connectivity, creating new pedestrian routes and restoring public realm. We wanted a space-positive approach to masterplan design."
In light of this strategic spatial perspective, which in turn emerges as a response to Farrell's wider involvement with improving the local area, it becomes possible to appreciate Triton Street not just as a new route through the development but as a pedestrian link between the neighbouring districts of Regent's Park, Euston and King's Cross. James Danby maintains that British Land was "thoroughly engaged in this process" and viewed it as something that added a "clear value" to its development. "A better estate means a better area," he explains.
One of the foremost examples of this holistic approach is to be found in one of the most unlikely of sources: a new pedestrian crossing on Euston Road, just to the south-east of 10 Triton Street. Although not the most exciting piece of streetscape apparatus, this is one of the masterplan's key proposals. This crossing, which was funded by British Land, has improved access to the site and connected it with the more established commercial districts of Bloomsbury and Fitzrovia, south of the Euston Road. Incredibly, this is the first new pedestrian crossing on Euston Road for about 30 years and it is indicative of the laudable commitment of the design team to improving the public realm.
The footprints of the office blocks were also partially determined by public realm considerations: 10 Triton Street sits right on the corner of Euston Road and Osnaburgh Street and is clearly visible from Great Portland Street tube station opposite. However, had its envelope extended to the full site boundary, it would have blocked the view of 20 Triton Street behind it. By convincing the client to peel 10 Triton Street slightly back from the boundary line and sacrifice a nominal amount of lettable accommodation, the architects were able to ensure a frontage view from Euston Road for the commercial block behind and increase the amount of space allocated to the public realm.
So, as Regent's Place enters the post-recession phase, what of the future? North East Quadrant (NEQ), the last chunk of the estate to be developed, has recently received planning permission. A 1.5 million ft2 mixed-use development with a 25-storey residential tower, the Wilkinson Eyre and Munkenbeck + Marshall-designed scheme will complete the Farrell masterplan and provide a new critical mass of residents and amenities for the estate. In the longer term, the leases on Euston Tower will expire within the next two decades and although demolition is sadly unlikely, British Land is committed to identifying potential new uses.
Off site, further evidence of the masterplan's comprehensive and active urban approach is to be found in ambitious proposals for Euston Circus. This would involve the reorganisation of the chaotic area where Tottenham Court Road meets Euston Road at the south-east corner of the site.
The plan is to turn this disjointed, traffic-dominated junction into a more unified, rationalised and improved public space more evenly distributed between cars and pedestrians.
Euston Circus exemplifies the kind of straightforward, incremental improvement strategy that is envisaged for Euston Road and that is perfectly reflected in Regent's Place. Rather than proposing radical solutions such as pedestrianisation or the closure of the Euston underpass - which would slowly but inevitably sink into the morass of London's planning bureaucracy - Farrell is aiming at more modest, yet equally effective, measures, such as tree planting, pavement widening, and de-cluttering the streetscape, subtly to enhance the pedestrian environment.
Elsewhere within the area, 67 acres of urban blight around King's Cross is undergoing regeneration and the restored St Pancras hopes to match the enormous success of its new international Eurostar terminal with the imminent reopening of its refurbished Grand Hotel and luxury apartments. Network Rail is progressing with multibillion-pound plans to knock down Euston station - arguably London's grimmest - and rebuild it. The Euston Arch is also set to be rebuilt, hopefully consolidating a welcome resurgence in the whole area's cultural profile and civic identity.
Regent's Place is well placed to benefit from the regeneration that is taking place all around it. Is it a symptom of this current wave of redevelopment or one of its causes? Taken purely as a commercial venture, it is undoubtedly the former. But when viewed as an exercise in public realm improvement, as a device to enhance connectivity and restore local character within a wider area, it achieves a sophisticated urban resonance that far exceeds both its site boundary and its commercial brief.
The development clearly benefits from Farrell's knowledge of the area and his long experience of trying to improve it. It also demonstrates the benefits that can accrue from choosing one firm to do the masterplanning and the architecture; in this case it has enriched and invigorated the relationship between buildings and spaces.
But perhaps the most useful lesson of all is the most unsettling: architecture does not have to be great to be effective. Urban improvement, particularly in intransigent London, does not have to be about the grand gesture or iconic statement. Often, it is more about engagement, empathy and repair. It may not be glamorous but it works. As a humble new pedestrian crossing on Euston Road shows.
REGENT'S PLACE and THE RECESSION
James Danby, director of London leasing for British Land is bullish about the experience of persevering with the construction of a large commercial development during the worst downturn in more than half a century. "We never considered putting it on hold," he says. "We were always fairly confident that we would be delivering into a better market than we began with."
Did the recession have an effect on mix, materials, accommodation? "Not really," muses Chris Wade, Farrells' project director. "We did have to combine the two penthouses on
block C into one but that was only because a single client bought both."
Their confidence seems to have paid off: 60% of the commercial space has been let, including the whole of 10 Triton Street to the Aegis media group and the top four floors of 20 Triton Street to Russian oil giant Gazprom. In addition, all the flats have been sold off plan …
NEW DIORAMA THEATRE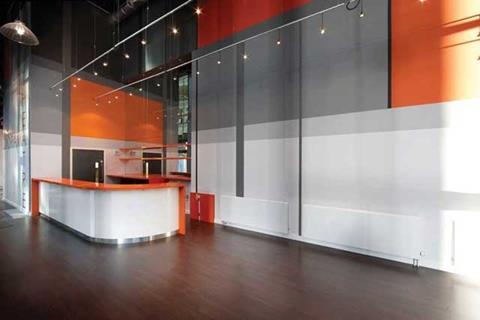 Tucked away in the south-east corner of 20 Triton Street is the New Diorama Theatre, run by an independent community group called Diorama Arts. A theatre existed on the site before the construction of Farrell's buildings, but the new building provides a public cafe and a flexible performance space that can seat up to 80.
Although the inclusion of a theatre on a commercial development of this kind is not unprecedented (More London has the Unicorn), its presence certainly adds the kind of cultural diversity absent from many equivalent City developments and provides welcome relief from the surrounding corporate aesthetic. This effect would have been heightened further had the theatre been given its own distinct architectural language rather than largely conforming to the facade of the surrounding office block.
ART in the right place
Several notable public art commissions are located across the Regent's Place estate, in public spaces and within office entrance lobbies. Perhaps the most prominent is Carmody Groarke's Regent's Place Pavilion at the western entrance to Triton Street. A cluster of slender stainless steel rods supports a thin metal canopy that people can either walk through or sit under.
At 8m the pavilion is the same height as the colonnades wrapped around the base of blocks A and B. It's an example, therefore, of public art being subtly manipulated to ape the shelter typically provided by trees, but in a manner that roots the art in the surrounding architecture - thus minimising the cynical gimmickry that often defines the relationship between commercial development and artistic works.