Timber frames, for so long limited to the low-rise residential sector, have begun to break into commercial and higher-rise uses, thanks to technological breakthroughs. What does the future hold?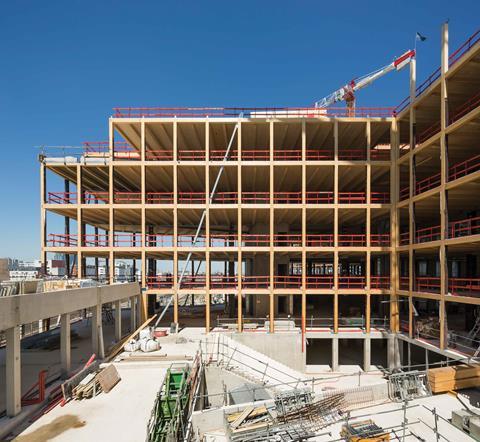 For more than 100 years steel and concrete have been the default structural frame material for tall buildings. Accordingly, while Western society has embraced wooden buildings across various typologies, the idea of a wooden high-rise or even mid-rise building has been something of an oxymoron, an impossibility from the realms of eco-extremism and fantasy fiction.
There are various reasons for this. Over hundreds of years a succession of devastating urban conflagrations, not least the Great Fire of London in 1666, have ensured that deep in the public consciousness the idea of using wood on a significant scale is inextricably linked with the threat of fire. And while wood does generate feelings of warmth, nature and domesticity, it is known to bend, warp and soften and is thereby routinely dismissed as structurally inferior to its sturdier inorganic counterparts.
But thanks to remarkable recent advances in the technological capabilities of wood, largely focused in the areas of engineered timber and beam-and-post structural frames in particular, all these preconceptions could be about to change. A new generation of high-rise timber buildings across the world are leading the charge. Not only are they revolutionising popular perceptions and applications of wood within a construction context, they just might lead to the realisation of that Holy Grail of architectural surrealism, the wooden skyscraper.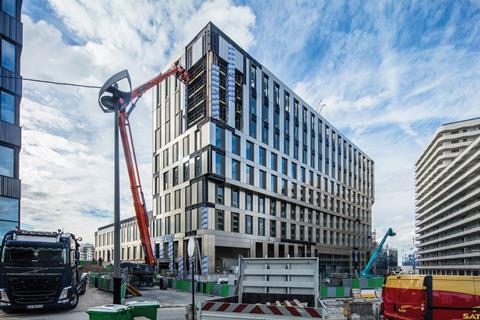 Rapidly expanding
The high-rise timber buildings sector is expanding rapidly. In Brisbane, Australia, in November, Lendlease and Sydney-based architect Bates Smart completed 10-storey, 45m-high 25 King Street, said to be the largest engineered timber commercial building in Australia, which combines a beam-and-post frame with CLT ceiling soffits. The tallest wooden building in the world today is probably the 18-storey Brock Commons student residence at the University of British Columbia in Vancouver, Canada. Completed in mid-2017, it was designed by Acton Ostry Architects with structural engineer Fast + Epp and tall wood adviser Architekten Hermann Kaufmann.
Even more ambitiously, back in 2016 PLP Architecture produced conceptual proposals for Oakwood Timber Tower, a 300m-high, 80-storey, 1 million ft² wooden skyscraper provocatively located in London's Barbican and containing 1,000 residential units. While the project was conceived more as a research tool than as a literal development seriously intended to be built, it demonstrates the confidence and innovation now commonly deployed on timber construction.
What is also increasingly apparent – as evidenced in projects such as Brisbane's 25 King Street – is that CLT and other types of timber construction are at last moving from their more established use in the residential sector to be applied on large commercial buildings.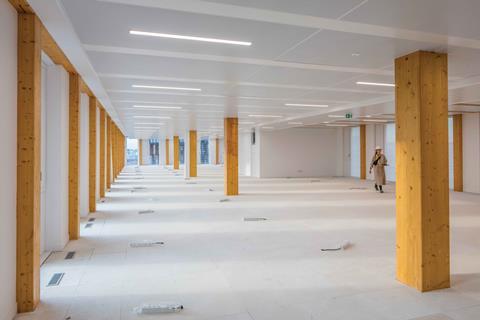 One of the most recent and significant examples is almost complete at Clichy-Batignolles, a large urban regeneration site to the north of the central Paris region. One of the sites of former president Nicolas Sarkozy's Grand Projets, it was also the site of Paris' failed bid for the 2012 Olympics. It is currently being redeveloped in accordance with an ambitious mixed-use masterplan set for completion during the next decade.
The office block in question is already the largest timber-frame office building in Paris and the first of its kind in the whole of France. Office in Wood has been jointly designed by Austrian practice Baumschlager Eberle Architekten and Italian studio Scape, and it provides 17,000m² of office space over nine storeys. It uses a structural beam-and-post timber frame and thereby provides an authoritative account of the advantages and limitations of a timber engineered structural solution on this building type.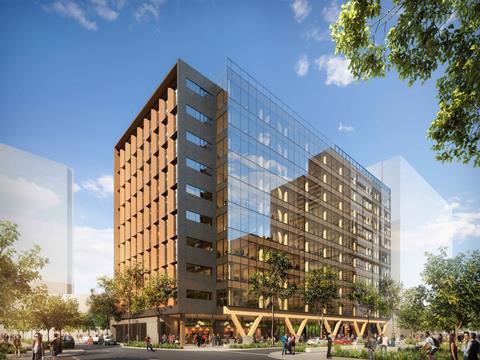 Advantages
Arguably its chief technical asset is its lightweight construction. Office in Wood is constructed entirely on a bridge platform that spans over several major railway lines into the French capital, including those serving the Eurostar line linking Paris and London. It was therefore essential for the building to be as lightweight as possible, making timber the perfect alternative to a more traditional concrete or steel frame.
According to Anne Speicher, managing partner of Baumschlager Eberle Architekten, the building "delivers a drastic weight reduction of 30% compared with a traditional steel or concrete structural frame". The point is reiterated by Gavin White, structural engineering director of Ramboll UK, who claims that timber-frame buildings can be "up to 40 to 50% lighter than concrete and steel-frame buildings and therefore offer a credible structural alternative when dealing with complex underground or tunnel situations".
Another clear advantage for timber buildings – in a low- or high-rise context – is that they are a sustainable, low-carbon alternative to steel and concrete frames. Paris is to host the 2024 Olympic Games, and this has prompted the city to launch a massive construction initiative to ensure that by the time of the opening ceremony all new buildings on public sites are low-carbon. Clichy-Batignolles, ironically the proposed site for the 2012 Games, is one of the first prototypes for this policy.
According to Speicher, the timber frame has enabled Office in Wood to realise "a construction phase saving of 2,900 tonnes of carbon dioxide and, along with measures like photovoltaic cells, has helped the building achieve energy-positive performance where it produces more energy than it consumes".
A further dual advantage of timber frame is that its dry, offsite construction makes it easily adaptable to prefabrication and modularisation, a trend becoming more commonplace within the construction industry generally.
As Ramboll UK's White explains: "There are clear opportunities for a new generation of high-rise timber buildings to take advantage of some of the recent advances in offsite prefabrication; CLT panelisation systems offer a key example. But it's not just a question of prefabrication; in terms of high-rise timber buildings it's standardisation that's the key. The use of timber potentially allows for the standardisation of key structural components like columns, beams and floors, which could add a competitive edge to large scale commercial buildings."
What does the future hold for CLT?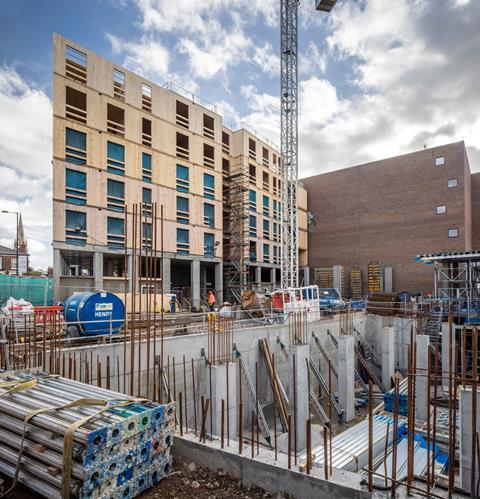 While the recent combustible materials ban suggests that CLT's days as a cladding material on buildings of over 18m are numbered, this does not necessarily affect a mid- or high-rise commercial office scenario.
However, although the popularity of CLT has grown rapidly in recent years, as Simon Smith of engineer Smith and Wallwork explains, there is another more profound structural reason why its use may still be limited on large buildings.
He says: "There's little point in building CLT frame buildings above eight to nine storeys: that's really the sweet spot. Waugh Thistleton's Dalston Works (right), at 33m high, is the tallest CLT building in the world. The limit is there because CLT requires a platform construction on every floor between each external load-bearing wall.
"The higher you go, the greater the crushing load on the lower platforms, which is why they have to be reinforced – a process which becomes cost-inefficient the higher you go."
However, as buildings like Brisbane's 25 King Street show, CLT can still be effectively used on internal walls and ceiling soffits on larger commercial buildings.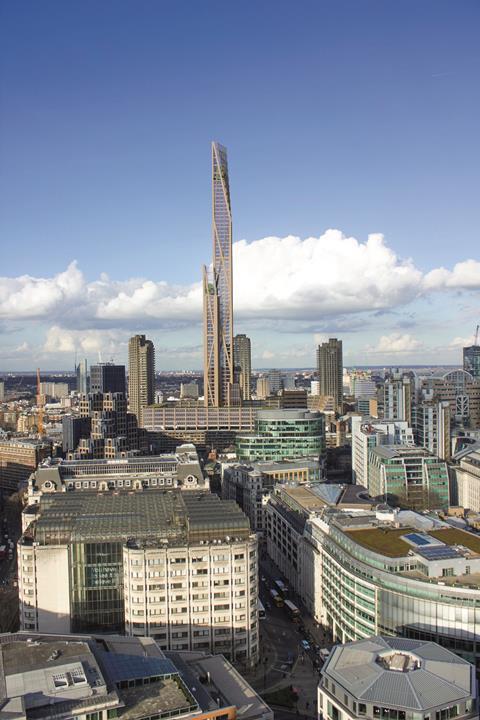 Limitations
But timber frame does of course have its limitations – so are these potentially magnified in high-rise situations?
Greater cost is generally one of the biggest impediments to timber-frame buildings, but White argues this can be offset by savings in programme and speed of construction.
However, height might be a trickier challenge. Office in Wood is a nine-storey building but it is pointedly not 20, 30 or 40 storeys high. Will there always be a limit on height when building a structural frame in wood?
Simon Smith is the director and co-founder of Smith and Wallwork, a design-focused low-carbon engineering practice with a specialism in timber construction. The firm worked with PLP on the Oakwood Timber Tower scheme. Naturally Smith is optimistic about the potential of applying timber to genuinely high-rise buildings in the near future. But he argues that a beam-and-post system such as the one used at Office in Wood is the most realistic option for attaining greater numbers of storeys. And in such circumstances there is nothing to stop CLT still being used on internal walls and floors, for instance. But even with a beam-and-post system Smith reveals that there would still be a significant constraint: stability.
"There is a key differential movement factor to be considered with the construction of tall timber buildings. Timber can retain up to 14% moisture, and when it dries, timber columns can get shorter. So in order to stabilise a primary‑structure timber-frame building, a more stable secondary structure such as concrete can be introduced to certain key areas, such as the cores."
This is exactly what happens at Office in Wood. Here, Speicher explains, the concrete cores offered another advantage: they took up 3% less floor space than equivalent timber cores. This touches on another crucial issue with high-rise timber buildings – space and flexibility. While 3% may not sound like much, it becomes a crucial figure when attempting to maximise the lettable returns offered by commercial floorplates.
Timber-frame structures are renowned for having bigger structural components than steel or concrete structures, as well as significantly more columns. Glulam columns in the lower floors of Artec AS's Treet hotel are up to 1m thick, while at Office in Wood maximum timber beam spans of 8m require a preponderance of columns and steel cross-bracing within floorplates. Don't these represent onerous constraints on the flexibility of commercial offices that wouldn't exist with alternative structural frame systems?
Not necessarily, according to White. "It doesn't have to be a big deal. We're seeing a move away from standard Cat A open-plan floorplates to more flexible, communal spaces where subtle segregation is not necessarily a bad thing. Depending on the kind of environment you're after, more columns don't have to be a barrier. It's about understanding the restrictions and opportunities the material offers and creating a solution that responds to these rather than battles against it."
Accordingly, at Office in Wood Speicher points out there is long-term potential for the building to be converted into housing, a scenario where the additional columns could easily help realise the more cellular layout this change would require. In her own words: "How much more flexible can you get than that?"
But if height, stability and flexibility issues can be reasonably addressed in high-rise commercial timber buildings, what then of wood's perennial bogeyman, fire?
The simple fact remains that wood burns. But according to White, understanding its "nuances and characteristics" is the key to minimising this threat. "Yes, timber is combustible. But it also chars at a rate which can provide the necessary two-hour fire protection required. Additionally, in any case, the kind of mid- or high-rise offices we're envisaging would also immediately qualify for sprinklers in the first place. Plus, after Grenfell, there's much more willingness from clients, insurers and across the industry to understand fire safety and building protection within all scenarios, including timber."
We may still be some years away from an 80-storey timber skyscraper. But it is clear that for a whole host of reasons, ranging from the environmental to the structural, timber buildings are likely to get taller and more commercial in the very near future.
This feature appeared in Building 25 January 2019 print edition with the title: "Time for tree"