Sweden uses offsite manufacture to build at least 45% of its new homes. If the UK could emulate this approach – making use of modern techniques that allow homes to be built faster and with fewer skilled workers – it could finally overcome its huge housing shortfall. Are we approaching a tipping point where this could really happen?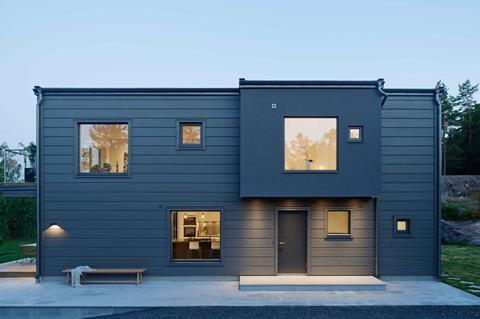 Picture this. It is sub-zero outside, but you are sitting comfortably in your new-build home with very little if any heating required. There are no draughts under the perfectly fitted doors or from around the snuggly inserted windows. You are blown away by the quality and amazed in the knowledge that you could buy a house just like this and "have it knocked up in a day or two".
This is not a pipe-dream description of Britain in 20 years' time – although it could be. It is construction analyst Tony Williams' factual account of modular homes today in Sweden, where he spends half his year. Building Value's Williams says the precisely manufactured homes in Sweden are not only of very high quality but also produced at top speed and with minimal waste – not a description you are likely to hear in relation to British new-build housing.
About eight out of 10 detached houses in Sweden are built using modern methods, according to a study by University of California, Berkeley. The study also revealed at least 30% of new-build multi-residence buildings in the country use a significant degree of prefabrication, meaning at least 45% of overall housing is produced using some form of offsite manufacture.
"If it builds houses quicker and reduces the number of professional construction skills needed, it's a winner for me"

Stephen Kinsella, Homes England
The country has a history of using manufacturing techniques to build its homes, according to Swedish timber company Södra's group sales director, Andreas Jonasson. He says: "We have a lot of housing factories around Sweden that are producing timber houses for families. We have a tradition of building that way." There are several reasons for this tradition, according to Jonasson, whose company is also a big exporter to the UK.
One reason is Sweden's severe climate. The relatively short amount of time that the ground is soft enough to build upon in Sweden requires the use of offsite techniques to shorten the onsite installation process, he says: "Otherwise we'd never build any houses."
There has also been a push by the Swedish government to improve sustainability within the construction industry, says Jonasson. In fact, he says, the government has allocated areas in cities around the country where any new structure must be manufactured from timber in order to promote sustainable building practices.
Could it happen here?
So how far away are we from the Swedish situation, and what's stopping us getting there? According to the British Standards Institution only about 10% of all building projects in the UK are delivered using offsite methods, with its use much more common in the construction of hotels and schools than housing. The UK has a history of building in brick and concrete, while for Britons the notion of manufactured homes often conjures up images of drafty post-war prefabs that all look the same. Professor Alex de Rijke, a director at architecture practice dRMM, says: "The legacy left was that modular homes were considered cheaper, poor quality, ugly and uninspiring."
But more significant than negative public preconceptions, according to Jonasson's British colleague at Södra, Jeremy English, is the view of many in the construction industry that offsite manufacturing is no more than a back-up plan for traditional building methods. English, who is UK sales director to manufacturers, says: "In the drive to offsite manufacture, people have taken a traditionally built home and turned it into a timber-framed home by taking the same set of drawings and saying 'How can we make these walls out of timber?' – but that's not the best way. The best way is to say 'We want to build this way' and plan from there."
There are also issues around capacity, with Stephen Kinsella, Homes England's executive director for land, saying the big housebuilders have traditionally been reluctant to invest in new technologies because of uncertainties around a long-term pipeline. Södra's English agrees, saying: "If you can rely on the demand you can invest the cash; it's as simple as that." He describes it as a chicken and egg situation, saying: "If you give me an order for a thousand houses, I'll invest the cash, but if you give me an order for one […] I'm not so sure."
"Over the last 12 months we have seen several players entering the market as well as the established players recognising that we need to embrace technology"

Stephen Kinsella, Homes England
Despite all this, the housing market could be at a tipping point when it comes to the uptake of modern methods of construction. The UK is in a housing crisis and the government is touting a goal to build 300,000 homes a year by the mid-2020s to tackle it. Such a target seems unachievable unless housebuilders increase the use of modern methods. On top of this a recent report by housing charity Shelter says the country needs to build 3 million social homes over the next two decades. Meanwhile, chronic labour shortages in the construction industry are set to worsen as the clock ticks toward Brexit.
Mark Farmer, chief executive of consultant Cast and author of Modernise or Die, says: "The UK is facing a growing structural skills shortage as more workers age and retire, while Brexit will reduce access to European labour. Without pushing for an increase in modern methods of construction to substitute the labour gap with improved productivity, our housebuilding capacity will shrink."
There is also a huge opportunity to improve quality assurance in the UK new-build market, where chronic snagging issues and worse have been a blight on the sector for years. Farmer says: "A more widespread uptake of modern methods of construction would in theory dramatically reduce quality issues, through the increasing control over variables related to the housebuilding process. We are finding that things need to be done multiple times.
"This risk reduction is achieved primarily through transferring activity from highly variable on-site environments using a transient workforce of variable competence, to one where standardisation, process, and protection from the elements allow for more rigorous quality control." Farmer believes this, combined with the skills shortage, should be a driving factor in increasing methods of construction, saying: "The negative stimulus of the skills crisis and the growing risk of reputational damage from consumer complaints is the long overdue catalyst for change that housebuilding needs."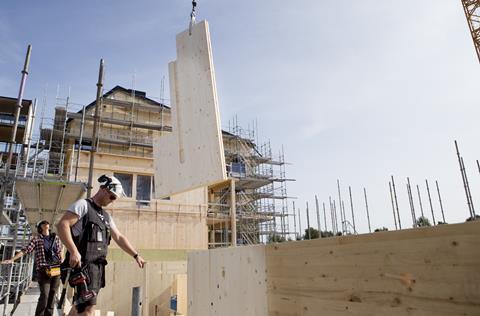 Offsite manufacture in Sweden
Quantity:
At least 45% of new housing in Sweden is produced using some form of offsite manufacture, including about eight out of 10 detached houses and at least 30% of new-build multi-residence, according to a study produced by UC Berkeley.
History:
The country has a long history of building in timber, as 70% of its area is forest. This has created a housebuilding market well-suited to offsite manufacture, because timber lends itself well to many of the processes used in prefabrication.
Climate:
Its extreme climate has been a driver in the development of offsite construction in Sweden. With temperatures that routinely fall to -20°C in the winter, the ground is soft enough to be built on for only a very limited time. This makes the use of offsite manufacturing key to delivering homes on site efficiently in the months when they can be installed.
Sustainability:
The Swedish government has pushed hard to reduce the environmental impact of construction. In certain areas, such as the city of Växjö in the country's south, new buildings must by law be built using offsite timber manufacturing. Offsite methods also decrease the amount of waste produced in the building process.
Government push
There also seems to have been a genuine push by government to improve productivity in the construction industry by pushing firms to increase the uptake of modern methods, with delivery agency Homes England given powers to drive this within the housing sector.
It does seem the circumstances have never been more favourable for an overhaul of the sector. As Homes England's Kinsella says, the country's shortage of both homes and skilled construction workers highlights the obvious benefits of using modern methods to build new homes: "If it builds houses quicker and reduces the number of professional construction skills needed, it's a winner for me."
The government agency is doing its best to put its money where its mouth is, according to Kinsella. He says Homes England is now running pilot sites in Birmingham, Hemel Hempstead, Cambridge, Milton Keynes and Warrington to stimulate the uptake of modern methods of construction in housing, as it has recognised the industry needs a push. "There is a cost for innovation, so something has got to give," he says. "We [Homes England] decided to set up the contract structure that allowed for innovation and bring forward good sites in good locations that allows for innovation."
Moreover, he says, the agency is working to ensure it is easier for companies to get on board, saying there is work that needs to be done to tackle the red tape surrounding manufactured homes and the technologies used to produce them. "We have been working closely with a group led by Mark Farmer, in partnership with the Ministry of Housing, Communities and Local Government, with funders, suppliers, insurers, warranty providers and so on to try and address some to some of the barriers around warranties, insurance and funding assurance – because it's quite difficulty to get your system up and running and accepted."
And Homes England is not the only public body pushing for change. On a more local level, Birmingham council has announced it is preparing to launch a modular housing development programme this spring. The council-owned Birmingham Municipal Housing Trust is planning to trial a 50-home offsite manufactured housing development using volumetric and modular solutions, with a larger roll out programme to follow next year.
Industry action
Change is afoot within the industry, says Kinsella: "It feels like it's with us now. Over the last 12 months we have seen several players entering the market as well as the established players recognising – albeit because they've got to because they can't get the skills on site – that we need to embrace technology and move forward in a different direction."
Disruptors such as L&G and Urban Splash have attracted attention in the sector, with the former rolling out its first manufactured homes last autumn. Urban Splash has continued to score contract wins, last week announcing a £55m housing venture for Peel Land at Wirral Waters. It will deliver 347 units in four modular designs covering one- to three-bedroom homes. The units will be assembled at SIG's former manufacturing site in the East Midlands, which Urban Splash acquired for £1 last year. And the big boys are coming along too, with Södra's English revealing Persimmon's offsite manufacturing arm Space4, which produces wall panels and roof cassettes, is a customer of the Swedish firm, which acquired UK company Crown Timber in March 2016. Work started last June building Berkeley Homes' new factory in Ebbsfleet, and the company has begun looking for staff for the facility, seeking systems engineers to support first the development of the volumetric modular production facility and then the day-to-day management of the manufacturing system once the factory is up and running. These are all good signs and modern methods of construction seem to be an answer to a lot of the problems facing the UK housing industry, but is it all enough to get us to a similar position as Sweden?
Williams' idyllic description of a cosy, fault-free home that can be delivered on site within a matter of days may still feel much closer to a dream than a reality. Yet there are signs the 80% market share that prefabrication boasts of the housebuilding market Sweden may not be so far out of our grasp in the UK.
The Construction Leadership Council has been working to develop a joined-up approach to procurement to shore up a pipeline of work for offsite manufacturers in the housing sector, while Homes England's eight strategic partners, which were announced last year and are set to deliver more than 14,000 affordable homes by March 2022, have all guaranteed to use modern methods of construction to deliver a chunk of these.
So, momentum is gathering and all that remains is to see how quickly the revolution will take hold among all UK housebuilders.