Donald Trump's architecture talks louder than the man himself, with its gaudy interiors and unashamed excess. But what do his developments reveal about the man who promises to transform America? Ike Ijeh takes a tour of the new president's most prominent creations in search of answers
Donald Trump's election represents a strange and unsettling political revolution that is dominating conversations and media coverage worldwide. If this were not the case, the world's construction community might be spending more time discussing one intriguing fact of this week's presidential inauguration: President Trump is the first property developer ever to be elected to the White House.
He is also only the second US president to have been directly involved in the construction industry prior to his elevation to the Oval Office. His vocational predecessor was none other than founding father Thomas Jefferson, the only architect to date to hold presidential office.
Other presidents have enjoyed a more indirect relationship with construction. Abraham Lincoln and founding US president George Washington both held stints as land surveyors in their youth. Herbert Hoover was a successful engineer, albeit of the mining variety. And although a lawyer by profession, wartime president Franklin D Roosevelt fancied himself as an amateur architect and designed his own property in New York, sketched early designs for his presidential library and insisted that the new Pentagon's distinctive five-sided shape be retained in the face of fierce committee insistence that it be altered to a more conventional rectangular design.
But with a property portfolio worth £2.8bn and hundreds of developments across the world, Trump is undoubtedly the most significant construction figure to occupy the White House in over 200 years.
So what, if anything, does the kind of architecture Trump has patronised tell us about his proficiency as a developer or more importantly, the values he may espouse as president? The question is particularly pertinent as Trump, according to his campaign rhetoric at least, promises to transform America's built environment with a massive infrastructure investment programme reminiscent of Roosevelt's New Deal. That landmark initiative bequeathed such seminal public works as the Hoover Dam and Lincoln Tunnel – what might Trump's equivalents look like?
Well thus far Trump's design proclivities have been principally conveyed, at least for a non-US audience, by two key architectural brands. First are his trademark Trump Towers, the glitzy corporate citadels liberally dispersed across the US and, increasingly, the world. And more recently, his own luxury penthouse suite atop his New York Trump Tower whose hallucinogenic combination of Zippos Circus and Versailles kept the world agog for several weeks after the election as it was beamed into global news bulletins.
But is there more to Trump's brand of architecture than gaudy excess? Or more broadly, does Trumpitecture denigrate or merely mirror culture? Five of his most prominent developments may provide the answer.
Trump International Hotel & Tower, Las Vegas, US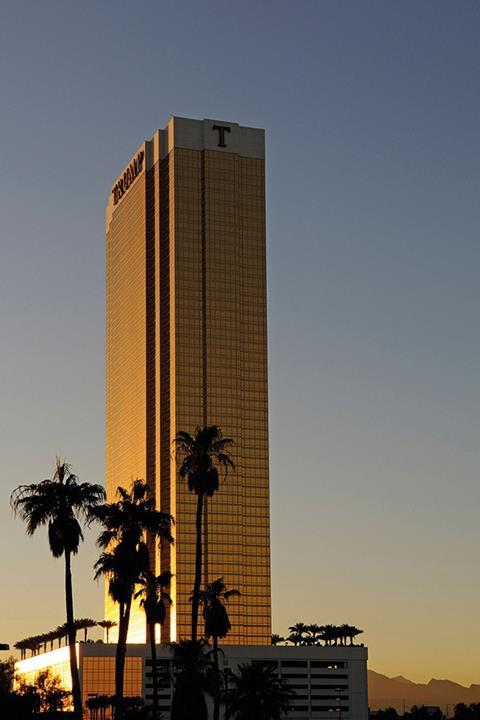 BUILT: 2005-2008
ARCHITECT: Bergman, Walls & Associates
CONTRACTOR: Tutor Perini Building Corp
FUNCTION: Hotel/Residential
COST: £410m
HEIGHT: 64 storeys / 190m
Trump Towers are perhaps the new US president's definitive architectural brand. The ingredients are simple: iconoclastic downtown skyscrapers with decadent and often publicly-accessible lobbies peddling a heady mixture of luxury retail, residential, leisure and hotel accommodation – essentially the opening credits of Dynasty disseminated in plan, section and elevation. Without exception they also all feature the eponymous and often controversial Trump letterhead sign. Amusingly these have been removed from three of his residential buildings in New York in an act of liberal resident indignation at his surprise election win.
Already present across the US and in Asia and Central America, Europe's first Trump Tower opened in Istanbul in 2010. Architecturally, the towers tend to pander to the tinted 1980s limousine aesthetic evident in the inaugural New York tower, although the SOM-designed Chicago version reveals a surprisingly svelte and sinuous form.
With its intoxicating mix of hubris and hedonism, Las Vegas is arguably the spiritual home of the Trump brand. So much so that one wonders why it took the organisation so long to add Sin City to its extensive portfolio – the luxury Las Vegas hotel opened almost 30 years after the inaugural Trump tower was first planned in New York. Located just off the famous Las Vegas Strip to attract a more exclusive cachet, the hotel famously does not include a casino, virtually unheard of in Nevada. But in true Trump fashion its entire curtain wall exterior is coated in 495,000ft² of 24-karat gold. In fairness, this might have as much to do with architect Joel Bergman, as it does Trump. Bergman was also responsible for several other equally garish Vegas Strip hotels.
There is little doubt that all Trump Towers form a highly successful commercial brand that enjoys a level of public recognition that is unmatched by any of Trump's property rivals. But equally, one might be forced to dwell on the egotistical compulsions evident in routinely emblazoning developments in your own name, almost three storeys high. And, although his towers offer a convenient Trump caricature, in their exaggerated promotion of money, power and prestige, they say as much about the values that underpin American society as they do about their owner's.
Trump Taj Mahal, Atlantic City, US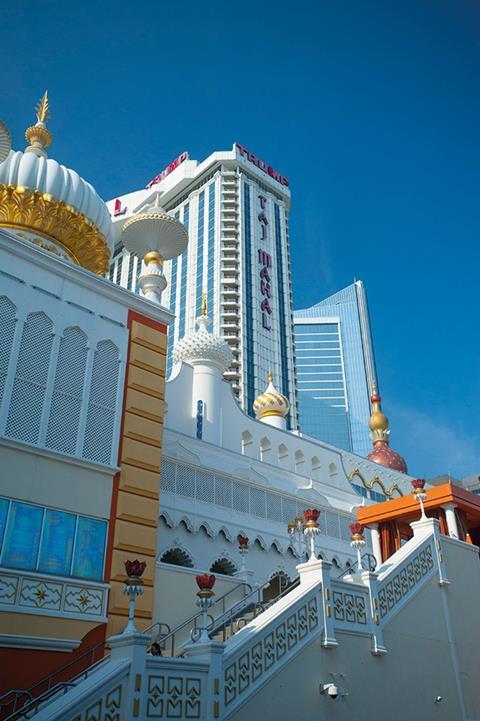 BUILT: 1983-1990
ARCHITECT: Frank Dumont
CONSTRUCTION MANAGER: Tutor Perini Building Corp
FUNCTION: Hotel/Casino
COST: $1.1bn (£900m)
When Trump's landmark Atlantic City hotel opened in 1990, Michael Jackson attended the opening night gala, it was billed as the "Eighth Wonder of the World" and telephone operators were forced to intone by rote: "Thank you for calling the Trump Taj Mahal where wonders never cease." When it closed in October last year, eight months after Trump had sold his 10% stake, it did so under a pall of controversy and recrimination, having spent the last two years buffeted by bitter union disputes, multimillion-dollar losses, a settlement with the Treasury Department over a financial investigation and a bankruptcy restructuring plan. Its rise and fall emerges as a Faustian drama worthy of Citizen Kane.
And like Kane's fabled Xanadu, the Trump Taj Mahal was conceived as a fantastical exotic paradise built as a monument to excess. Forget Trump's penthouse suite, of all the developments throughout his long career it is this that is most aligned to his reputation for base aestheticism and lurid ostentation. The resort was actually designed before Trump bought the majority stake in its holding company but his design fingerprints were unmistakably present on the finished article.
Themed as an Indian palace, its interiors were crammed with an outrageous riot of gold, mirrors, marble and crystal all myopically encased beneath an orgy of synthetic onion domes, cusped arches and flashing neon. It was variously and fiercely derided as tasteless, vulgar, kitsch and grotesque – though its unnerving similarity to Brighton Pavilion in drag at least meant it presented absolutely no threat to the iconic integrity of the original Taj Mahal. Trump's opponents have also seized on its closure as a metaphor for the moral decay they claim lies at the heart of his brand of rapacious materialism.
But there is a paradox here. Atlantic City operates as a poorer version of Las Vegas and is crammed with casinos as garish, if not as large, as Trump's. Both city and casino peddle the gaudiness found in your average British seaside resort and are similarly popular among what can still loosely be referred to as the working class, who Trump courted so successfully in the election. Even in the US it is considered unseemly openly to criticise the poor. It is perhaps easier to conceal bourgeois intolerance for perceived proletariat tastelessness by attacking the loud-mouthed Svengali whose circuses, first physical and now political, still hypnotise the masses.
Trump Ocean Club International Hotel and Tower, Panama City, Panama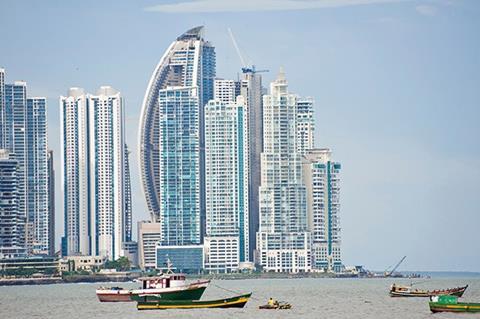 BUILT: 2007-2011
ARCHITECT: Arias Serna Saravia
CONTRACTOR: K Group
FUNCTION: Hotel/Residential
COST: £328m
HEIGHT: 70 storeys / 293m
Trump's chivalry toward women is well documented. So it comes as little surprise that his showpiece foray into Central America can been summarised as a gynaecological homage to the fairer sex. It is an analogy bolstered by the building's avowed post-modern pretensions, so one must be grateful the architect did not seek figurative inspiration from its street address, Punta Colon. Still, one can sympathise with those with more delicate sensibilities who might view such an edifice as indecent. Anatomical aggravations aside, can these offended observers take refuge in the building's unique and distinctive design instead? Not apparently if they are from Dubai. Some eagle-eyed observers have commented on the similarity between Trump's design and the famous "mast and sail" profile of the luxury Burj-al-Arab hotel.
So, concept and design are sensitive areas, perhaps we are on safer territory with context? Not exactly. Panamanian Americans took severe umbrage at Trump's incendiary observations about their Mexican cousins during his presidential campaign and their subsequent pursuit of cultural solidarity with their insulted neighbours risks sullying the Trump brand back home in Panama.
Rarely has a building been conceived that has proved so capable of harnessing concept, design and context to deliver one lasting legacy: offence.
Trump International Hotel, Washington DC, US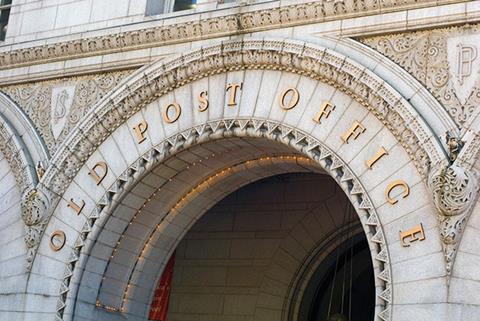 BUILT: 1892-1899
RENOVATED: 2014-2016
RENOVATION ARCHITECT: WDG Architecture / Beyer Blinder Belle
RENOVATION CONTRACTOR: Lendlease
RENOVATION COST: £162m
HEIGHT: 96m
Opening just weeks before last year's election, the final project Trump completed before winning the presidency is something of an anomaly among his property portfolio for three principal reasons. First, it is a refurbishment rather than a newbuild. Trump has renovated buildings before but rarely as historically significant as this. What was formerly known as the Old Post Office Pavilion is a soaring romanesque revival pile that is listed on the US National Register of Historic Places. Secondly, as Washington famously bans skyscrapers, Trump was unable to resort to the tower typology he typically prefers for luxury developments such as this. Ironically, this very building contributed to those same height restrictions by being only slightly shorter than the nearby former Cairo Hotel, the construction of which in 1899 compelled outraged city authorities to introduce the strict guidelines in place today. And thirdly, located on the famous Pennsylvania Avenue halfway between the Capitol and Trump's new home of the White House, it is one of the few Trump buildings that is forced to play second fiddle to its context.
So the new hotel provides an opportunity to see Trump operating outside his comfort zone. How then does he fare? Well, the results are largely business as usual. In terms of conservation this status quo is welcome as the building's protected status meant the majestic exterior could not be altered, save for the addition of mercifully restrained versions of the eponymous Trump signage around the entrance. Equally, internal historic features, such as the elaborate cast iron girders that span the atrium, have been restored and incorporated into the new design. But business as usual in terms of Trump architectural livery has left more worrying results with the interiors smothered in a velveteen headlock of crystal chandeliers and gold-leafed pseudo-baroque upholstery.
Trump International Golf Club, Dubai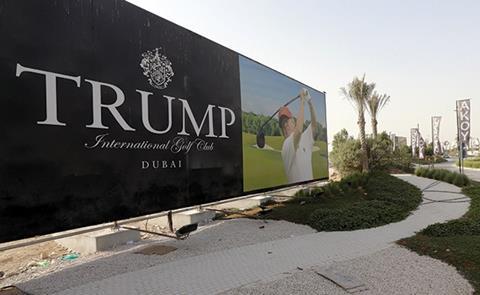 BUILT: Completing 2017
FUNCTION: Residential/Hotel/Leisure
COST: £3.9bn
One might have thought Trump might done all he could to ingratiate himself with the Islamic hosts of his biggest golf resort to date. But his volatile pronouncements on Muslim travel arrangements during the presidential campaign must have been met with a mixture of bafflement and consternation in the Persian Gulf, as witnessed by the reported swift removal of both his name and photograph from hoardings surrounding the multi-billion dollar development.
This threatens to be the most exciting event to ever take place at the soon to be complete resort which, despite the canny deployment of Tiger Woods to design his first golf course, exhibits the same manicured monotony and Lilliputian villas evident at luxury golf courses across the world.
Luckily for Trump it doesn't feature the adjacent wind farms that so irked him at Dubai's Scottish equivalent resort of Menie in Aberdeenshire. Then again, unlike the Scottish executive, Dubai authorities see no need to atone for once inviting Trump to be their roving international ambassador. In the months since Trump's incendiary travel proclamations the uproar in the Emirates appears to have abated with the signage reinstated and his Dubai partner developer Damac reasserting its commitment to both him and the project. It appears that the only thing that talks louder than the US' brand new 45th president is money. And it is that, perhaps more than anything else, that lies at the root of all Trumpitecture.