The humble British beach hut is being reconfigured for the 21st century. In Part 2 of this piece, Building looks at some examples of cutting-edge coastal design
Few buildings sum up the idea of a holiday more powerfully than a beach hut. Hotels and airports may be holiday staples but they can facilitate business as well as pleasure. And even resort cafes, bars and restaurants can technically double as work venues. But with a beach hut there is only one underlying and undeniably holiday-related ambition being sought: escape.
In Britain, the popular notion of a beach hut is of a miniature seaside structure with clapboard timber cladding, a pitched roof, perhaps a small veranda and often in an assortment of bright colours to counter the leaden skies of a British summer. In warmer climes this template assumes a decidedly more exotic feel with straw commonly replacing the clapboard and walls sometimes being removed entirely to assist the all-important breeze and views.
There are probably hundreds and thousands of huts across the world that conform to these familiar stereotypes. But like all stereotypes there are exceptions. And increasingly, those exceptions are not being viewed as functional and largely forgettable leisure amenities but are being deliberately designed and presented as genuine works of architecture.
In England in recent years, the small Sussex town of Littlehampton has much to do with this seaside architectural revival. The little resort now boasts beach structures by a stellar cast of contemporary architects including a beach cafe by Asif Khan, a beach performance pavilion by Flanagan Lawrence, a meandering 324m-long beach bench by Studio Weave and, of course, the landmark East Beach Cafe by Thomas Heatherwick that started it all back in 2007.
The Littlehampton case is interesting. None of its celebrated structures are beach huts per se but they all portray a stunning degree of architectural ingenuity lavished on functionary beachside facilities. Equally, they reveal the power of seafront architecture to elevate local profile, drive regeneration, increase tourism and, in its best instances, to capture something of the haunting and celestial quality of the sea.
This is in fact a long tradition that has existed on England's south coast (and of course elsewhere) right from the Brighton Pavilion to the De La Warr Pavilion at Bexhill-on-Sea and beyond but it is in the humble beach structure it is finding a new and contemporary voice.
So below is a selection of the new generation of UK seaside structures that are using radical contemporary design to redefine our perceptions about what exactly a beach hut can be.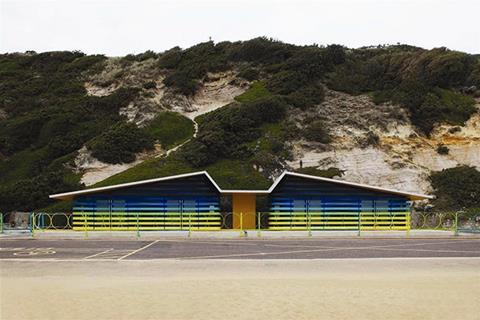 Boscombe Beach Huts
Bournemouth, Dorset
ABIR Architects / AEREA Design
2011
The architects behind this terrace of four beach huts set out to redesign the traditional English beach hut and make it accessible for disabled users. While this ambition is worthy enough, what they in fact ended up creating was a dazzling, multi-coloured homage to post-modernism and Americana. Encased behind multi-coloured stripes of plywood bands that extend over integrated glass doors and topped by a pair of over-sailing mono-pitched roofs that soar from a central crevice like seagull's wings, the project is an impressive mix of utility and illusion.
The vibrant colour scheme continues internally with brightly-coloured fluorescent floors and ribbons of multi-coloured stripes painted across the white hut interiors. Among all this visual excitement, functionality comes in the form of the four accessible huts themselves. Each is fronted with wide wheelchair-accommodating double-doors and they are arranged into two pairs that sit on either side of the fresh water drinking fountain and mobility scooter charging point incorporated into the centre of the plan.
With its jazzy colours and dynamic form, Boscombe is as far from the traditional idea of a beach hut as it is possible to be.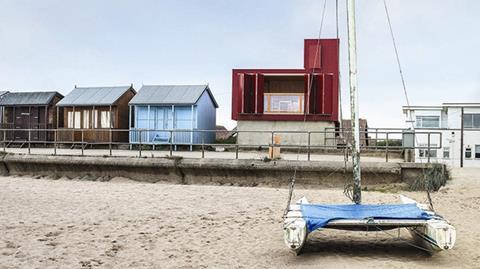 Beach Hut Sandilands
Sutton-on-Sea, Lincolnshire
Jonathan Hendry Architects
2017
By far the least glamourous section of the beach is always the toilets. So choosing to place a new beach hut on top of a concrete former toilet block may seem like a strange choice. But it is one that has reaped ample rewards for both client and architect.
The client has secured a new private cabin with stellar views across the North Sea for a cost of just £30,000. The architect received the accolade of a regional RIBA award earlier this year. And Sutton-on-Sea has seen its former disused toilet block revived with a quirky and colourful addition to the beachfront. The hut itself is a timber box painted bright red and featuring a small tower to one side.
Shutters open to reveal a one-panelled interior room, faced with translucent panels to one side and with a Juliet balcony overlooking the sea. The former toilet block forms a concrete base and entrance to the cabin and the cabin's rear facade is expressed as a series of stepped planes that recede as they approach the corner tower, adding to the air of playfulness and whimsy that marks the whole project.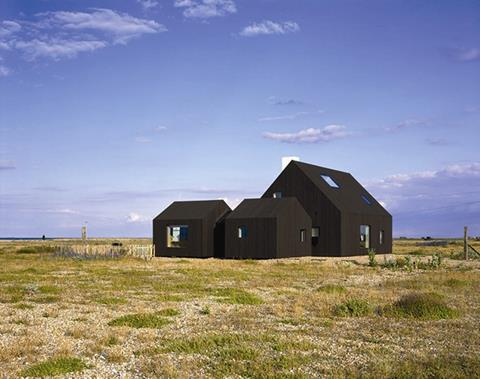 Black-stained House
Dungeness, Kent
Rodić Davidson Architects
2016
With one of the largest expanses of shingle in Europe and with acres of desolate reeds and headland ambling out towards the sea, this low-lying Kentish plain has captured the imagination of ecologists and military strategists for centuries. And now it has increasingly come to the attention of architects.
Much of this is down to Alain de Botton's Living Architecture challenging perceptions of holiday homes by demonstrating that they can embody contemporary as well as traditional architecture. This mandate was first brought to Dungeness in 2010 in the form of NORD Architecture's Shingle House and has since spawned dozens of successors. One of the latest is Black-stained House by London-based Rodić Davidson Architects.
While conceived on a rather more ambitious scale than a beach hut, with its pitched roof and black timber stained walls, this beach house still borrows heavily from the language of its humbler forebear. In fact, it is deliberately expressed as a cluster of huts rather than a single building, with the glazed entrance that connects each unit a subtle clue to its more radical contemporary ambitions.