Fifty five contract wins secure contractor's position, as overall awards continue to increase on last year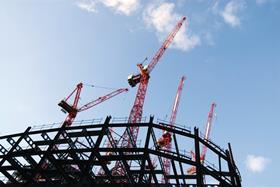 Kier shot to the top of both contractors' league tables last month with a £273m contract haul.
The firm moved from third place in October in the league table, including civils, into top spot, and jumped from fourth in the table excluding civils to take the lead.
The firm's haul comprised 55 contract wins.
Meanwhile, Bam was the biggest mover last month, jumping from 44th place in the October table, including civils, to second in November, with a £259m haul comprising five contracts.
Bam's wins included a £38m motorway junctions contract for the Highways Agency and a £110m rail improvements contract for Network Rail, both won by Bam Nuttall.
ISG moved from 17th last month in the table including civils into third - and jumped from 15th in the table excluding civils into second, with £223m worth of contracts.
The firm's wins included a £21.3m contract to build a leisure centre for Greenwich Leisure and a £26m job to refurbish the Adelphi Building in London for Blackstone Property Management Overall the CPA/Barbour ABI construction index fell marginally from 127 in October to 125 - this was still 11% higher than a year ago.
The index, compiled by the Construction Products Association (CPA) using data from construction information provider Barbour ABI, measures contract awards and uses a January 2010 base of 100.
Noble Francis, economics director at the CPA, said that the index showed that prospects in the construction industry were improving, although "as ever, it depends which sector you are operating in and which region".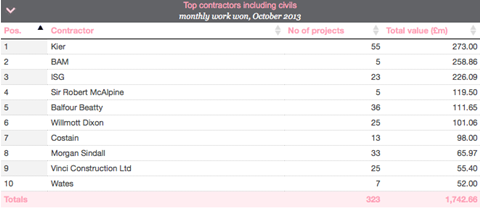 You'll find interactive, sortable league tables of contract wins here: www.building.co.uk/barometer
Sort top contractors by region or sector
Find out who the top consultants and architects are
Get latest data for 10 sectors, including public housing and offices in the CPA/Barbour ABI Index
Download raw data