French contractor Bouygues takes second place without civils thanks to office development in Cambridgeshire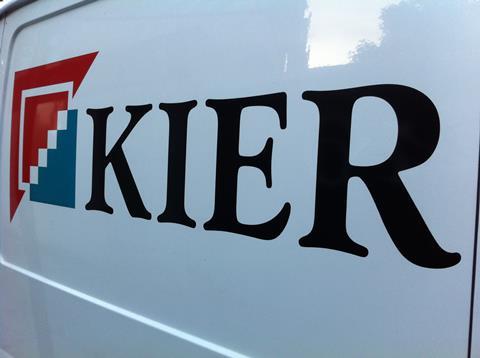 Kier surged to the top spot of both contractor work tables in September.
The firm leapfrogged its way to the top in both the table excluding and including civils work, with contracts totalling £219m and £224m respectively.
Bouygues nabbed second place in the excluding civils table with £102m of wins, the lion's share of which came from a £100m contract to build an office development in Cambridgeshire for examiners Cambridge Assessment. This haul also proved sufficient for the French contractor to secure third spot in the other contracting table.
Balfour Beatty took second place in the table including civils, with contracts totalling £179m. The firm was boosted by a £150m contract from Highways England for A14 improvement works between Cambridge and Huntingdon.
Skanska ranked highly in both tables, securing third spot in the table excluding civils and fourth in the table including civils. The firm's largest win was a £100m contract to build a medical and dental building at Worthy Down, Hampshire, for the Defence Infrastructure Organisation.
John Sisk & Son made it into the top 10 on both cotractor tables with two major wins – a £30m contract from The Royal Academy of Arts for alterations and additional accommodation at its Burlington Avenue site in Westminster, and a £40m contract to build 302 apartments in Manchester for Silk Glass Developments.
Climbing the table including civils was J Murphy & Sons, which took fifth place with five contracts worth £99m, one of which was Transport for London's railway line electrification works between Gospel Oak and Barking, valued at £57m.
Wates also ranked highly across both tables, lifted by a £33m two-stage contract for Jaguar Land Rover's vehicle operations facility in Kenilworth.
| | | Top contractors including civils | | |
| --- | --- | --- | --- | --- |
| | | monthly work won, 1-30 September 2015 | | |
| Sept | Aug | | Number of projects | Total value (£m) |
| 1.00 | 14.00 | Kier | 38 | 224 |
| 2.00 | 6.00 | Balfour Beatty | 34 | 179 |
| 3.00 | 16.00 | Bouygues | 2 | 102 |
| 4.00 | 17.00 | Skanska | 2 | 102 |
| 5.00 | - | J Murphy & Sons | 5 | 99 |
| 6.00 | 8.00 | Wates | 5 | 98 |
| 7.00 | 13.00 | Willmott Dixon | 26 | 91 |
| 8.00 | 18.00 | Winvic Group | 5 | 75 |
| 9.00 | - | John Sisk & Son | 2 | 70 |
| 10.00 | - | ISG | 23 | 55 |
| Total | | | 142 | 1,095 |
You'll find interactive, sortable league tables of contract wins here: building.co.uk/barometer
Sort top contractors by region or sector
Find out who the top consultants and architects are
Get latest data for 10 sectors, including public housing and offices in the CPA/Barbour ABI Index
Download raw data