Turner & Townsend report on 38 global markets finds US cities overheating faster than London
London may feel like the world's hottest construction market to those working there, but it is actually eclipsed by US cities Seattle and New York, according to a new report by Turner & Townsend.
The three cities - alongside Dublin, San Francisco and Kuala Lumpur - were cited as the world's hottest construction markets in the consultant's latest International Construction Market survey.
But although all six are fuelled by soaring construction costs, only Seattle (pictured, below) and New York (pictured, top left) are judged to be "overheating", with Seattle's growth fuelled by the burgeoning tech sector on the US west coast. Construction costs in the city could rocket by a further 8% over the next 12 months, Turner & Townsend said, whereas in an equally hot New York construction costs may have already reached their peak.
Steve McGuckin, global managing director for real estate at Turner & Townsend, warned that these construction markets face challenges: "[These] regions are now facing acute overstretch, with construction demand outstripping what the industry is able to supply."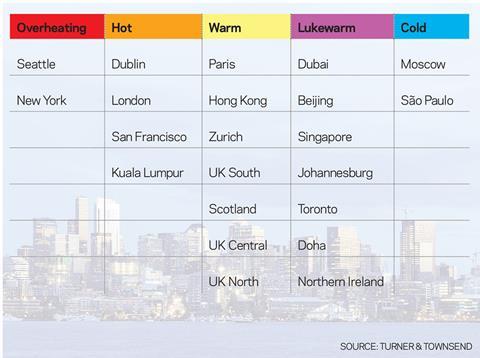 He added that in overstretched markets "both contractors and their clients must take urgent action to improve efficiency and keep cost inflation in check".
The report on 38 global markets found that London continues to lead the UK's construction sector, with output growth in the capital now 45% higher than in 2008. The capital's rapid growth has stoked tender price inflation as supply chain capacity has struggled to match demand.
Contractors are becoming increasingly "selective" when it comes to bidding projects in London and are reluctant to bid in competition, the report said. The consultant also says residential demand, which has been fuelling the escalation of construction prices, could peak this year.
Meanwhile outside London cost and capacity pressures are being felt in Cambridge and the south, while infrastructure projects are driving northern markets.
Regional variations in the UK are expected to widen over the next year with limited capacity remaining a key feature, keeping costs rising, albeit at a reduced pace.
Uncertainty over the EU referendum this month is also weakening investment growth.
Zurich in Switzerland tops the table for the world's highest construction costs, primarily due to the high cost of labour, but the market was not judged "hot" due to its relative stability.
Elsewhere, the slowdown in China and the fall in oil prices have created a two-speed global construction market, with markets exposed to China suffering a slowdown in their construction sectors.
China saw growth fall to 6.8% last year and this, coupled with a steep decline in steel and copper prices, meant markets across the country cooled, with Beijing and Hong Kong's residential markets potentially reaching a tipping point.
Beijing's construction costs tumbled 10% over the year to April this year with prices expected to remain stagnant over the next year.
The oil-reliant countries of the Middle East, including Oman, Qatar and the United Arab Emirates, are likely to see little construction cost inflation over the next year, the survey reported, due to the collapse of the oil price and a strong US dollar.