Energy secretary defends policy that has seen decline in number of construction apprentices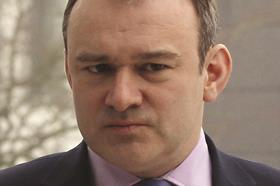 Energy secretary Ed Davey has defended the government's policy on apprenticeships, which has seen construction apprenticeships decline while those in new sectors such as retail have expanded.
Speaking on a trip to Carshalton College in London last week, Davey denied the expansion of apprenticeships into sectors such as retail had damaged the status of the qualification.
Last year the CITB told Building the number of construction apprentices had fallen from 14,000 to 8,000 in four years, despite the fact the government invested £1.5bn in apprenticeships and trumpeted a two-thirds increase in take-up in its first year in office.
Davey said: "We're clear that there are different levels of apprenticeship, and we think that's a step forward.
"Taking the apprenticeship model and modernising it is the right thing, but making clear that you can have advanced apprenticeships protects the brand.
"If you exclusively say that apprenticeships can only be something that is a three-year course […] you are preventing the opportunity for many other people doing many other types of careers and employment which don't require such a level.