Two Nottingham Trent University students on the controversial Daneshgar-designed marble and stone cube modernist scheme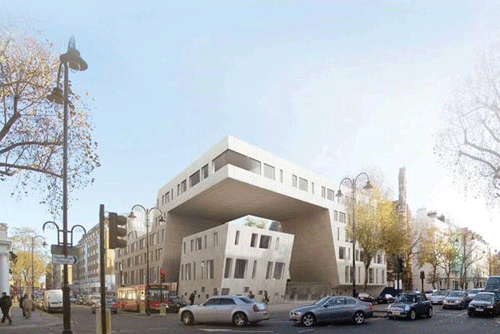 This is the design of the new Iranian Embassy in London by Vienna-based Daneshgar Architects. The modernist design of the £100m, five-storey marble and stone cube has upset local residents as it's to be built in a conservation area. The application is being considered by Kensington and Chelsea planners.
Jessica Hillam, architecture student
Another futuristic design from Daneshgar Architects, to be built in a conservation area of central London, has been the cause of controversy among the local residents. However, I find the geometric play of the new Iranian embassy fresh and exhilarating.
The new modern façades play on the structure of the existing ones, with a clear similarity in colour, material and overall structure. Although the design has already received negative feedback, it is obvious to me that the building was designed to unify the existing structures yet still keeping a sense of its own identity via the modernist design. Particularly by the cantilevered bridge that creates the enormous void space above the central core, which is of a sharp contrast to the surrounding structures.
The form of the building is stunning and brilliantly designed, Davies
Reuben Davies, architectural technology student
Currently at the planning stage of development, the design for the new Iranian embassy is certainly causing a stir amongst the local residents. The stone and marble development forms the corner of a busy junction, with a sharp and dynamic linear aesthetic.
The design is established by a magnificent cantilever arch above a pod section at the heart of the embassy. Irregular windows puncture the external skin and combined with a substantial use of glass, create a smooth transition between inside and out whilst softening what could be otherwise seen as an opposing form.
For me the form of the building is stunning and brilliantly designed. Visually the balance appears solid and refined but whether the balance between form, functionality and location is correct, I'm uncertain.
Source
If you would like to take part in our First Impressions email nargess@me.com.