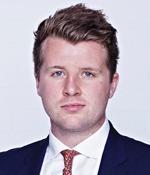 Sam McGuire, assistant cost manager, Turner & Townsend
Q Has the year since you started in construction lived up to expectations?
A Most definitely, every day has a new challenge and I am enjoying getting involved and overcoming technical issues we face daily. It has been an enjoyable year so far and I look forward to the challenges ahead.
Q Have you achieved what you said you wanted to in the time?
A Yes, fortunately I have had the opportunity to get involved in several different types of project – large and small-scale. Managing the smaller value projects alone has been a good experience, being able to run my own project has been a good challenge and helps support my APC. Having become increasingly more involved in the larger-scale projects has allowed me to experience different types of challenges and ways of overcoming these challenges in a timely manner.
Q What has been the biggest challenge you've faced in your job?
A Getting to grips with the different suites of contract. Having procured and managed a live project it is crucial to know the contract inside out!
Q In your experience so far, does the industry encourage and nurture new talent?
A Yes, there are many new recruits being brought into the industry, which is great to see. Turner & Townsend have a great graduate scheme that encourages learning and development with six-month role rotations in the first two years. There is also a great social side with activities and opportunities to get involved and meet new people.
Q What's your view on the government appearing to backtrack on green built environment policies such as the zero carbon target, the Green Deal, and subsidies for wind farms and solar power?
A It is important as an industry that we build for the future. Regardless of the government's back tracking we need to try and make our buildings as green built as possible whilst fitting this is in with the client's budget. This is a challenge the whole industry must face head on.
Q Do you sense clients are less interested in sustainability following the recent policy shifts?
A I believe the majority of clients will always have an interest in sustainability on their projects regardless. Many clients now demand that their capital investment is able to demonstrate the best value solution over the life of the building, not just at the point of tender.
Q Has the attitude of your firm to sustainability changed at all?
A Design and construction teams place a heavy emphasis on delivering buildings at the lowest capital cost. Within Turner & Townsend there is greater awareness and desire to consider costs of including sustainability and the whole life of the building.
Q Will you get a summer holiday? - if so, where?
A Luckily enough I was able to get away for a week in July to play some golf in Portugal, so I can't complain too much!