Boris Johnson has admirable aspirations but we all need to up our game to make net zero a reality, says Cundall's Alan Fogarty
The government's new 10-point plan is a great start, but whether it incites a green industrial revolution is yet to be seen. In reality, a revolution of this sort requires a radical change in the way we approach the design and retrofit of all UK building stock, as well as significant investment and commitment to policy change. At the moment, I don't think we're there.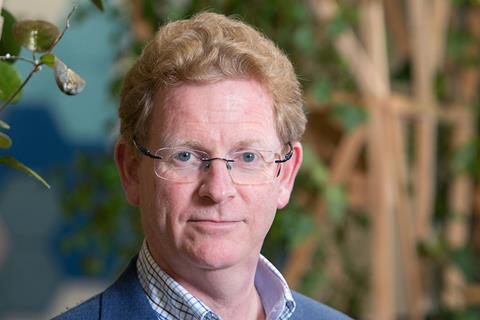 Despite initial fears that the pandemic would shift focus away from climate action, it has actually brought the need for net zero carbon solutions sharply into focus and increased pressure on the government to present their plans for our sustainable future. The 10-point plan emphasises the trajectory of the government which will focus private industry on the direction of travel.
Despite initial fears that the pandemic would shift focus away from climate action, it has actually brought the need for net zero carbon solutions sharply into focus
In terms of buildings, the plan complements the forthcoming revision to the Building Regulations. The revision is due in 2020 with a future vision for 2025, albeit implementation has been slowed by covid. There was some criticism of the ambition of the 2020 proposals, which require a 25% to 30% reduction in CO2, but the 2025 targets are being pitched at 70% to 80% reduction: this would be a game-changer in terms of building design. To achieve these targets and the long-term goal of net zero requires industry to innovate and change the way buildings are developed.
> Government's 'green industrial revolution' doesn't go far enough
A significant step forward is the forthcoming introduction of the Design for Performance energy rating system by the Better Buildings Partnership. This is a replica of the very successful Australian NABERS system, which has driven down building energy consumption by 70% over the last 20 years. A similar scheme was developed by the Department for Education back in 2013, and while the implementation has not been rigorous enough – which is changing – it is still the only sector that has widely embraced it. This is complemented by a number of zero carbon pilot schools to ascertain where to invest when it comes to reducing energy and ultimately provide better accommodation for the pupils.
When it comes to retrofitting homes and public buildings with heat pumps, the government's plan is admirable, but installing a heat pump is not an all-encompassing solution. To maximise the effectiveness of this technology and truly lower emissions, homeowners and landlords would also potentially need to invest in reducing heat loss with double glazing. While grants are available (£5k to £10k maximum) to assist with improved thermal performance, adding heat pumps, which will also require the replacement of pipework and radiators, could mean an investment in excess of £10,000 with little reduction in costs. What is the incentive for ordinary people to do this assuming they even have the cash available?
Along with heat pumps, the plan also includes the transition to electric vehicles and a trial for a hydrogen-powered village. Again, it's great to see these steps being taken, but if these are to become long-term solutions, we will also need to completely overhaul the grid in order to deliver the necessary power. I'm surprised that this hasn't been included alongside the plan to invest in hydrogen and wind power, because the challenge we face is not just about generating that power but upgrading the entire system that delivers it.
The government's plan isn't perfect, but it is a great step in the right direction. In the grand scheme of things, the UK is leading the way compared with other countries when it comes to sustainability and net zero carbon policy, and as we head toward COP26 in November 2021, all eyes will be on us to lead the way toward a global net zero future.
Alan Fogarty is sustainability partner at Cundall
Interested in Net Zero?
On the 18 and 19 November Building hosted Net Zero Live.
Just some of the topics discussed were construction techniques through to operational use, repair and maintenance and what clients want.
Highlights include three live panel discussions, a key note interview and the exclusive release of the first three parts of Building Boardroom's nine-part report on net zero, which includes insight from leading clients.
For more information and to register click here.