The venue: The Vaults, Waterloo; The winners: Best performance: Passiv Attack; Best new band: Cats; Best fundraiser: Mr Meaner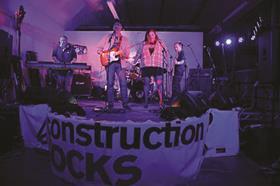 "We're Zero Charm and we play rock 'n' roll music," announced the suitably rock 'n' roll cowboy hat-wearing guitarist from Balfour Beatty's band as they took to the stage.
It's that time of year when architects tune up their axes, contractors crank it up to 11 and quantity surveyors … well, you get the idea. For one night only construction professionals forget their day-to-day lives and take to the stage as monsters of rock. And all for charity.
This year's event was in The Vaults, beneath Waterloo station, a cavernous, suitably industrial setting. It also saw the return of last year's judging panel: Peter French, former front man of prog rock legends Atomic Rooster; Gina Way, founder of old school R 'n' B venue the Eel Pie Club; and our very own Sarah Richardson, Building editor and music aficionado.
Zero Charm, last year's winners (best performance and best fundraiser categories), made good on their claim, belting out versions Born to be Wild and Kings of Leon's Use Somebody, before setting it back a gear for a rendition of Bon Jovi's Dead or Alive.
Next up were event organiser WSP's second band to take the stage that night ("house band" and last year's entry Wild Sex Party had kicked off the event) prompting the compère to suggest that the firm has a practice studio in its basement.
Cluttons' Mr Meaner proved their name was ironic by being top fundraiser of the evening
The slightly less raunchily named but no less sexy Work Shy Pandas sported a dueting male/female two-singer line-up, the male half of which kept the rock vibe going by sporting a pair of sunglasses which he proceeded to take off and fling to the floor. It was all very punk and played out to their opening number, a cover of U2's classic MOR anthem, Where the Streets Have No Name. Storming renditions of Sympathy for the Devil and 99 Red Balloons followed, the latter winning praise from the judges for the bits sung in German.
Rolfe Judd's Mentioned in Dispatches followed, a sextet with a group of three seventies-style backing singers and a mix of rock and rhythm and blues.
Then there was this year's overall best band winner Levitt Bernstein's Passiv Attack, who brought a bit of variety in instruments, with a sax and a flute featuring, as well as a memorable cover of Creedance Clearwater Revival's Proud Mary.
The Instigators, a joint venture by HLM Architects, AB Associates and United Learning, cranked up the tone, starting their set with a full-on version of Lenny Kravitz's Are You Going To Go My Way? Tight musicianship and a charismatic front woman seemed to gain some of the best crowd reaction of the night.
Cluttons' Mr Meaner proved their name was ironic by being top fundraiser of the evening and delivered an edgy eighties post-punk set, including Echo Beach, Let's Dance and New Year's Day, before finishing on a more upbeat note with Blur's Parklife.
Assael Architecture's Tender Package came on with a stylized look bearing a uniform of red blazers and glitter. Going against the Dad rock grain, they cranked out some trendier electro covers that got many of the younger audience members dancing.
Cats, of Catalyst Housing, finished off the evening. With fans in the crowd sporting cat ear headwear matched by the group's bassist, they scooped this year's best new band category.
All in all, a fun evening that raised over £8,500, primarily for property industry charity LandAid.
Mentioned in Dispatches Rolfe Judd
Mr Meaner Cluttons
Passiv Attack Levitt Bernstein
Tender Package Assael Architecture
The Cats Catalyst Housing
The Instigators HLM Architects/AB Associates/United Learning
Work Shy Pandas WSP
Zero Charm Balfour Beatty