On National Suicide Prevention Day, Redrow's Karen Jones urges construction to change the mental health conversation on the ground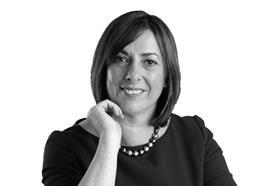 In this industry, we often talk about crises related to skills, Brexit and fair payment, but we rarely talk about one of the most important issues plaguing our industry – construction worker suicide.
Last week the Office for National Statistics announced that suicide rates have risen for the first time since 2013 with 6,507 suicides registered in Britain in the last year alone – a 12% increase on the year before. But although this is clearly a national issue, the statistics for our industry are particularly startling. Instances of suicide among construction workers are more than three times the national average for men, with an average of two construction workers committing suicide every single day.
Mental health must be addressed with the same level of urgency and prioritised across the board
Today is National Suicide Prevention Day. It is organised by the International Association for Suicide Prevention to raise awareness of suicide and how tragedies can be prevented. As an industry so heavily impacted by the issue, it is the responsibility of all of us to reduce the numbers. There is more we can be doing throughout the year.
Mental health must be addressed with the same level of urgency and prioritised across the board. A major roadblock to addressing the issues in the industry and elsewhere is the stigma that has surrounded depression and suicide and the reluctance to talk about it. Traditionally, construction workers have suffered under a 'deal with it' approach, or have been told to 'man up'. They are left feeling like they cannot talk openly about their problems.
To shift the stigma and create a lasting change, we must work together to curate a supportive culture through the use of role models, by shifting the language used on site, deploying activities which increase mental health awareness, and equipping employees with the appropriate training to help others.
As a business, we are working hard to create a safe, non-judgemental environment, to de-stigmatise the issues and to educate our colleagues to spot the signs of somebody who is struggling. For example, earlier this year we launched our 'Mind Your Head' campaign to provide support and education on mental health for all employees and sub-contractors.
So far this has involved training over 100 mental health first aiders across the business, with plans to upskill more than 200 volunteers, from apprentices to managing directors across sites and offices nationwide.
Once trained, our first aiders are holding 'toolbox talk' sessions at each of our developments across the country for both employees and subcontractors to encourage a culture of 'openness'. Drop-in sessions are also being made readily available, providing opportunities for our staff to talk with a qualified first aider in a safe and confidential environment.
As with most business initiatives, they are most effective when they are implemented from the top. This is why all our directors will also be undertaking a one day bespoke mental health training course in the autumn, equipping them with the skills and knowledge to champion Redrow as a healthy and safe place to work.
Our industry is moving in the right direction, but only when we change the conversation on the ground at our sites will we truly see a step-change in the mental health of our workers. Stigma and stereotypes have no place in our business, and only by working together to promote positive mental wellbeing can we reduce the stigma – and the statistics.
Karen Jones, HR director, Redrow