A family firm in need of more workers to expand its business took matters into its own hands by opening a training centre for construction skills which soon expects to train 2,000 people a year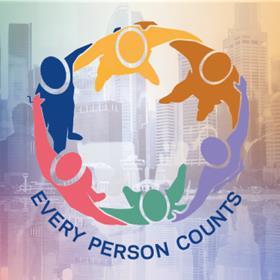 If asked where you might find the elusive answer to construction's skills problem, you would be forgiven if your first response was not the small Gloucestershire town of Cinderford. Yet, in this town in the Forest of Dean, two sisters believe they have done just that.
Nicola Bird and Natalie Bell, the third generation of family construction firm KW Bell, which works across Wales and the South-east, are the driving force behind AccXel, an industry training centre backed by the government and dedicated to preparing the construction workers of the future. The pair are busy creating a new model for construction education that they claim is modern, empowering and firmly focused on the requirements of industry. Were it not for the coronavirus pandemic, however, their brainchild might never have made it beyond a dusty Whitehall shelf.
The idea for AccXel stems from a realisation, arrived at during succession planning at KW Bell, that the family firm could not maintain its market share, let alone grow, with the existing pool of skilled workers. Bird, today the managing director, decided that they should take matters into their own hands, beginning by developing a bespoke groundwork apprenticeship, delivered across training hubs in Cardiff and Cinderford.
Emboldened by this initial educational venture – from which 15 apprentices eventually graduated – they made an expression of interest to their local enterprise partnership to build a fully operational training centre for construction skills. But, in the midst of Brexit chaos and the 2019 general election, a reliable pot of funding for the proposal was nowhere to be seen and the project was shelved.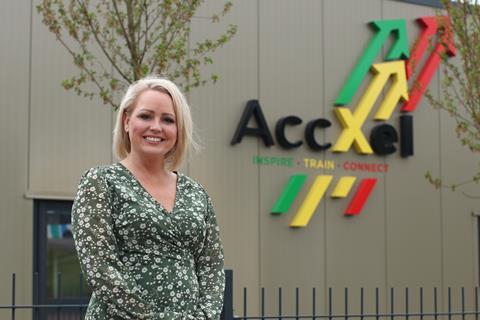 There it might have remained, were it not for the coronavirus and the subsequent creation of the Getting Building Fund, a £900m government initiative to boost the recovery from the pandemic.
"They wanted spade-ready projects," says Bell, Bird's sister and the growth and partnership director at AccXel. "The fact we had done so much legwork beforehand meant everything was on a plate ready to go."
The GFirst LEP granted the project £1.96m in August 2020, which was match-funded by KW Bell, and by December 2021 the training centre was built and ready to take on its January intake – 64 adult learners on 12-month programmes.
They wanted spade-ready projects. The fact we had done so much legwork beforehand meant everything was on a plate ready to go Natalie Bell, growth and partnership director, AccXel
One of the core ideas behind the training centre, Bell explains, was to make trainees feel as if they were "constantly on site, rather than in a big college where a lot of construction students feel like the underdog". She says construction is often neglected by colleges and claims that in many cases lecturers have been out of the industry for a decade.
They wanted spade-ready projects. The fact we had done so much legwork beforehand meant everything was on a plate ready to go

Natalie Bell, growth and partnership director, AccXel
By contrast, staff at AccXel are either just out of industry or have kept one foot in it – like Bird, who continues to work as safety and business development director at KW Bell. She says many colleges are simply unable to compete with the wages offered within the construction industry, something she says AccXel can compensate for with a good work-life balance and a rewarding, well-resourced educational environment.
The resources and technology they have at their disposal are, indeed, impressive. The centre has leveraged KW Bell's longstanding commercial relationships to access half a million pounds-worth of new equipment from JCB and Leica Systems for free.
The company's industry links have also helped it to establish 34 employer partners – companies worth a combined £2bn – which will invest in young people within a 60-mile radius of Cinderford to complete apprenticeships at the centre. Bird is confident that the firm can achieve its goal of training 2,000 people a year – through a mix of apprenticeships, short courses and skill sets – by its second year of operation.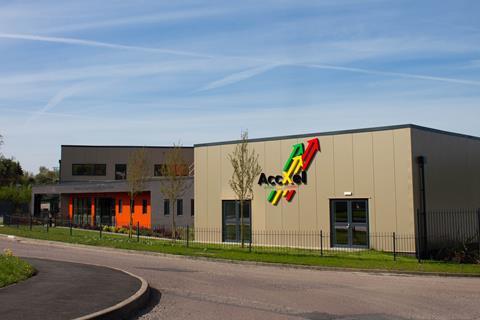 Despite being partly publicly funded, the training centre's main challenge in achieving this is, apparently, the government. "The Department for Education finds us a little bit challenging," says Bird. "Because we are doing something new and they like everything in nice, straight lines.
"There's no box for us – so we're having a few challenges with getting on the apprenticeship providers' register," adds Bell.
Bird says they have been forced to lobby all the way to the education minister and that she could see how red tape might be off-putting to any larger firm looking to address the skills crisis in industry.
"You wouldn't be a big construction company and foray into education, because it is not worth the time and cost," she says.
Bell adds: "The irony of it is that they deem you a financial risk if you haven't got 12 months of trading, but we are backed by a £90m business that has more money in the bank than you can shake a stick at and they have got all that information, and they underwrite all our debt, are a guarantor and a 49% shareholder – they still wouldn't accept it."
Given Bird's background in the industry, it is perhaps unsurprising that AccXel prides itself on its training in health, safety and wellbeing. She expresses frustration at the way the subject is treated as a box-ticking exercise in the industry, despite high rates of mental illness and injury. Suicides in construction are three times higher than the national average, and this is something Bird has had first-hand experience with, having dealt with the death of a 19-year-old site manager at KW Bell.
She says training should help "develop people into roles" such that they know how to manage people properly, and explains how AccXel achieves this and more through its "whole person" approach.
Every learner passing through the centre is required to take classes in health and safety, sustainability, building regulations and personal development.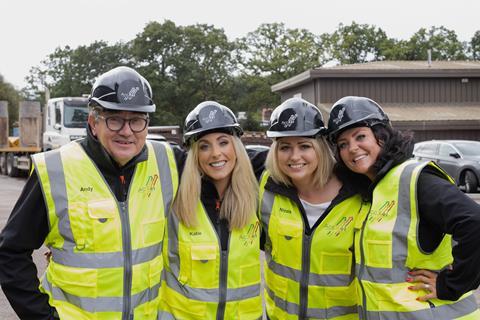 The right kind of training is vital not only for better mental health in the industry, but also for improving physical safety, says Bird. Before learners train on real plant equipment on the centre's mock site, they practise on its four state-of-the-art simulators, which are linked up in such a way that trainees can operate on the same virtual site.
Bird says: "The way they train people at the moment is in a big quarry with no people around, which is unrealistic. As soon as they get on site with people, they don't know how to navigate." She says this slapdash approach to training and certification – "you can literally get a competency certificate in two days" – is a recipe for disaster.
The way they train people at the moment is in a big quarry with no people around. As soon as they get on site with people, they don't know how to navigate

Nicola Bird, managing director, AccXel
"You can tell within 10 minutes if [an agency driver] is going to be any good. But in that 10 minutes they can do a lot of damage," Bird says. "This is the reason we don't get enough plant operators in, because if you've never been on a plant it's intimidating."
The centre is now developing a programme with Swedish firm Tenstar Simulation, which would offer a quantified accreditation system for pre-employment testing, which Bird believes will go some way to improving safety on site.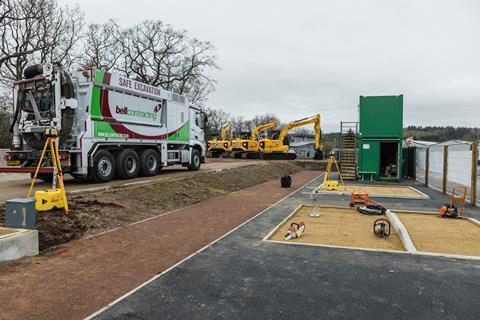 But fixing the skills shortage is not just about changing perceptions of construction as a dirty, dangerous industry; it's also about changing perceptions of who belongs in it. When schools in the region request visits to the centre, Bird insists that it must be done in full classes or year groups – to avoid teachers cherry-picking less academic pupils – and she says children often have their preconceptions about the industry shattered on their visits.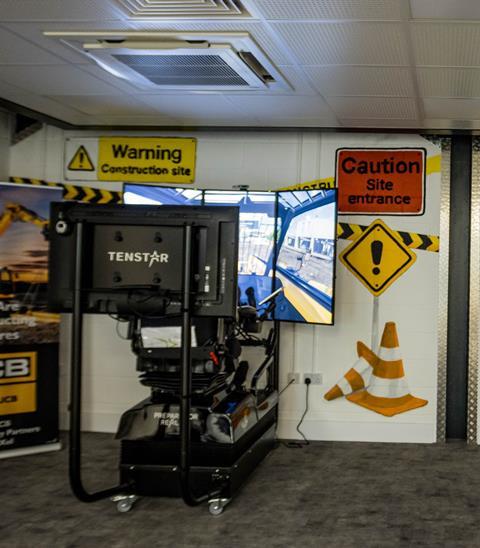 "When they see [AccXel] is headed up by two women, when they see the centre, the technology, it just snaps that perception into a different sphere altogether," she said.
While Bird spends most of her energy on AccXel, she makes time for her role at KW Bell, explaining: "The moment I lose my connection with industry is the moment I've lost this business." There had been a notion during the succession planning that led to AccXel's inception that the project would be a good opportunity for Bird to gain management experience before taking over from her father at KW Bell. But Bird wonders whether her labours are better placed where they are now. "The idea was that maybe I would go back there – but with the potential growth of this business, I couldn't emulate that over there," she says.
There seems to be no shortage of opportunities for growth. She says the Civil Engineering Contractors Association is interested in replicating the AccXel model – and possibly its branding – at a recently acquired site in Exeter.
Closer to home, KW Bell has an unused building on its Cinderford plot; Bird muses that it could be used to train retrofitters for a regional housing association which needs skilled labour. But while Bird says she can imagine a suite of AccXels across the UK, each with its own specialism, for now, she is focused on proving the concept at home.
Every Person Counts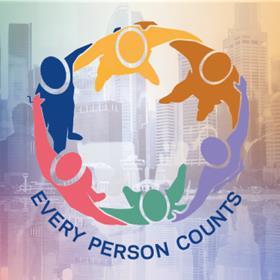 Building's Every Person Counts Campaign aims to provide a place where debates about skills, employment and workplace culture can play out and solutions can be shared.
We know the construction industry has no shortage of suggestions for tackling the skills crisis. From reforming apprenticeships, to offering more flexibility, to increasing diversity, to supporting wellbeing and mental health, to providing better pathways from education to the workplace. We will be picking up on all these themes in more depth in future articles.
If you have an employment initiative you want to tell us about, email us at newsdesk@building.co.uk with the subject line "Every Person Counts". You can also contact us via Twitter @BuildingNews and LinkedIn @BuildingMagazine, please use the hashtag #everypersoncounts. We look forward to hearing your employment stories.