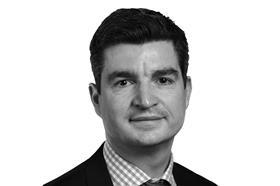 Asking clients and investors to pay more attention to their construction supply chains sounds like a conversation killer, but times are changing. The collapse of Carillion last year is just one of the most visible examples of the risks associated with running supply chains on low margins – affecting not just contractor profitability, but the security of projects and programmes.
What we're starting to see – and need to see more of – post Carillion, is a more open, collaborative conversation around how the real estate sector can foster investment in innovation and higher productivity in how we build, in a way that benefits both sides.
Our data has also revealed a nationwide growing profitability problem for the industry that poses a risk for clients and investors
July's IHS Markit / CIPS UK Construction CPI showed activity falling at the fastest pace in over 10 years – news that has seen the sector's collective blood pressure rise that bit higher. Our own recent UK Market Intelligence Report Q2 2019 (UKMI) highlighted the same trend, with contractors stating their construction market outlook is the lowest on record, scoring just 33.7.
Our data and wider research has also revealed a nationwide growing profitability problem for the industry that poses a risk for clients and investors.
Contractor profit margins are tightening as the sector experiences rising input costs and falling demand in the lead up to Brexit, and our UKMI data shows that profitability fell sharply in the first quarter of 2019 against our quarterly index. This is backed up by data from our recent International Construction Market Survey which shows the UK construction sector is operating on some of the slimmest profit margins of any major European market, at an average of just 4% across the country. Contractor profit margins in London have fallen by almost a third in the last two years, to 4.2% in 2019.
By comparison, contractors in European markets are – on the face of it – seeing much more favourable conditions. Amsterdam sees average construction profit margins of 10% and Paris of 7.5%. The reasons behind this are complex – an interplay between supply-side demand for construction expertise that enables contractors to command higher prices, and availability of resource. What is clear is that these profitable, stable industries are better-placed to invest in modernisation of construction methods.
As the global sector moves to modernise its methods – embracing data-led design, modern methods of construction and a whole-life approach to asset management – there are two ways for a national industry to go. The first is to invest: creating a virtuous trajectory in which new methods can drive up productivity, providing greater certainty of cost and schedule for development projects. That's good news for all parties. The alternative – to withhold investment – would lead to a reduction in capacity and an inability to respond future increases in demand competitively.
We are not at this crossroads yet, but left unchecked, the UK trend risks feeding into a longer-term competitive advantage for many of those European capitals touted to profit from London's exit from the EU.
So how do we turn the tables? We can begin with the public sector – the UK's biggest single construction client. The government's construction sector deal was a significant milestone, promising to channel new investment into the sector by providing seed funding and a framework for the industry to engage with. This year will also see the publication of the refreshed Government Construction Strategy (GCS) which outlines how the government will behave as a client. To drive real change, the new GCS must make the case for sustainable business models – underpinned by sustainable margins – that drive innovation and long-term economic growth.
If the private sector can match the government's vision, our industry can do even more to modernise. This section of the industry, although it may not have the centralised, scale organisation of government to drive change, does have the funds and investment to accelerate the pace of modernisation.
Smart clients and investors will read the GCS and engage closely with the sector deal programme as it moves forward. They will align their own procurement and delivery investment strategies to reward the new digital approaches and modern methods being promoted. By doing so, they can benefit from the better outcomes – faster, more sustainable, more cost-effective projects – on offer. In turn, that should help shape a profitable, stable and globally-competitive construction sector too.
Paul Connolly is managing director of cost management at Turner & Townsend