Crossrail's Mark Wild is a study in silent self-expression, while HS2 brags about a big day out for football fans. Also this week: graffiti rats in Shoreditch, swarming flies in Derby and potential moles at the International Spy Museum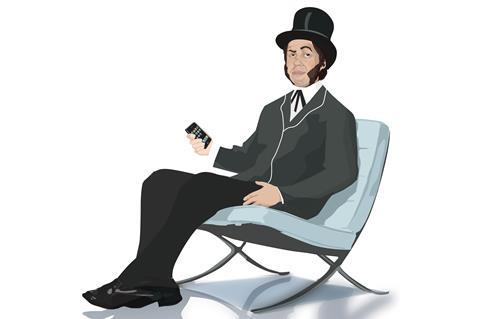 Getting into training
HS2 decided that in the run-up to last weekend's FA Cup Final between Manchester City and Watford, it might be an idea to point out the benefits of what its £56bn cost (and counting) will get you. It will, the company says, give fans coming from the Midlands and the North "thousands" of extra seats while saving significant time "so they can make the most of their big day out". A relief to City fans who, given their 6-0 win, seem set to be going to and from Wembley on a regular basis over coming years. With that in mind, perhaps the government could ask their moneybags Abu Dhabi owners to stump up some of the railway's cost.
Hush-hush
The International Spy Museum in Washington DC, designed by Rogers Stirk Harbour + Partners, recently opened to the public. Perhaps some of the first visitors included staff from rival David Chipperfield Architects, where according to a mole, codenames are regularly used to refer to projects when staff are out of the office, presumably just in case rivals can hear over the din of the pub or coffee shop or wherever loose-lipped Chipperfield staff happen to be.
Suits you
How to put young people off the property industry. Take them to Canary Wharf and show them a vision of their future. Peter Rees – formerly the sharp-suited head of planning at the City of London and now an academic – holds all his tutorials outside in the built environment. When he takes his urban design students to Canary Wharf he asks if they'd like to work "somewhere like this". No, they cry – we'd have to wear a suit. Turns out Rees couldn't agree more. The day he left the Guildhall he bundled up all his suits and took them to a charity shop.
Facing up to it
A bizarre exhange at last week's Public Accounts Committee hearing on why Crossrail is late and over-budget. One committee member made reference to current chief executive Mark Wild's face when his long-time predecessor Andrew Wolstenholme was giving evidence. Tory MP Chris Davies remarked: "Mr Wild, I have been watching your facial expression as Mr Wolstenholme has been giving his evidence, and I must say that from this angle it is very interesting." Wild straight-batted back: "My face is nothing more than my face, so don't worry about my face."
Fast track to nowhere?
Sticking with Crossrail, former Olympic Delivery Authority chair Sir John Armitt, asked by one of my hacks about the appetite of firms wanting to take on work revamping the Houses of Parliament, pointed out the railway's woes might colour their thinking. "As we've seen with Crossrail, one minute you've got a good reputation, the next the reputation is looking rather less attractive because things have gone pear-shaped."
Buzzing
Interserve has been accused of many things, but this might be a new one. Last week the firm, with JV partner Renewi, was hit by a barrage of complaints from residents in Derby living near its still-unfinished energy-from-waste plant. Many blamed the duo for a super-swarm of flies plaguing the area, with one local catching more than 150 in one day. The JV says it has "found no evidence" it is responsible but has agreed to analyse some of the hundreds of fly strips provided to residents by local councillors. Anything, I guess, to stop more people bugging them …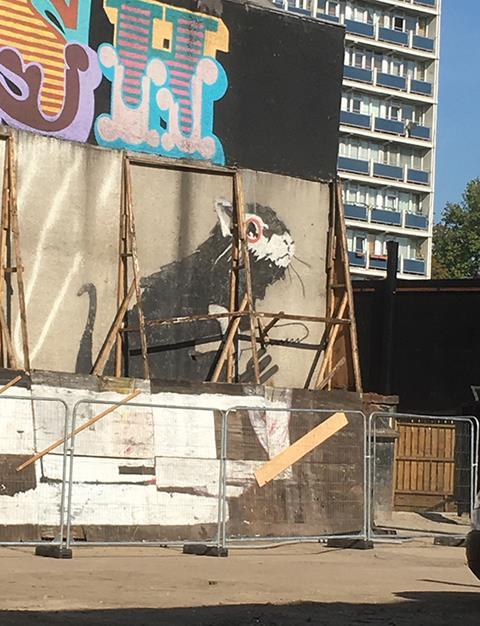 Attack of the giant rat
My morning walk towards Building Towers in Shoreditch takes me past the Foundry, a former bank-turned-bar which is due for demolition to make way for a Squire & Partners-designed Art'otel. The frontage of the current building has for years been a canvas – or a target, depending on your view – for dozens of graffiti artists, but none more famous than Banksy. Two of his paintings – a giant rat and a TV being chucked out of a window – adorn the rear of the building. I am assured the much-loved works will be carefully removed and then redisplayed in the hotel once it is completed. Fingers crossed.
Send any juicy industry gossip to Mr Joseph Aloysius Hansom, who founded Building in 1843, at hansom@building.co.uk