The great and good flock to 22 Bishopsgate's topping-out ceremony – although one developer is conspicuously absent – while one man works to win over the nation's druids and Crossrail prays for Her Majesty's good health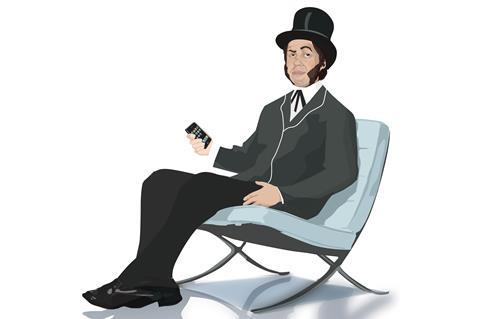 Long may she reign
As the nation welcomes the birth of a new royal, word reaches me that Crossrail execs are privately more concerned about the longevity of another. Phase one of the project is now set to open more than two years late and by the time it does, the Elizabeth line's namesake, Her Majesty the Queen, will be nearly 95. The 93-year-old opened the Victoria line, named after her great-great-grandmother, back in 1969 – but had probably never expected to see a service named after herself. Despite having made a royal mess of the project, Crossrail bosses hope that she will.
Not such plain sailing
Off to 22 Bishopsgate and the topping-out ceremony of what will be the City's tallest building when it opens. It's being developed by industry veterans Sir Stuart Lipton and Peter Rogers, although the latter was unable to make last week's event. "He has a very important sailing competition," Lipton explained. Rogers will be pleased to know that everything was ship-shape in his absence. One person who did manage to make it was incoming Lord Mayor of London William Russell who had previously joked he'd like a zipwire to run from the building to his soon-to-be new home and office at nearby Mansion House. But after taking a look down from the 57th floor, where the topping out ceremony took place, he's decided it might not be such a great idea after all.
Faltering steps
My hack visited Portcullis House for the unveiling of the proposals for parliament's Northern Estate last week and noticed AHMM director Paul Monaghan – architect of the temporary House of Commons chamber – was limping. A tennis injury, he confessed. It's making stairs especially difficult, which is giving him firsthand insight into why the client has been so keen to prioritise accessibility in the final scheme. However, at the moment there are steps everywhere, which is making his site visits somewhat painful.
Hippy hip hooray
The Aecom team working on moving the A303 underneath Stonehenge won an internal award for collaboration last week. It sounds like it was hard-earned. One of its archaeology directors, Neil Macnab, had to communicate with no fewer than 97 groups of druids about the scheme – two of which he had to take on guided tours around the site – as well as the usual concerned heritage groups. But the pagans are mostly coming around to the tunnel, apparently, so his charm offensive has been worth it.
Loud and clear
Another award went to Aecom's acoustic engineers, who have designed a PA system for Waterloo station in London, which allows commuters anywhere in the building to clearly hear what is being said. It was just a shame the team hadn't worked on the venue for Aecom's award ceremony – the Victorian ballroom at 8 Northumberland Avenue, by Trafalgar Square, which hosted more than 200 of the firm's staff. "I can't hear a bloody thing our CEO is saying," one employee groaned.
Golden balls
The McAlpines, Ray O'Rourke and Norman Foster are among those making this year's Sunday Times Rich List but one name caught the eye of the West Ham supporters in the office. Footballer Andy Carroll, a player even Hammers fans will admit is of pretty modest talents (he's failed to score in any of his 12 league appearances this season) and seems to be almost permanently injured, is, somehow, worth £19m. Now that's rich.
Points of view
Visitors to the topping-out ceremony at 22 Bishopsgate were asked if they could spot various London landmarks. The Shard and the Walkie Talkie were easy enough but some might have had problems finding London Bridge, given that the structure shown was, in fact, Tower Bridge. But even more worryingly for some architecture fans, the Strata Tower, which won the Carbuncle Cup in 2010 and was described by Building's sister title BD as having "breakfast-extracting ugliness", is listed as a London landmark.
Send any juicy industry gossip to hansom@building.co.uk