This week, Alinea is in the grip of a doppelganger fetish, a former chief planner gets misty-eyed about a parallel version of Shoreditch that's all about fantasy football and a man of God predicts a dusty end for 22 Bishopsgate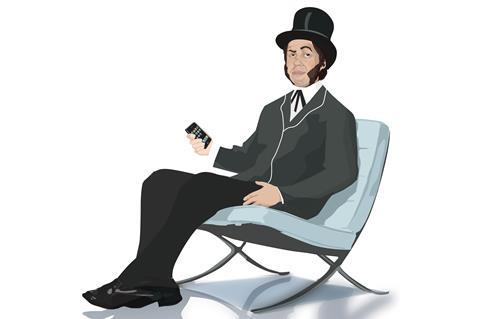 Drive on
Crossrail boss Mark Wild has spent a lot of time recently explaining to MPs and members of the London Assembly just how late the project is going to be – which, given what some of his predecessors have recently said, might be news to them. At another meeting last week, this time the bi-monthly board get-together of Transport for London, TfL boss Mike Brown pointed out what a large chunk of time this was. It was good, he said, that all this scrutiny was going on in public but it was important that those overseeing the project were "allowing Mark some time to run the damn thing". This prompted one wag in the Building office to quip: "About time someone did."
Crumbs!
Reading about Gleeds' appointment to project manage the Wall of Answered Prayer in the West Midlands reminded me of my recent trip to the topping-out ceremony at 22 Bishopsgate. Cleric Wes Illingworth from next-door-neighbour St Helen's church told guests: "22 Bishopsgate reminds us everything is impermanent and turns back to dust." Steady on, Father, the building's not even finished yet.
The life fantastical
Peter Rees, who had left his job as chief planner at the City of London by the time 22 Bishopsgate was approved, can often be seen roaming around the fringes of the Square Mile in his role as a professor of places at the Bartlett. He says the office workers of the future need to do things differently. "What you want your people to be doing is what they do in Shoreditch," he tells my scribe, "which is spending as much time as possible outside the office: at the coffee bar, playing five-a-side in the street, sunbathing on the roof." My hack tells me she was a bit nonplussed by this remark. Building is based in the heart of Shoreditch and yet she's never seen football being played in the street or sunbathed on a roof. The scene hereabouts consists rather more of tourists looking at graffiti, semi-professional fashion shoots and charity muggers.
Railing against
I was rather tickled to read some of the comments at the bottom of a story in the Financial Times, which was reporting on the news that 100 people had signed an open letter urging the government to keep its nerve and stick with the £56bn HS2 railway. It will deliver £92bn of benefits, they said. Among the luminaries lending their names to this pleading missive were Balfour Beatty's construction boss Dean Banks and Mace chief executive Mark Reynolds. One reader who left a message on the FT's website was less convinced. "Eminent people with vested interests say yes to funds that have no cost to themselves."
Blooming expensive
No spring can ever feel truly complete without a trip to the RHS' annual Chelsea Flower Show, and one of my hacks was lucky enough to find himself there last week as the guest of an architect. He thoroughly enjoyed himself, he tells me, especially his chat with a Lincolnshire daffodil farmer who proudly informed him that he grows more than 150 types of the flower. And I'd thought there were only two: the yellow one and the white one. Even more revealing is the news that while most daffs command a price of £300 a tonne, the Pheasant Eye daffodil costs a rather eye-watering £1,000 a tonne. Some might think that's all a bit dafft …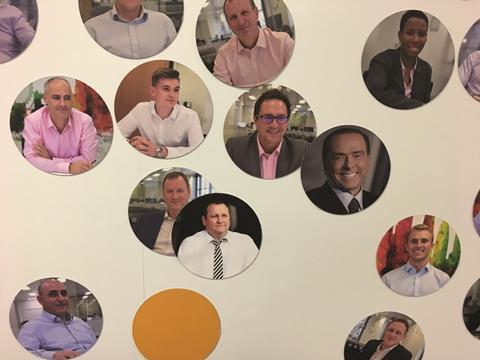 Double bubble trouble
At recent trip to the offices of London QS Alinea, my hack noted what can only be described as a lookalike competition on the wall. Founding partner Iain Parker has been likened to Silvio Berlusconi – he doesn't share the former Italian PM's fondness for "bunga bunga" parties, but his complexion does hold hints of Berlusconi's perma-tan. My favourite, though, is new boy Alastair Kenyon, who joined as the firm's seventh equity partner a year ago, being compared to retail tycoon and Newcastle United fans' favourite Mike Ashley. After his appearance on these pages, perhaps Kenyon's resemblance to the Magpies' owner, whose tenure at St James' Park could be ending, amid talks to sell to UAE billionaires, will be the talk of the toon.
Send any juicy industry gossip to Mr Joseph Aloysius Hansom, who founded Building in 1843, at hansom@building.co.uk