This week, graffiti-watch from hipster Shoreditch, Redrow's Steve Morgan is forever blowing bubbles, ferry-loving Chris Grayling sinks yet further in public esteem, and Owen Luder is affronted by some frontage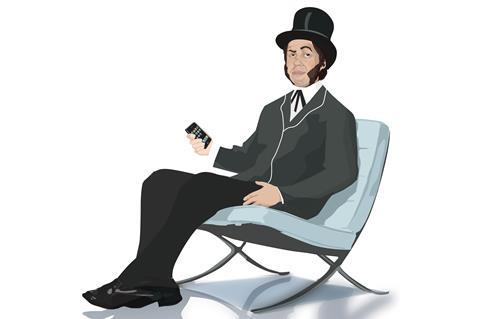 Parting shot
I'm not sure outgoing Redrow chairman Steve Morgan thinks too much of former Persimmon chief executive Jeff Fairburn, he of the £75m bonus, which Morgan says has done so much damage to firms like his, allowing critics to accuse housebuilders of being motivated by greed. "My best drinking buddy," he says when Fairburn's name is mentioned. Doesn't sound like he'll be heading to the pub Fairburn bought last year in his Morpeth, Northumberland, home town any time soon. In case people have forgotten, it's called Shambles.
Bucks fizz
I'm curious to see what Steve Morgan does next month once he leaves the firm he founded back in 1974. He owns a luxury resort in Cheshire called Carden Park which is due to see a £10m spa complex open this summer. What does that kind of outlay get you nowadays? Hot tubs and outdoor saunas are to be expected but it also includes fire pits, ice fountains, snow showers and a champagne bar. "Somebody's got to be a customer in there," Morgan adds. I'm sure the Cheshire set will be on hand to join him.
Minister for understatement
It's fair to say that with a nickname of Failing Grayling, transport secretary Chris Grayling isn't everyone's cup of tea. The worst secretary of state ever, says Labour of the man in the news for awarding and then cancelling a contract to a ferry firm with no ships. "Grayling makes even the most mediocre of ministers feel good," the Guardian's political sketch writer John Crace wrote last month. I add another exhibit to the charge sheet. In a just published letter last month to Frank Field and Rachel Reeves, the Labour MPs still tying up the loose ends in their parliamentary inquiry into Carillion's collapse last year, Grayling told the pair its liquidation was "disappointing news". A novel way, I must admit, of describing one of the biggest corporate failures in British history.
Get Lifschutz
Just-approved plans to redevelop a stretch of London's Oxford Street behind some retained frontages impressed Westminster city council more than they did brutalist architect Owen Luder. The architect behind the now demolished car park in 1970s gangster flick Get Carter was flamboyantly scathing about Lifschutz Davidson Sandilands' proposals to hike the retained frontage of one of the buildings to align with the overarching scheme's floorplates. "The late Mike Manser once said preserving a facade and rebuilding a new building behind it was like keeping your dead grandmother's false teeth on the mantelpiece in her memory," Luder recalled of the former RIBA president. "Lifting the retained facade to make the floor levels work is like hoisting her skirts so she can dance."
Pour encourager les autres
One of my hacks recently submitted a freedom of information request to Haringey council regarding last year's settlement with Lendlease over the north London authority's decision to scrap a £2bn plan to build more homes in the borough. Declining to say how much public money it had handed over to Lendlease, the council said that "if the terms of the settlement with Lendlease were made public, then parties involved in similar disputes with the council in future would be likely to use those terms as a benchmark". I have to ask: how many £2bn housing deals is the council planning on binning?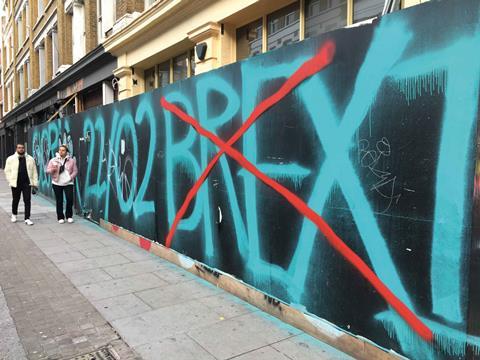 X marks the spot
It's been exactly a year since Building swapped Southwark for the graffiti of London's trendy Shoreditch. I have grown to rather like the daubings in east London and I can even feel vaguely cool by telling would-be visitors to our new home that "it's the building with the Banksy on the side of it". I have no idea what I am saying but it sounds on trend. Site hoardings around here are particular favourites for the street artists and I recently spotted this verdict on Brexit, on Great Eastern Street. I think it's called putting a cross through it.
Send any juicy industry gossip to hansom@building.co.uk