This week: Tadao Ando's novel approach to the client/architect relationship, a minister lets slip his verdict on the 300,000 homes target, in a sign of the times a minimalist masterpiece is blighted – and Crossrail chugs along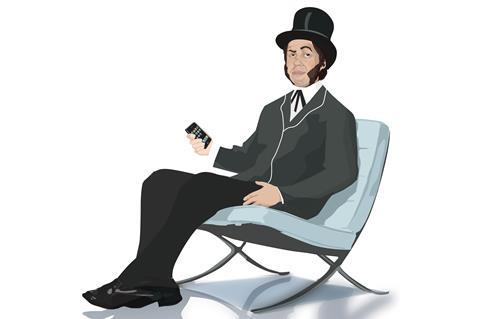 Adoorable Ben
One of my colleagues ventured down the Mall last week to attend the launch of the Distinctively Local housing report taking place at the Institute of Contemporary Arts, co-authored by architects HTA Design, Pollard Thomas Edwards, PRP and Proctor & Matthews. On reaching the venue entrance, he found the front door firmly locked but luckily assistance was at hand in the form of a certain Ben Derbyshire, RIBA president, who was decked out in a luminous jacket and cycling clips with a folded-up bicycle at his side. "I'm being the doorman," Derbyshire helpfully told our perplexed hack. "The entrance is round the corner." Due to retire from RIBA later this year, he can always get a part-time gig at the nearby Waldorf Astoria, currently being built in the old Admiralty Arch.
Hit or myth
Once inside the ICA, everyone waited with bated breath for housing minister Kit Malthouse to say his thing. And say it he did. A strong believer in building homes future generations will be proud of, the minister told his audience the UK "stood on the brink of a golden age of housebuilding". He was less bullish about his own government's target of building 300,000 homes a year by the mid-2020s, describing it as "mythical". Unfortunately, Malthouse left before anyone could quiz him on his remark, but when a colleague contacted the Ministry of Housing, Communities and Local Government, they said while the 300,000 figure was an "ambitious target", it was "still achievable". Fingers crossed, eh?
That's a date, then
MPs have plenty of questions about what's happened to send Crossrail's budget and timescale into freefall. Last week, Tory MP Sir David Evennett put one of them to transport secretary Chris Grayling. In a written question, Evennett asked Grayling "what representations he made to the mayor of London and chair of Crossrail on additional delays". The response, which was posted by transport minister Andrew Jones on 29 April, said Crossrail expected "to provide further detail on the revised schedule by the end of April". Crossrail chief exec Mark Wild revealed on 25 April the project would open between October 2020 and March 2021. A sequencing issue? Rather sums up the whole sorry saga.
Crossrail licked
Royal Mail has launched a stamp series celebrating great engineering feats including, somewhat prematurely, Crossrail. The stamp is unlike any other, and is arguably a bargain at £1.55 – but watch out for the delivery date slipping by two years.
A canary tweets
Still on Crossrail and there are plenty of people who aren't all that sympathetic to the scheme's woes. Howard Dawber, who is a managing director at Canary Wharf Group, certainly isn't. Taking to Twitter, he pointed out that the new Canary Wharf Crossrail station, which was built and funded by the group, has been open since 2015 "ahead of schedule and on budget". In Dawber's words: "Just saying … @Crossrail".
The secret to long life
In an interview with The Times, Tadao Ando – the 77-year-old RIBA Royal Gold Medallist and designer of a pavilion in Manchester's Piccadilly Gardens – insisted he would live to see 100. And, as if being an internationally-acclaimed architect isn't good enough, he boasted he routinely ignores his clients: "A lot of times the client talks nonsense, but Ando doesn't hear these things," he said. "I just don't listen." With such a zen approach to work its small wonder he thinks he can make a century.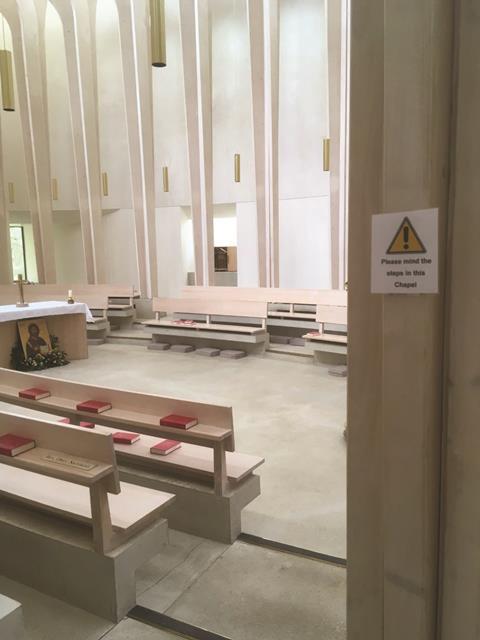 God is in the details
Architect Niall McLaughlin won't be laughing when he discovers a late appendage to his heavenly 2013 temple. Bishop Edward King Chapel in Oxford is formed of latticed glue-laminated timber among a ring of trees and had been, ironically, the bookie's favourite to nab the Stirling prize after it made the shortlist six years ago. But the minimalist masterpiece now endures desecration by a bright-yellow health and safety sign warning worshippers of two small steps. For goodness sake …
Send any juicy industry gossip to hansom@building.co.uk