People wonder why a well-known Australian has taken charge of the Crown's jewels, and another Aussie sparks an argument about lyrics; meanwhile, the London Assembly is losing several blame games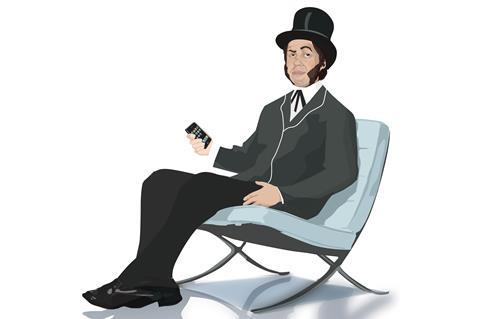 What an… honour?
What can we make of Dan Labbad's move to the Crown Estate from Lendlease, where he's been in charge of the firm's Europe and international operations for the past few years? A few people have got in touch to speculate why, especially since it looks like he'll be taking a hefty pay cut. He picked up £1.7m last year, while the person he'll replace at the Crown Estate next January, Alison Nimmo, was paid £622,000. "I don't understand it," one questioner said. "Perhaps he's after a knighthood."
Seeking a culprit
Back to the London Assembly transport committee and its attempts to get someone – anyone – to take the blame for the Crossrail fiasco. Incredibly, "it's the fault of nobody" is the group's exasperated take on it. "Nobody seems willing to take responsibility," it tweeted, 24 hours before asking Transport for London (TfL) chief Mike Brown to explain himself. TfL is the client and has been shovelling barrel-loads of cash Crossrail's way to get it built. Brown dutifully straight-batted questions about responsibility. However, one member couldn't get enough of Brown's dulcet tones. "Sorry to cut across you, Mike," interrupted committee member Keith Prince as he prepared to ask a question, "because I love listening to you, your wonderful lyrical voice." Looks like Brown didn't know whether to take it as a compliment or insult. "I've been called worse," he purred.
Lyrical question
Staying with Crossrail, a brief but furious row broke out at Building HQ over the name of a traditional folk song. It erupted after Unite reminded us that Crossrail is known as the "Hokey Cokey line" to electricians – because they are so used to installing wiring and ripping it out again when plans change. "Shouldn't that", asked one hack, "be Hokey Pokey?" A furore ensued but was quickly quelled following the discovery it has a different name in Australia – birthplace of the puzzled reporter. Apparently both versions share a common ancestor: an old English/Scottish dance named Hinkim-Booby. I have been unable to discover what Hinkim-Booby means but it does sound like a rather apt name for Crossrail.
Good news
Well done to Interserve, which managed to cling on to a £47m contract providing security across the BBC estate. One might wonder what this has to do with construction, but the firm was keen for good publicity following the not-so-great headlines of recent – well, years. A spokesperson at the contractor tickled my reporter when he broke the news, accompanied by these words: "Appreciate this has nothing to do with construction but given how much you like to write about Interserve, I wondered if there's any way you could see your way to sticking this online?"
Man of steel
As well as being a trainee engineer at Mott MacDonald, James Hayden is also something of an endurance cyclist. I'm told he can cover about 400km a day if he is on song. The 28-year-old is hoping to break the record for crossing each of the five continents in the world. He's tackling Europe first, planning to ride from the top of Norway to the bottom of Spain later this year – a distance of 6,000km – in less than the current record of 24 days and 16 hours. Exhausting stuff. He has his own website: jamesmarkhayden.uk, which is well worth a look and not quite as tiring.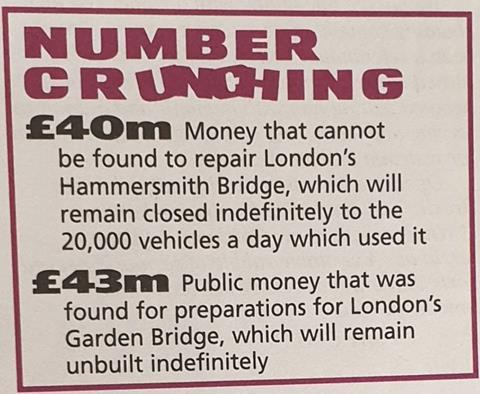 Burning bridges
Perhaps the recent no-shows from the Garden Bridge Trust, the charity that spent £43m of public money on nothing, might care to look at this picture to work out why so many people have been angered by the debacle. Senior figures from the trust, including its chair and chief executive, all refused to attend a London Assembly hearing last month, which was trying to learn lessons from the fiasco. Trust chair Mervyn Davies said the inquiry lacked "objectivity". Meanwhile, Hammersmith bridge - a 130-year-old structure - was shut last month because of safety concerns. Apparently, it needs about £40m spent on it.
Send any juicy industry gossip to hansom@building.co.uk