While the new Spurs stadium ups the culinary ante with chilli jam and craft beer-battered tofu, Quintain plants an olive tree that may well be worth its weight in gold – but Melbourne loses its long-held liveability crown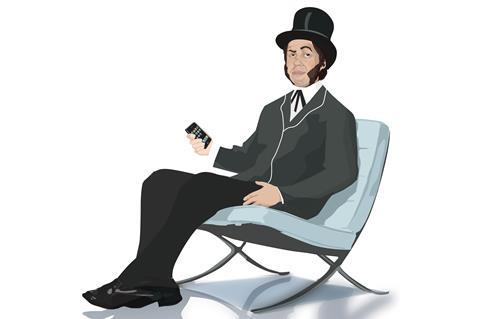 Bugged
Gleeds chair Richard Steer, an avid Brexit remain advocate, has taken up a new non-executive role at Cambridge housebuilder This Land. The firm is chaired by former Tory MP and transport minister Steve Norris, who happens to be a big fan of Brexit lately and has retweeted a claim that a "no-deal Brexit will be the biggest catastrophe to hit the UK since the Millennium Bug". It's fair to say Steer remains unconvinced. "Nobody except a select number of zealots or attention-seekers really thinks that a no-deal Brexit outcome works," he wrote in Building earlier this year. Wouldn't it be good to be fly on the wall at this firm's board meetings in the coming weeks?
Settling for second-best
On a fact-finding mission to Australia, first-time Melbourne visitor Iain Parker raved about the place. The Alinea partner told my hack, who happens to hail from the city: "It really would be so liveable." She didn't have the heart to mention that last year Melbourne lost its "world's most liveable city" crown to Vienna, after seven years winning on the trot.
Critical path
I hear that architect Soda Studio has been contacted by Battersea Power Station and Grosvenor to look at schemes in London for the pair on the back of its BD Live crit triumph. Soda and Mikhail Riches won the chance to discuss their ideas for British Land's £4bn Canada Water development in a crit at the Building and BD Live event in Bishopsgate last year. One thing, as the saying goes, leads to another.
Money tree
Two reporters were lucky enough to spend the night in Wembley last week, courtesy of developer Quintain and its build-to-rent arm Tipi. Construction has been ongoing since 2004 and is only due to finish in 2026 – with the firm currently spending £1.6m a day on the development. Given the ongoing nature of construction, they were unsurprised to see a sign warning residents of "heavy plant". But it took on new meaning when the hacks discovered a 251-year-old olive tree – named Sir Dali – sitting in reception. With lobby fodder like that, it's no wonder Quintain is tearing through so much cash.
Bye bye, pie
When poking around Tottenham Hotspur's brand-new stadium last week, my colleague couldn't help noticing what was on the menu. For those fans slumming it in the concourse – rather than the glitzy "sky bridge" or exclusive "tunnel bar" – craft beer-battered tofu is a prominent supper offering. Accompanied by "triple-cooked" chips and sweet chilli jam, the meal is arguably a bargain for hungry fans at the price of £7.95. Times have changed since pie and Bovril was the best one could hope for at a match.
Let sleeping newts lie
Readers averse to last week's rather chilly weather should spare a thought for McLaren. The contractor is preparing an extensive site, formerly a fishing centre, for earthworks – ahead of constructing a new training centre for Leicester City Football Club. Part of the job is the capture and relocation of great crested newts, under a stringent licence issued by Natural England. A spokesperson for McLaren told Building: "Due to the current weather the newt trapping has had to be put on hold as the newts go into hibernation." Instead of gone fishing, more like gone missing.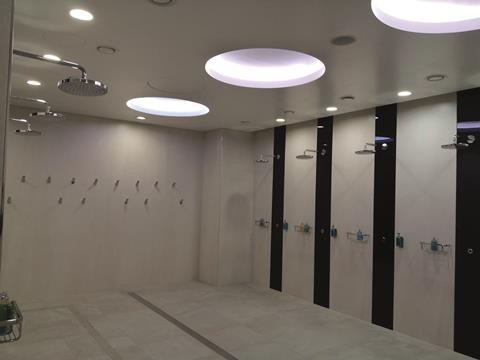 All in a lather
For those who are curious about these things, this is where the Spurs players will be showering after every home game at their new stadium. Good to see that shower gel is provided because I guess for a Premier League footballer a £1.99 bottle of Brut is an extra expense they could well do without.
Send any juicy industry gossip to hansom@building.co.uk