After the 12 months we've had we all need some light relief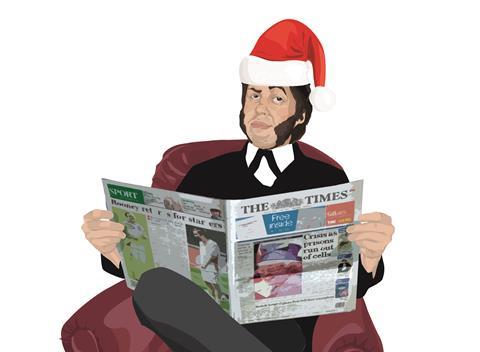 A shot in the arm for all of us
As the first people in the UK – quite possibly the world – begin to receive the Pfizer covid-19 vaccine, we can rest assured that the person in charge of it is a man familiar to this industry – sort of – namely former construction minister Nadhim Zahawi, who has been appointed to the new role of minister for covid vaccine deployment. Zahawi has now passed on the construction portfolio to Kwasi Kwarteng, but not all were wildly celebrating his recent promotion to fighting the pandemic. Deborah Meaden, businesswoman and star of TV show Dragons' Den, was among those expressing their doubts. "What", she tweeted when the news was announced, "could possibly go wrong."
Like the Midas touch, but not
Speaking of things going wrong, the new boss of NMCN has a job to do to repair the finances of the listed utilities specialist. Former boss John Homer stepped down in September, with the firm saying a couple of weeks later it was facing a pre-tax loss of up to £15m for the year. Problem water contracts have been blamed. Perhaps one of the first things Homer's replacement should do is drop unfortunate straplines. One of my team recently noticed the following running underneath NMCN's logo at a site in north London: "A positive impact on everything we touch." The firm's shareholders might quibble with that.
Look away now
A recent meeting of the London Assembly saw a familiar lockdown gremlin rear its head again. I'm talking about the frozen screen followed by the disappearing face. It happened as deputy mayor for transport Heidi Alexander was getting stuck into the details of the recent £825m bailout for Crossrail. Perhaps for those watching it was a good thing, because it feels like it's becoming too much to bear. Hopelessly late and miles over budget – we can't even blame it all on 2020.
The wheel world
Who are the big winners from covid? Pharmaceuticals for sure. Housebuilders are now doing okay but I think there is a clear winner: Halfords. The retailer has seen pre-tax profit soar more than 100% to over £55m in the six months to the beginning of October – the period when lockdown was at its height – and like-for-like cycling sales jump 54%. Working from home? Everyone, clearly, has been riding their bikes.
Signal failure
I don't for one minute wish to detract from Laing O'Rourke et al's achievement in completing a major new hospital in Wales under budget and four months early. Hats off to the whole team. But word reaches me from the daughter of one of its first patients, an elderly woman recovering from surgery, that there's one technical hitch no one seems to have thought of. With covid preventing all visits, her phone should have been a lifeline. But it turns out there's no phone signal in the hospital. So God bless the nurses who are lending their wifi-connected smart phones to less tech-savvy patients so their families can FaceTime them.
Rum deal
Cornwall was the place everyone wanted to be when England's second lockdown ended, because of its enviable tier 1 status meaning you can meet friends indoors. Good news like that deserves to be toasted and, as luck would have it, the county is set to get its own facility for maturing rum designed by Grimshaw Architects. What's more, the hundreds of casks that will be housed there, if planners agree, will be heated by geothermal energy from the hot granite that lies beneath Cornwall's beautiful green landscape. This is the same geothermal heat – a by-product of a renewable energy scheme – that is already keeping Penzance's art deco Jubilee Pool lido at a balmy 35ºC. It all sounds totally tropical. Pool party, anyone?
A high for Lowe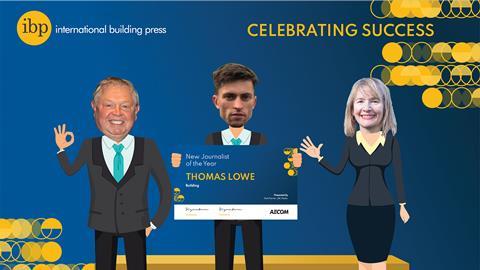 Well done to Building reporter Tom Lowe, who won the New Journalist of the Year category at last month's IBP awards. Here's a pic of him with host Nick Ferrari and Vanessa Norwood from the Built Environment Trust. Given it is 2020, this was a virtual event, if that is not blindingly obvious.
Send any juicy industry gossip to Mr Joseph Aloysius Hansom, who founded Building in 1843, at hansom@building.co.uk