Good architecture can help pupils learn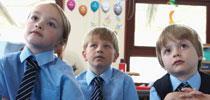 I write in relation to the ongoing schools debate (12 October, page 29). What we need to remember is that good architecture can help the education of pupils. This is widely known as a result of what has been built over the past number of years, created through good dialogue with the individual schools. Bad buildings make education very difficult.
Creating inspired young learners is the key to success - what better way than in an inspiring set of spaces? We must consider what we need before we talk about how it is delivered, standardised or otherwise.
Richard Hyams, director, Astudio