As working parents face schools shutting indefinitely Building's Chloe McCulloch reflects on some of the practicalities
Day two of self-isolation with my family had mixed results. I tried to stick to my plan but inevitably life took over. I can see the biggest challenge is going to be home-schooling – a prospect that the UK's 12 million parents face from this Friday when all the schools close indefinitely. Many businesses may now have rolled out home-working across entire teams, enabling people like me to work flexibly - this option of course in not open to everyone. Families all over the country are trying to work out how they are going to manage, and even if you already work from home regularly trying to do so while fitting children into the mix poses challenges.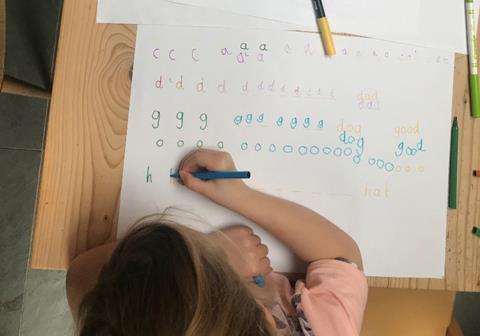 In our case the kitchen table became the school desk from 9am, but not everyone was happy about it. My partner, who is a teacher, found all the learning resources and is overseeing proceedings. But as we have found out it is one thing to teach a class of 30 children in a school and quite another to teach your own three at home.
By lunchtime everyone had had enough. It is going to take time to get this right, which as it happens is the one thing we will have lots of with the school shutdown set to weeks if not months.
I also found it hard to keep to my three-part structure for the day. My four-year old woke up earlier than normal so the productive early shift was cut short. I tried to set myself breaks so I could talk to the family, but somehow that was just when an important call or messages came through. And as my day ran away with me the temptation to work into the evening proved too great. I found maintaining the boundaries between work and family life really difficult – no wonder someone invented the office.
The kitchen table became the school desk from 9am, but not everyone was happy about it
But there were also lots of positives from the day. We had our first full team daily video conference call, which was fun as well as useful because it cut out lots of unnecessary messaging back and forth.
And the highlight of my day was receiving a link to government guidance that says if you are self-isolating you can still go outside to exercise. The exact words are: "If possible, you should not go out even to buy food or other essentials, other than exercise, and in that case at a safe distance from others".
I managed a quick run round the park, though in London it is difficult to keep two to three meters away from anyone. There are reports the capital is set for more stringent measures restricting people's movement but I really hope we will still be able to get out to parks to walk, run and cycle. Without that I do worry for people's mental health, not least my own.
Chloe McCulloch, Building editor
Get in touch and share your stories: chloe.mcculloch@building.co.uk
Blog catch up: Day one