Real estate investors do battle for Knightsbridge barracks, architects clear their diaries for an exhibition dedicated to working with clients, and Redrow makes a late Bafta entry for best psychological thriller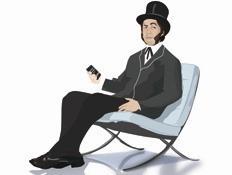 Mad men
Last week an online advert put out by housebuilder Redrow for its London luxury apartments threatened to disprove the oft-quoted claim that all publicity is good publicity. The ad in question depicted a young man rising up the London career ladder to the point where he buys a luxury flat in Redrow's One Commercial Street tower. It prompted widespread ridicule on social media and on newspaper websites, suggesting its style was reminiscent of the film American Psycho, complete with creepy voiceover. Redrow promptly withdrew the ad. One informed wag tells me the furore underlines problems Redrow had selling One Commercial Street's flats, which we hear were marketed overseas twice. Redrow declined to comment.
Chicks with bricks
I was delighted to send one of my colleagues to parliament for the latest Chicks with Bricks networking event, where RIBA president-elect Jane Duncan launched her #SeeMeJoinMe campaign for more female role models in construction. One of the other speakers was education secretary Nicky Morgan who spoke of the importance of getting girls to study maths and science at school. She didn't have to go far to canvas views on whether the industry needs more women, as her husband, Jonathan, is an architect.
Concrete tumble
A chunk of concrete cladding weighing over 80kg fell off the one-year-old Zaha Hadid-designed Vienna library earlier this month, according to local press reports. Thankfully no-one was injured in the incident but the building was cordoned off to ensure no further tumbling chunks struck any students at the university where the library is located. It's not the first time the project has had problems. In July 2014 a similar incident took place, which was chalked up as an "assembly error". Zaha Hadid Architects declined to comment. However, the university provided an update, saying an expert appointed by the university to conduct an initial inspection after the latest incident had reported back: "It appears to be the result of defective installation by the acting company", and that it most likely occurred during maintenance work.
A special relationship
Ah, clients… Wouldn't architecture be so much easier without them? Certainly it seems many in the architecture profession would rather design buildings in serene isolation, free from the meddling interference of their paymasters. The relationship between client and architect has a long and tempestuous history - one that will be explored in a special exhibition at London's Sir John Soane's Museum, opening 17 February and running to 9 May. The Building a Dialogue: The Architect and the Client exhibition will chart the development of the architectural profession from Elizabethan to Victorian times, spotlighting projects by Sir John Soane himself and many others, including Sir Christopher Wren. Worth a look.
London drawing
Next month an insightful guide to 27 of London's main districts, London: Architecture, Building and Social Change, hits the shops. Written by leading urbanisation academic Paul Knox, the glossy guide explores the intricate layers of architectural, economic and social history that form the character of London's diverse districts. The book is packed full of history, including profiles of typical, socially important and iconic buildings in each area. Look out for it from 19 February.
Closing the stable door
Eager investors are fighting to get their hands on a prime piece of real estate - Knightsbridge barracks. The first to reveal his vision is Bruce Rippon who hired Quinlan & Francis Terry to design… a French chateau (pictured), causing apoplexy among architects. They were further enraged to hear that the design might be shown to the Prince of Wales. The spot is currently occupied by 300 of his mother's troops and their horses, housed in a Basil Spence development dating from 1970. The Twentieth Century Society is doing its best to save it, especially the brutalist tower, but my man in the stables on the 33rd floor tells me it's a lost cause.
Send any juicy industry gossip to hansom@ubm.com