We're up in the social stratosphere this week: dress sense at the Lords, Canary Wharf Group's plans for the great unwashed, and One Hyde Park's elusive residents - only high jinks at the Shard lower the tone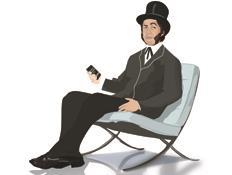 No comment
I felt sorry for Rogers Stirk Harbour + Partners this week because I understand not one of the residents of One Hyde Park was available to talk to the RIBA London Awards judging panel on its visit. Obviously, it's going to be difficult for the jet-setting super-rich residents of the scheme to find time in their diaries even if they happen to be in London but you'd have hoped that one of them could have taken a few minutes to help the bid get some recognition. I'm sorry to say, I don't fancy RSHP's chances this year.
Ties that bind
I fear Hafren Power, the firm developing a fresh Severn Barrage scheme, is not taking the right tack as it tries to build support in Westminster. This week several Lords criticised the scheme during a debate. Lord Berkeley, for one, said it was "absurdly short on detail". But Baroness Verma, under-secretary of state, Department of Energy and Climate Change, showed that impressing her could be done in simpler ways, noting that "Lord Cope, who introduced the debate today, has, through the tie that he is wearing, educated me a little further on the importance of knowing about Bristol port and its history. The tie illustrates the ship, The Matthew, which in 1497 sailed from Bristol port and discovered America." Hafren Power, should get down to Savile Row and make an investment.
Culture and anarchy
Canary Wharf Group is rather ambitiously trying to recreate Shoreditch on a site next to its financial services fiefdom in the Docklands area of east London. The developer's project design executive Stephen Andrews gamely tried to persuade a New London Architecture event on office development that the firm knows what it's doing to "attract the best cultural and creative enterprises from neighbouring districts". However, I'm not sure they quite understand Shoreditch's inclusive melting pot vibe. Andrews told delegates the park at the east of the site would act as a "buffer" to keep "hoi polloi" out of the quarter once finished.
Shard times
The View from the Shard experience 800ft up in western Europe's tallest building is proving a fruitful source of stories for The Sun newspaper. Last year the tabloid gleefully speculated that the toilets there were being used by "randy thrill-seekers" to "enjoy sky-high romps" after a pair of women's knickers were found. Then this week it noted that more than 200 visitors were left stranded in the viewing gallery for more than an hour after the lifts stopped working during a fire scare. Unfortunately the impressive views were not enough to sustain interest for some visitors, one of whom said the scene was "shambolic". Still, not a bad place to be stuck for a while, providing you keep your head for heights.
Lost in translation
At Building towers we do sometimes end up looking into rather obscure news leads from overseas, but this week we received correspondence that left our journalists scratching their heads. An envelope with a postmark from Sweden arrived containing visualisations of a crane and a Post-it note saying simply: "I found these pictures. Is Hiab [a Finland-based crane company] launching a new crane?" How mysterious - we've dispatched a reporter to Helsinki and will bring you the latest as soon as we have it.
Tilting at wind farms
Wind farms are controversial but who knew they were collaborating with our enemies? Citing an objection by the Ministry of Defence to two wind farm proposals in Cornwall because of the impact the turbines may have on air traffic control radar nearby, the Daily Telegraph suggests the wind farms would "aid the enemy". Apparently, the paper reports, the Ministry of Defence says the 115ft towers are "so big they could look like planes on monitoring equipment", which in turn may lead to fighter jets being scrambled to attack the wind farms. And - the paper argues - false alarms like this would provide cover for "real enemies to sneak in". Treachery!