Carillion's former finance boss is recognised for his judicious timing, while Willmott Dixon's snapper captures just the right moment (smile!) – though the Royal Academy opens perhaps just a little too early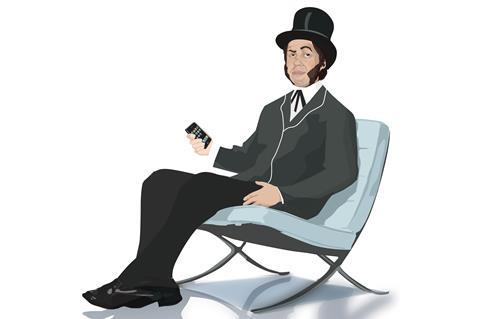 It wasn't me
I was struck by the tone Carillion's former finance director Richard Adam took in the wake of last week's parliamentary report into the firm's collapse. He felt it necessary – just for the record – to point out he had left it "over a year before Carillion went into insolvency" in December 2016. Seven months later the firm made a writedown of £845m – so around £140m a month between January last year and 10 July, the day of the writedown. Just for the record, the MPs' report said about Adam: "His voluntary departure at the end of 2016 and subsequent sale of all his shares were the actions of a man who knew where the company was heading."
Bleedin' obvious
A colleague of mine was chatting to Bam's UK chief executive James Wimpenny recently. Talk inevitably turned to what went wrong at Carillion – especially pertinent given that Bam has taken over a number of its jobs in London, Birmingham and Manchester. "You have to avoid the contracts where you're taking on too much risk," said Wimpenny. "We call them the bleeders." Graphic for sure but an image strong enough that even Carillion directors might be able to recognise it.
Time warp
A pal works for a large civil engineering contractor, which at the end of every month has a man trundle a cart around its head office handing out that month's pay slips. I wonder if the directors have read Mark Farmer's report on the industry published 18 months ago, which was titled Modernise or Die?
Wheely worthwhile
Is there a British & Irish Lions rugby tour to Australia this year? I ask because Laing O'Rourke, chaired by well-known rugby fan Ray O'Rourke, is hoping to raise £160,000 for mental health charity Mind and health charity the British Heart Foundation by getting 1,400 of its staff to collectively cycle the equivalent of 21,000 miles, which just happens to be the distance between its HQ in Dartford and offices in Sydney. The firm is hoping its suppliers and clients can chip in with some miles as well. A good cause, so allez, allez, I say.
Top of the tree
A London law firm with a considerable construction business has recently been doling out internal awards. You know, those unsung hero gongs that firms are fond of. I hear that one recipient has the surname Bird and the email citation sent out to staff announcing the prize, said the recipient was "happy, positive and unflappable". Cheep, cheep.
Closed encounters
A visit to the opening of the spruced-up Royal Academy of Arts in London's Piccadilly found one of my hacks scratching his head, wondering if the academicians' hideout was quite ready for the public. There was much evidence of the David Chipperfield refurb undergoing "finishing touches", ahem. The new Poster Bar looked terrific – inviting even were it not for the total lack of food or drink. Ditto the Senate Room, which apparently opens in "late May". Some of the rooms were closed – always disappointing for an opening – but a peek into the locked lecture room revealed a PowerPoint slide (apparently on display in error) of professional and consulting fees – originally reckoned at £8.7m but jumping to £10.6m in the latest estimate, a 22% increase. No reason for the price hike was apparent from the slide but clearly the client couldn't be accused of reckless spending on the opening.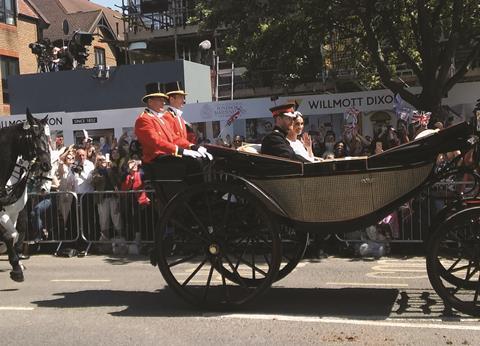 A royal opportunity
It can't have escaped any good construction professional's notice last Saturday that Prince Harry and new wife Meghan Markle rode past a Willmott Dixon site on their way back from the church in Windsor. The Willmott Dixon press team saw the potential and positioned a snapper for when the new Duke and Duchess of Sussex drove by in an open-top carriage, proving there was absolutely nobody in Windsor who wasn't on the lookout for a Royal Wedding angle.
Send any juicy industry gossip to hansom@assemblemediagroup.co.u