This week's unlikely fables include bringing the house down, a fantastic (unbuilt) tower, and a world of fun and laughter (in a bank). But will it be a fairy tale ending for young Nick Boles?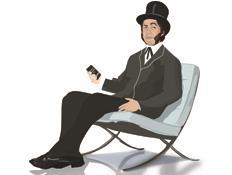 A fickle friend …
The role of planning minister has a notoriously short tenure. But if the role is tacitly understood by Whitehall watchers as a stepping stone for ministers on their way to greater things, the golden rule is to never acknowledge that when in the post. Hence delegates at last week's Tory conference were surprised to hear planning minister Nick Boles respond to a question about the planning policies he expected to go into the next election with, by saying: "You can shoot me if I'm planning minister after the next election." It's almost as if he doesn't believe it's important. Nick, what happened? We thought you liked us …

… or a young knight?
But it may be that the youthful and upwardly mobile minister has other things on his mind. When asked to describe his favourite developments in the same conference fringe session, he picked as one the bête noir of modern architects, Prince Charles' model village at Poundbury, Dorchester. "Not everyone likes it," he conceded, "but the residents think it's absolutely fabulous and the builders of it have made a ton of money." One wag in the audience disagreed with his assessment, saying it was expensive for residents. "Still it's probably the right thing to say if you're after a knighthood." We can only assume that Boles, who sat stony-faced through the intervention, vigorously denies the toadying charge.

I'll huff and I'll puff
Which housebuilder had to knock down a half-built house after a supplier ran out of the right bricks? The top 10 builder, who declined to be named, had to go to these extreme lengths to restart the property because of an inability to source matching bricks – a telling example of the serious supply shortages starting to hit the industry. Hansom would be very keen to hear if there are any other similar tales of woe from the front line of the housing boom.

The imaginary tower
So you thought the Burj Khalifa was big? Scientist and science-fiction novelist Neal Stephenson is not impressed by the world's tallest tower and has laid out plans to develop a skyscraper 24 times as tall as the Burj – 20km tall, to be precise – using high-grade steel. If that sounds fanciful to you, Stephenson will be pleased. The American writer believes the public is losing its imagination for fantastical scientific and engineering projects and believes fiction has a role to play in inspiring the next generation of innovators – think Isaac Asimov's robot and Arthur C Clarke's communications satellite. He has launched a competition for writers and researchers to come up with the "next big thing". So get dreaming … or visit hieroglyph.asu.edu.

The enchanting bank
Anonymous high street stores are out, individuality and personality are in – so say my friends in the world of retail consulting. But be careful what you wish for. A Norwich-based correspondent informs me the town's new personality-infused branch of Richard Branson's new bank, Virgin Money, branded a "lounge" and sporting a grand piano, free tea, coffee, and a games area to keep children busy with games consoles, has in fact been "taken over" by local teenagers as their new hang-out. Probably not the most flush of potential customers.


Enjoy the view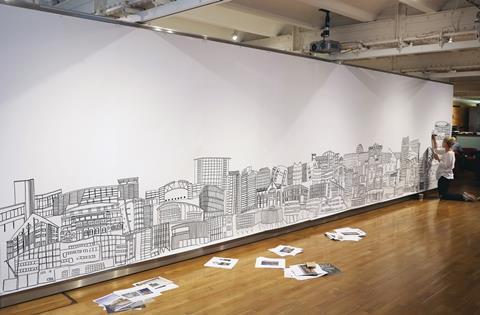 Many of London's finest architectural practices got involved in London Design Week last month, and BDP was no exception. The studio invited artist Lizzie Prestt to capture 100 of BDP's buildings, past and present, in the foyer of its Clerkenwell-based global headquarters, including the freshly-listed Preston Bus Station, City of Manchester stadium and Wimbledon's Centre Court. The installation apparently caused a stir among the architects, who excitedly gathered around to spot their projects. To find out more about Lizzie Prestt, visit www.lizzieprestt.co.uk.
Send any juicy industry gossip to hansom@ubm.com