A great feat of Scottish engineering is honoured, Bam does a lot of good work for charity, a US design practice prints a pavilion, and there's the latest in a long line of hilarious building-shaped confectioneries
Vintage Scots
News reaches me of a Scottish engineering icon that has been aptly awarded an accolade typically reserved for structures such as the Eiffel Tower. The 150ft-tall, 106-year-old Titan Crane near Glasgow has been recognised as an "International Historic Civil and Mechanical Engineering Landmark" by the American Society of Civil Engineers. Other past recipients include the Sydney Harbour Bridge and Machu Picchu in Peru. The 800-tonne behemoth was constructed in 1907 at a cost of £24,600 and designed by one of my contemporaries, Adam Hunter (1869-1933). It now sports a viewing platform and local thrillseekers regularly bungee jump from the top. Pleasing to see our engineering heritage celebrated.
Bam hits the road
I doff my top hat to Bam this week, which has persuaded over 100 of its employees to take part in a nine-leg, 900-mile cycle trip round the UK in aid of Macmillan Cancer Support. I can reassure clients worried that Bam's workforce will be off site and in the saddle for over a week with news that several regional offices will be taking on the separate legs. Last year one Bam employee signed up who didn't even own a bike at the time. Good to see a minor detail like that didn't deter them. To sponsor a Bam cyclist, visit www.justgiving.com/company/bam.
Printer jam
This week, I feel I've had a glimpse into the future. US Architecture and design studio Smith | Allen, has built a 3D printed building. The pavilion took a total of two months and four days to print and build. The design duo Stephanie Smith and Bryan Allen said: "We are focused on creating site-responsive, large-scale works that investigate the relationship between nature and technology. We explore this dialectic through different lenses of man, machine, and environment." Granted, it isn't designed for human habitation, but I do feel the finished product is rather underwhelming. It doesn't have a roof, its walls are full of holes and the component brick-size parts don't seem a big step up from using, well, bricks. We're still a way off from 3D-printed homes, I fear.
Hobbits or rabbits?
Last week saw the government publish its latest views on the minimum standards local authorities can require from housebuilders building in their areas. However, if you were to read the mainstream coverage of the issue over the years you might get a very odd idea about the kind of homes the UK's housebuilders are producing. In 2010, London mayor Boris Johnson successfully pushed through minimum space standards in the capital following a campaign against "hobbit homes" in the city, as if overseas buyers were gobbling up reams of plush holes bored into the sides of hills. After last week's announcement, the RIBA welcomed the possible end to "rabbit-hutch Britain". The BBC's coverage took this somewhat literally, saying the plans were designed to curb "rabbit hutch-style" homes, evoking the equally bizarre image of reams of wooden boxes lined with straw popping up on greenfield sites across the land. Only question remains: when will housebuilders start building homes for humans?
Taking the biscuit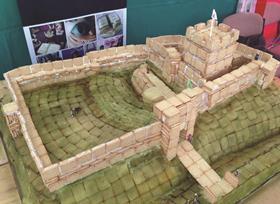 This column has tracked the unstoppable rise of confectionery construction for some time now. Building has been known to claim it started the trend with its 2010 Christmas special, which pitted developer Sellar's chocolate Shard against Make Architects' laser-cut gingerbread Cube, although I fear those pesky Bompas & Parr chaps might say they kicked things off in 2009 with their jelly St Paul's cathedral. In more recent years, the Jubilee saw Arup build a giant cake replica of the Gherkin. Now we have a replica of Carlisle Castle, made of 5,000 custard creams, courtesy of The Sweet Dream Cake Company and English Heritage, built for the Carlisle Pageant this month.

Send any juicy industry gossip to hansom@ubm.com