With the EU exit deadline approaching fast, Mark Reynolds and the CITB this week released a plan to make sure we can keep calm and carry on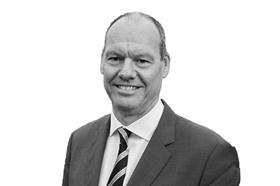 Keeping pace with the long-running saga of Brexit hasn't been easy. Since Britain voted to leave the European Union in June 2016, the news has been dominated by Brexit-related twists and turns on a seemingly daily basis.
The prime minister has been working hard to reach a deal at home and in Brussels only to be voted down. The path to Brexit has seemed unclear across the political divide.
Like all industry, the construction sector, which makes up 7% of UK GDP, is sensitive to political and economic uncertainty. And since 2016, uncertainty has been the dominant theme. Although construction has weathered Brexit-related doubt to a certain extent (growth has been just below the UK average, the demand for jobs has risen), there have been inevitable repercussions.
We need to get more people into the industry; get better at hanging on to the skilled workers we have; and increase productivity
Investment has been delayed, particularly in construction's commercial sector. And with UK construction comprising 165,000 EU nationals, concerns about migration controls have been at the forefront of many people's thoughts.
Now, with just a month until we leave the EU (on 29 March), questions on how construction will adapt post-Brexit are louder and more urgent than ever. With Brexit about to land, construction needs a plan to help steer us through the challenges ahead.
Over the last few months I've worked closely with construction leaders to devise Building After Brexit: An Action Plan for Industry. Based on extensive research conducted by the Construction Industry Training Board (CITB) since the referendum result, the plan details specific steps the sector and the CITB have agreed to take to avoid a Brexit balls-up.
The report has three key targets: we need to get more people into the industry; get better at hanging on to the skilled workers we have; and increase productivity.
Attract talent
Construction recruitment has slowed to the lowest rate in over two years which – given the circumstance we're now in – is cause for concern. Right now, the industry needs to accelerate action on recruitment, skills and training. We need to encourage more apprenticeship starts and completions and offer better work experience opportunities. We also need to widen construction's talent pool by creating better pathways into industry for under-represented groups including women, those with disabilities, those from an ethnic minority and the LGBT community.
Retain the workforce
UK construction can't afford to lose skilled workers. It's vital we evolve and retain the current workforce by supporting older workers, upskilling the existing workforce and offering more support to tackle major issues affecting the industry, such as mental health.
Be more productive
With access to a huge chunk of the workforce potentially about to be lost, we've got to work smarter. Driving digitalisation and investing in modern methods of construction are a good start but we must focus on delivering a Future Skills Strategy for the industry, so we can develop the right skills and make this push forward really count.
The UK construction has been working on these targets in recent years. We've seen great initiatives on improving the workforce's mental health, increasing diversity and moving towards the goal of modernisation. But we need to get a move on.
Construction firms will no doubt implement the plan and build the domestic workforce to meet industry demand but it will take time, and we'll be working with the government to agree how we can maintain access to migrant workers. The journey towards Brexit has been turbulent and looks set to continue in that vein. The construction industry needs to buckle up and brace itself for more bumps in the Brexit road.
Building After Brexit: An Action Plan for Industry will, I hope, help ease the transition to life post Brexit and make the journey a little bit smoother.
Mark Reynolds is chief executive of Mace and chair for skills on the Construction Leadership Council
Visit www.citb.co.uk for the full action plan