CLC letter follows last month's Brexit summit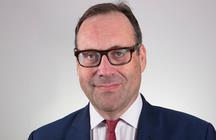 The boss of the Construction Leadership Council has written to construction minister Richard Harrington asking for him to fight for construction as the deadline for Brexit approaches.
Andy Mitchell, co-chair of the CLC and chief executive at Thames Tideway, wrote to his co-chair Harrington (pictured), laying out the industry's biggest concerns ahead of Brexit.
The letter, which Mitchell sent last week, follows last month's summit of bosses from across the construction sector looking at how the industry could cope with a no-deal Brexit.
In his letter Mitchell said: "It will not be possible to mitigate all of the potential impacts of 'no deal' and that close collaboration and a spirit of cooperation will be needed to solve further issues as and when they arise.
"I would therefore urge you to continue to advocate for the industry within government and encourage your ministerial colleagues to adopt this approach in their dealings with the sector."
Mitchell also revealed the four key areas the industry bosses had identified as the biggest concerns as the 29 March deadline approaches.
He said the ability for the sector to retain and support 160,000 EU nationals currently working in the UK was a significant concern. He said this represented around 13% of the construction workforce in the UK which went up to between 30% and 40% in London.
Potential issues with importing and exporting materials and the future regulatory regime for products were also flagged.
Mitchell said industry was also worried about the potential for those factors to cause delays in the completion of projects and contribute to an increase in costs.
He also said that there were two factors that significantly impacted the construction sector's ability to prepare for Brexit.
Mitchell said: "The sector has long supply chains employing many SMEs which mean that clients, contracting firms and trade associations gave limited information about the potential impact of no deal on individual firms.
"Furthermore, few firms in the sector have the scale and resources to be able to invest in substantive contingency planning."
The CLC said it would be running a working group on how to support foreign nationals, work with trade associations to understand the impact of Brexit on the supply chain and work to share guidance on potential changes to the rules on demonstrating compliance with product regulations.