The ICE media relations manager on buying pilates classes online, one click purchasing addiction, and a worrying obsession with Bus Count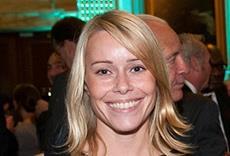 What is your favourite website?
It's a toss-up between ViewLondon.co.uk and BBC.co.uk – not only are the online BBC team running a lot of infrastructure features at the moment, but I am also a little addicted to the 7 days 7 questions quiz testing current affairs knowledge.
What is your worst digital habit?
I need to remember that a "one click" purchase does really mean one click. I also once admitted to a friend that I was so impressed with the Bus Count app, that I'd checked out what buses were in the area even when I didn't need to use the bus …
iPhone/Blackberry/Android. Which side are you on?
I have a Blackberry for work, an Android for personal use, and, of course, many friends with iPhones who shake their heads in pity when I tell them that.
Are you into social networking?
I gave into Facebook last year, and use Twitter in a work capacity. I can definitely see the potential of Twitter in my line of work – especially as we're trying to get more youngsters into engineering – but for my personal life I'm less convinced.
What is your favourite app?
Bus Count, of course.
What is your preferred means of communication?
I tend to prefer different means for different situations – sometimes things can be better explained via email, but are perhaps better received face to face.
What did you last buy online?
Five pilates classes
PC or Mac?
PC…I've never been cool enough for a Mac.
Guilty pleasures: Most played tunes from iTunes/Spotify?
I've been listening to Alex Lane's soundtrack from the film Submarine a lot this week. Also, love Rodrigo and Gabriela, a Mexican/Irish fusion.
Kate Ison is media relations manager at the Institution of Civil Engineers